This is a sponsored post written by me on behalf of FeverAll. All opinions are 100% mine.
During cold and flu season, I always make sure I have everything I need just in case we get sick. I especially make sure I am fever ready and have things on hand with a Cold and Flu Kit for Babies and Toddlers.
It is just the worst when you realize your little one is getting sick, and you're out of fever-reducing medicine like FeverAll or something to help them feel more comfortable.
What do you put in your Cold and Flu Kit for Babies and Toddlers?
As a mom of four, these are the things I can't live without for my little ones:
thermometer
humidifier
medicine syringe
nasal bulb aspirator
saline nasal drops or mist
facial wipes for babies
Thermometer
When I have a really sick little one, I always check their rectal temperature. It's the most accurate, so I know how high their fever is. They have digital rectal thermometers that take no time at all. But, if you don't have one, an ear thermometer is the next most accurate as long as it's done properly.
FeverAll
Did you know that acetaminophen is one of the most recommended non-prescription medications by healthcare professionals – including pediatricians and pediatric nurse practitioners?
It's always been my go-to for fever reduction and the relief of minor aches and pain when my kids are babies and toddlers.
FeverAll® Infants' Strength Suppositories are fever-reducing acetaminophen suppositories. Did you know it's been around for 30 years?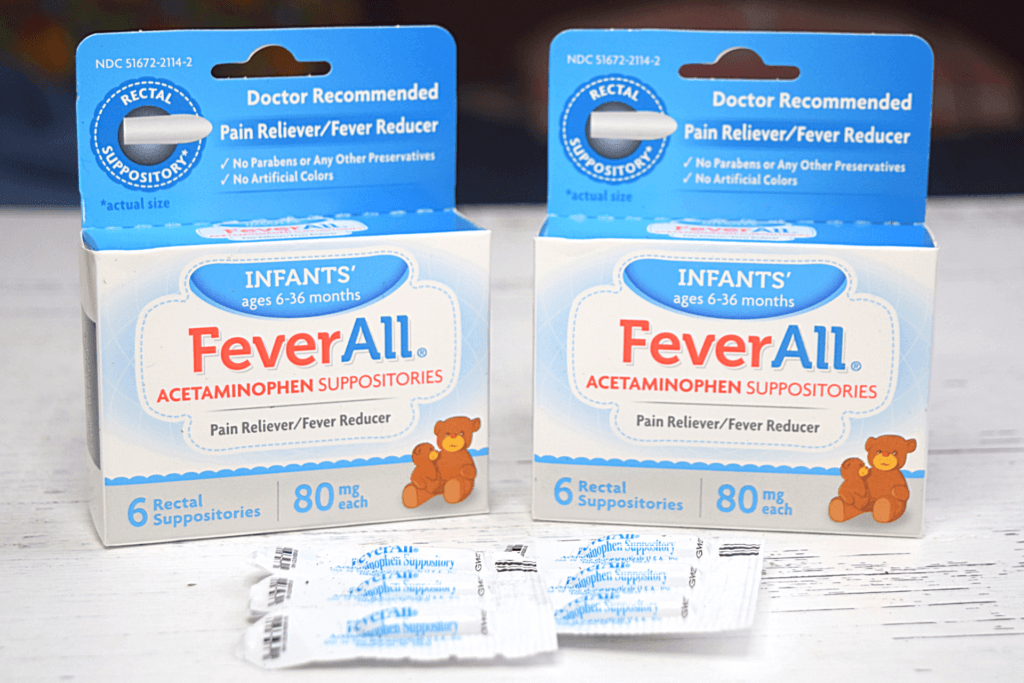 FeverAll is what I keep on hand to be fever ready during the cold and flu season.
My middle daughter has a sensory disorder, and it really affects her taste. As a baby and toddler, there was literally no way to get an oral medicine in her. It was so traumatizing, she'd throw up the medicine instantly.
FeverAll suppositories were the only way we could get her fever down. They are such a great option when you need to get that fever down in a baby or toddler.
I first learned about FeverAll suppositories when my oldest daughter got sick as a baby. She was running a fever and vomiting, so she wasn't able to keep an oral fever reducer down long enough for it to help.
What I love about FeverAll® Infants' Strength Suppositories
It's the only infant-strength acetaminophen labeled for infants as young as 6 months of age.
They provide an accurate dosage of acetaminophen without measuring or causing a mess.
They contain fewer inactive ingredients than other infants' fever reducers* (*vs Infants' Tylenol and Infants' Motrin Oral Suspension).
FeverAll is the only national brand of acetaminophen in suppository form and is available in three strengths.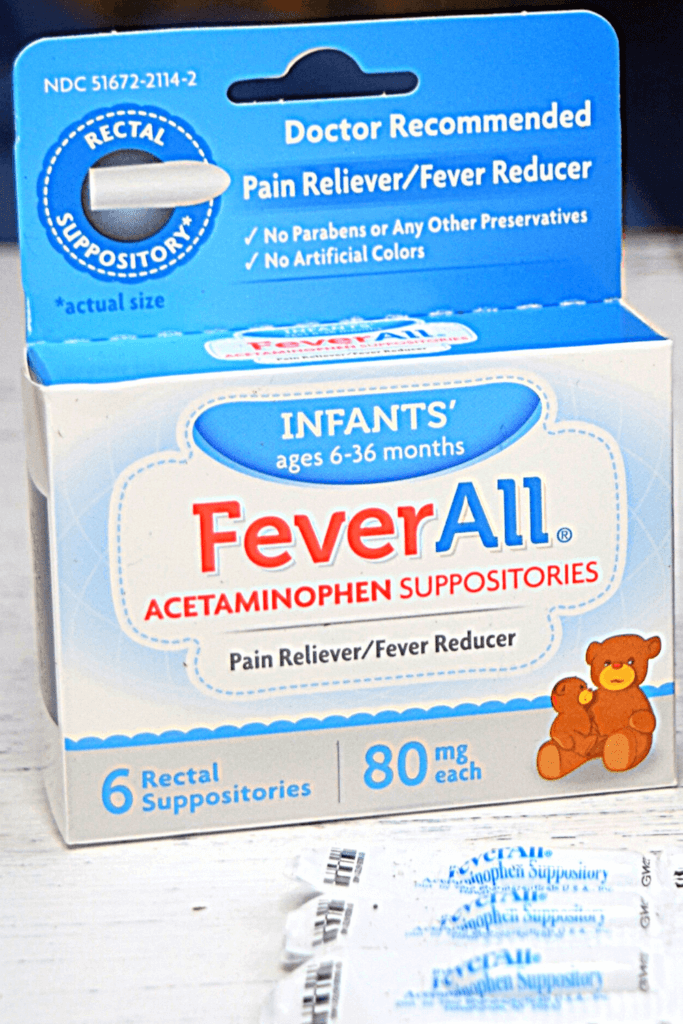 When each of my kids were little, I always made sure I kept a box of them in the medicine cabinet, and we still keep it on hand for our 3 year old.
Humidifier
A cool mist humidifier is the perfect way to keep moisture in the air to make breathing easier and help with a cough, especially at night.
Medicine Syringe
If we do need a liquid medicine like an antibiotic, I like to keep a good medicine syringe on hand. I can't tell you how many times I've picked up a prescription for one of my babies at the pharmacy and they completely forgot a syringe in the package.
Nasal Bulb Aspirator
I just hate when my little ones get a stuffy nose, and they have no idea how to blow it out. It makes breastfeeding so frustrating for them when they have to constantly unlatch to breathe. Some saline drops up their nose and a nasal bulb aspirator really helps a baby suffering with a cold or the flu.
Saline Nasal Drops or Mist
If your little one is all stopped up, this is the perfect way to soften a little one's nasal passages before using the nasal bulb aspirator. It makes it so much easier to help a little stuffy nose.
Facial Baby Wipes
Runny noses are just the worst. Plus, toddlers will wipe their runny nose on just about anything – their sleeve, the couch, and even your shirt. I keep a pack of saline facial baby wipes nearby whenever my 3 year old gets sick. She actually lets me wipe her nose because it's so gentle and doesn't make her nose feel so raw like tisses often do.
Where do you get FeverAll and these cold and flu supplies for babies and toddlers?
Now that it's cold and flu season don't forget to make your kit, so you always have supplies for making your little one feel better.
FeverAll is available at many stores like Target, Walmart, Walgreens, CVS, Rite Aid, and more. I just recently picked up a new package of FeverAll with my Drive Up order at Target and didn't even have to get out of the car!