This review was made possible by iConnect and Mr. Clean. I was provided the featured product and compensations to facilitate this post, but all opinions are 100% mine.
Are you thinking about moving? We've been tossing the idea around. We live in a fairly new neighborhood that was just finally closed out last year. For the past few months, I've been noticing our neighborhood is selling like hotcakes. It's a seller's market here, and I totally want in. Houses sell in 2-4 weeks here. However, we have a teenager who is a junior this year, and I don't want to uproot her, so I plan to stay until she graduates. My other two are young enough that they want to move.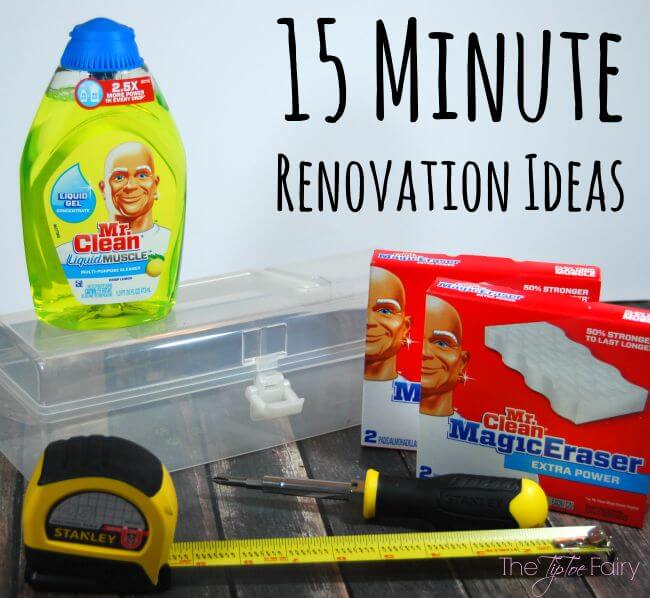 I am totally ready to sell, but I have to keep reminding myself this is a house with kids. It's going to take a little bit of work to get it gorgeous again. Mr. Clean knows that during the moving process, it's not always possible to put a lot of time or money into making your home look new and fresh. When Mr. Clean sent me a #15MinReno handy kit, I was thrilled to get started. I've been taking 15 minutes every few days and doing a little easy renovations that don't take a lot of work.
Need some ideas for a quick renovation? Here's a few ideas:
Remove your tired, old cabinet doors in favor of an instant, updated open-shelving look! Mr. Clean Concentrated Multi Surface Cleaner can help you clean up the inside of your cabinets and get them looking like new again.
Mr. Clean Magic Eraser Extra Power is sure to give your home that like-new sparkle on a variety of surfaces. It works wonders on that pesky stove top, where grease and grime accumulate in tough to clean crevices.
A kitchen sink has to stand up to a lot of grease and can become stained over time. Before spending the money and time to replace your sink, use the Mr. Clean Magic Eraser Extra Power to erase build-up, and make it shine like new.
It's not always possible to prevent grease splatter, and the kitchen backsplash takes the brunt of it. Rather than tearing down the existing tiling, breathe new life into it with the Mr. Clean Magic Eraser Extra Power, which can help remove the build-up.
The inside of the refrigerator has been through a lot, including spills and being occasionally exposed to over-ripened produce. To get the shelves and interior glistening, use Mr. Clean Concentrated Multi-Surface Cleaner.
Keep your kitchen counters and islands looking shiny and untouched with Mr. Clean Concentrated Multi-Surface Cleaner.
Use Mr. Clean Magic Eraser Extra Power on the shower door to help remove hard water stains, cloudy build-up and soap scum; it will save you several hundred dollars versus replacing!
If your bathroom counter doubles as your makeup box, you're familiar with the residue that can come from powder and hair spray.
Make sure your counter top shines with Mr. Clean Concentrated Multi-Surface Cleaner(even on the floors and walls).
Buyers and sellers alike can see the value in a new bath tub. Use the Mr. Clean Magic Eraser Extra Power to clean the dirt, soap scum ring and discoloration that has built up and you'll fool people into thinking you had it replaced.
Swapping out cabinet hardware, particularly brass, is a great way to update a home. But, if your hardware just needs a face lift, use the Mr. Clean Magic Eraser Extra Power to remove dirt and scuffs, and make it sparkle like new.
Often times buying or selling means needing a fresh coat of paint. One trick to avoid the time and cost is to use a Mr. Clean Magic Eraser Extra Power to swipe away scuffs, dirt and build-up from molding or trim, baseboards and doors!
Floors can become dull and underwhelming over time. Before stripping up hardwood or tile, Mr. Clean Concentrated Multi-Surface Cleaner can get them shining like new again! (Note: For finished wood use dilute only.)
Winter months can take a toll on your fireplace. Mr. Clean Magic Eraser Extra Power can help eliminate smudges and markings left around the hearth, wood trim and fireplace screen to return it to a like-new fireplace.
Still have crayon marks on your walls or remnants of how tall little Johnnie was each year? Help remove them with Mr. Clean Magic Eraser Extra Power, but be sure to snap a picture first for posterity!
Mr. Clean helps movers achieve a standard of clean that could mean avoiding major renovation or replacement purchases. There are tons of unexpected uses from restoring shine to floors to making appliances look refeshed, to restoring your walls without having to repaint, Magic Eraser and Concentrated Multi-Surface Cleaner are the #15MinReno tools everyone needs in their arsenal.
Check out my #15MinReno on our master shower. My kids all insist on using our shower, so it get filthy fast. Plus, they all have to have their own bottles of shampoo and body wash, etc. It's a total mess – not to mention to the hard water stains on the glass shower door. So, today I took 15 minutes to make it look awesome.
Here are the before shoots (gross, I know.).
After some elbow grease along with the Mr Clean Concentrated Multi-Surface Cleaner, here is the after:
Next to the shower is some wall decor which had some black marks all around it. Here's the before shots:
It only took me a couple of minutes with a Mr. Clean Magic Eraser and the blacks were completely gone. No repainting! Here's the after: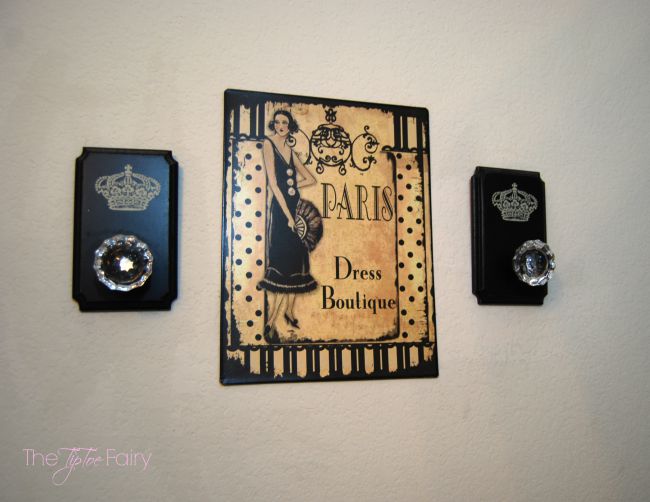 Join me at the Twittery Party for Mr. Clean!
Date: August 5th at 8pmCST
Hashtag: #15MinReno
Celebrity Guest: Johnathan Scott of HGTV Property Brothers
Prizes: 4 Renovation Kits including multi-use screwdriver, tape measure, various Mr. Clean product and a piece of decor.
Grand Prize: $400 GC to a Home Improvement Store
RSVP here: http://vite.io/iConnectIM
Would you like to win your own Mr. Clean #15MinReno kit? Enter below: