I participated in an Influencer Activation on behalf of Influence Central for Charmin. I received product samples to facilitate my review and a promotional item to thank me for my participation. All content and thoughts are my own.
Being a work-at-home mom with three kids home during the summer, my house stays far from perfect. Yet, this time of year, friends and family come over often. There's one room I always keep tidy, and it's the bathroom. If you have unexpected guests, they probably won't notice if your house is a little messy, but a dirty bathroom is always noticeable.
There are five things I always make sure are ready in my guest bathroom:
a clean sink
a clean toilet
extra rolls of toilet paper
fresh hand towels
DIY Bathroom-Atherapy spray
It can seem like it's hard to keep clean since our guest bathroom is also the "kid" bathroom, but I find it easy to do in less than 5 minutes.
1. Keep a Clean Sink. I've trained my kids to wash out the toothpaste and use a disinfectant wipe to go over any stubborn spots. If I'm the last one to brush my youngest's teeth, then I quickly wipe it all down before bed time.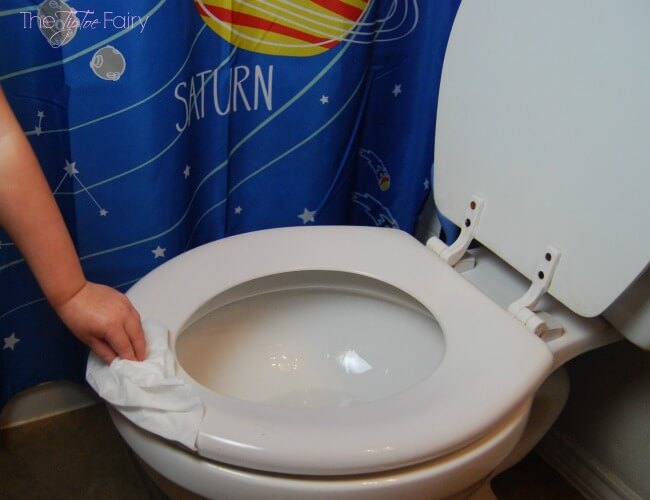 2. Keep a Clean Toilet. With boys, this can get seriously stinky. Every day I swirl the toilet brush around, and then I wipe down the top of the bowl with a disinfectant wipe as well as the underneath of the seat. Lastly, I use a wipe to clean around the floor at the bottom of the toilet where urine can collect when you have boys.
3. Extra Rolls of Toilet Paper. With a family of 5, toilet paper goes fast here. I keep a pyramid of three rolls at all times on the back of the toilet. I don't want anyone to have the embarrassment of running out. I check those rolls and top them off as needed.
With summer parties and play dates, it's nice to know Charmin's clog-free guarantee ensures that your plumbing will run smoothly without worrying about how many people are using your bathroom.
For the second year in a row, Charmin and Roto-Rooter, America's largest provider of plumbing & drain services, are teaming up again to remind us all about the clog-free and septic-safe guarantee that only comes with Charmin. Did you know Roto-Rooter plumbers recommend Charmin more than any other brand? I had no idea!
Not only is Charmin a family favorite, but it is also used by more plumbers than any other toilet paper brand, making Charmin the expert's choice.
4. Fresh hand towels. My kids use the bathroom hand towels a lot, so I make sure to replace them at least every 2 days. If guests are dropping by, I scout out the bathroom to make sure it's stayed nice, and I add fresh hand towels.
5. DIY Bathroom – Atherapy Spray. I'm sure you've seen the "No.2" sprays for spraying in the toilet before you go. I make my own with rubbing alcohol and essential oils. I like to call it "Bathroom-Atherapy Spray." Just a spritz in the toilet and the bathroom smells just lovely.
Bathroom-Atherapy Spray
Supplies:
a small spray bottle
rubbing alcohol
30-40 drops of essential oils (I like to use just sweet orange)
grab a free label to make your own – HERE
Check out this video to see how I make it.
What are your tips to keep your bathroom ready for unexpected guests?