This shop has been compensated by Collective Bias, Inc. and its advertiser. All opinions are mine alone. #GetAShot #CollectiveBias
Do you get a seasonal flu shot? Before I had my 3rd baby, I wasn't really proactive in getting a flu shot. I didn't think it was that big of a deal. Then, the big bad flu came in 2009 along with the H1N1 virus, and my ob/gyn heavily recommended I get the flu shot when I was pregnant. So, I did.
About a month later there was a huge shortage of flu vaccines across the country, and Mr. E, my son, came down with the flu. It was miserable, and then, it went through the whole family, except me. I vowed never again were we skipping the flu shot. Since that year everyone gets a flu shot every year, no matter what.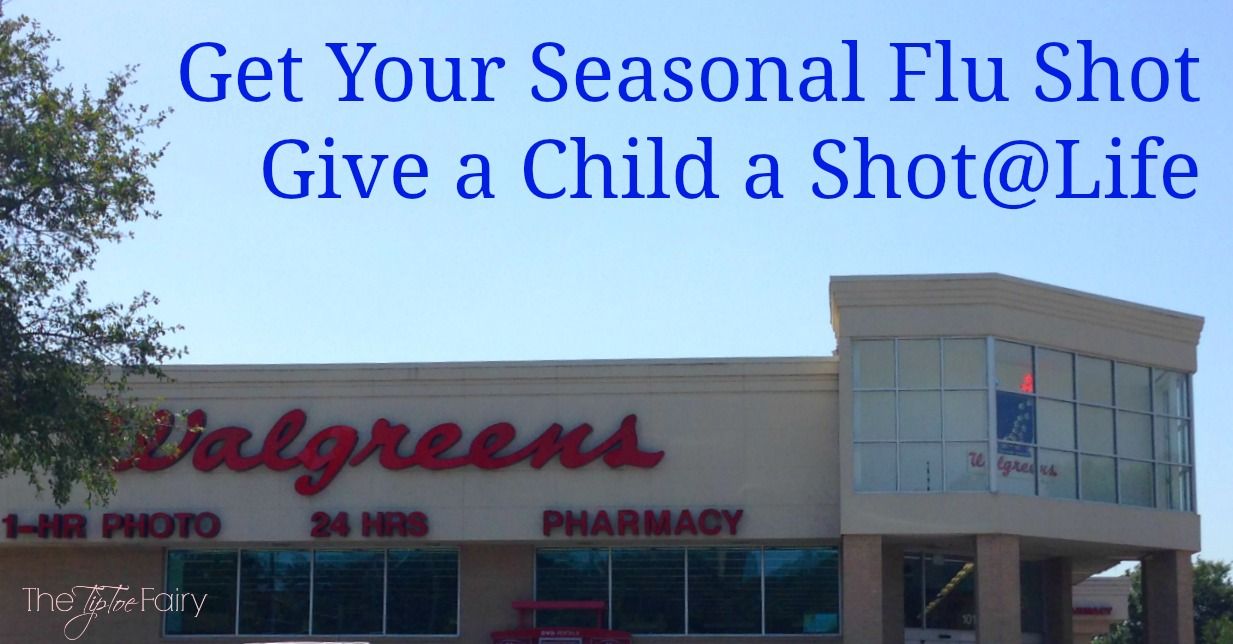 Most years I head to Walgreens to get my flu shot. It's just so convenient and easy. There's no appointment necessary at the pharmacy. Even if your Walgreens doesn't have a clinic, the pharmacist can still give immunizations, and there is very little wait time. My insurance pays for them 100%, so I don't have to pay anything out of pocket. Definitely check and see if yours does, too.
Not only does Walgreens offer seasonal flu shots, they also offer other routine vaccinations.
When you get your seasonal flu shot at Walgreens, did you know you are helping children in need get essential immunizations in Africa? Walgreens has partnered with the United Nations Foundation's Shot@Life Campaign.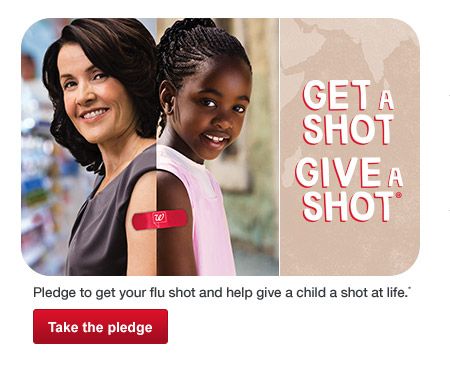 The "Get a Shot. Give a Shot.®" campaign helps supply lifesaving vaccines to children in developing countries through the Shot@Life campaign. Now through October 13th, 2014, when you and I get our seasonal flu shots at Walgreens, we are helping protect children from diseases like measles and polio.
Together this campaign can supply up to 3 Million vaccines to kids that need it most!
We take immunizations for granted in the US. But, you can pledge to get your flu shot at Walgreens, share it with your family and friends on social media and join the movement helping make a world of difference to children in need.
When a child gets the protection of lifesaving vaccines at the beginning of life, they are more likely to celebrate their 5th birthday, do well in school, and grow up to be productive adults. A healthier world truly benefits us all. With better access to vaccines everywhere we improve our ability to fight disease globally and improve economic stability around the world.
I'm headed to Walgreens at the end of this week for my flu shot. When are you getting yours?