I participated in the Amwell blog program as a member of One2One Network. I received compensation but all opinions are my own.

What if you could see a doctor, dietitian, or even a therapist from wherever you are right on your smartphone or tablet — at home, work, or even on vacation? Now you can with the Amwell app from American Well, the nation's largest telehealth company.
Using the Amwell app, you can be connected to board certified, licensed doctors for immediate online visits. They can treat minor illnesses or injuries as well as general health concerns, refill prescriptions, and help manage chronic conditions. Along with physicians, you also can have access to registered dietitians and licensed behavioral therapists. All of this is available 24 hours a day, seven days a week!
Enter your health insurance information for a low cost visit. Amwell doctor visits are now available in 46 states, but there are a few states (like here in Texas) where online medical care is not available. However, you still have access to dietitians and therapists. My husband has been wanting to change his eating habits, so we decided to check out the Amwell app and get him a meeting with a registered dietitian.
It took just minutes to set up an account, login, and find a dietitian.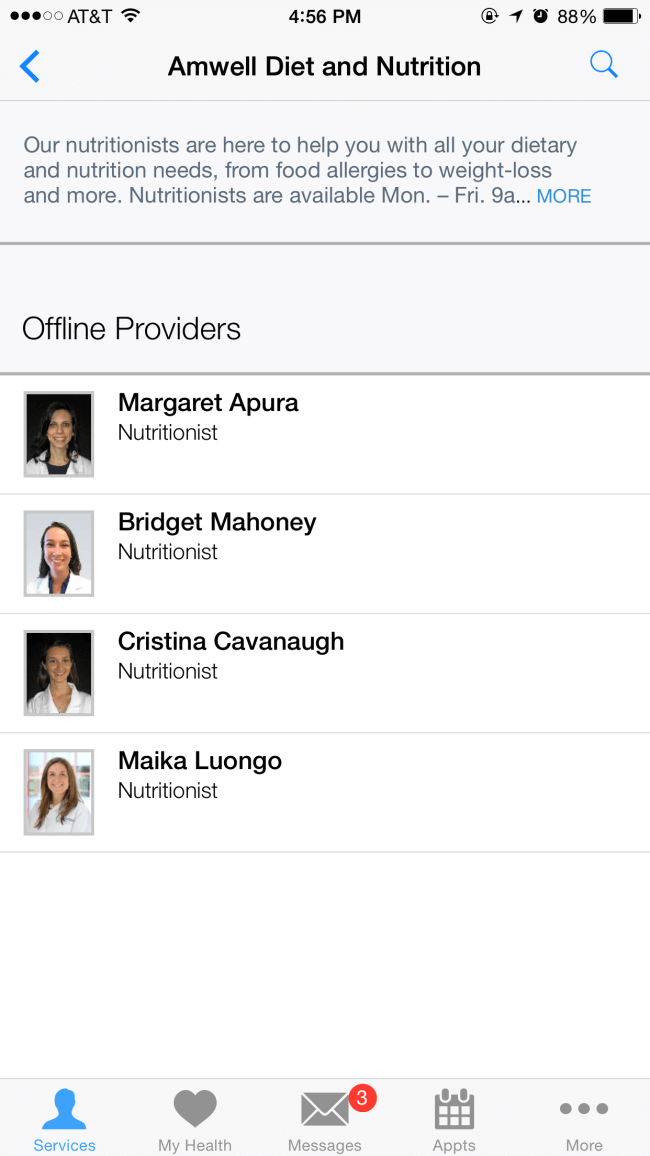 Even on a Saturday there was a dietitian available! She introduced herself as Margaret and spent more than 30 minutes going over all kinds of food choices and setting goals with him. She talked to him about changing a lifestyle or relationship with food and having a different mindset than just "going on a diet." It really motivated him to get back to changing the way he was eating. She even called back and emailed with followup information for him.
When you're ready to try it, simply choose what type of visit you're wanting. Then a selection of available doctors will come up. You can read information about each one before deciding which doctor you choose.
The typical doctor visit is 10 minutes where they can diagnose, prescribe, and suggest followup. With a dietitian the time is usually about 30 minutes, and with a therapist the visit is about 45 minutes. Amwell is accepted by major insurers, with more added every day.
Amwell was created by doctors. and it's available on both Apple and Android. According to App Annie, it was the most popular telehealth app worldwide in 2014. It was also the first telehealth platform to integrate Apple's Health App, and it's the only telehealth app that lets you choose the doctor you want to see.
It's convenient because you don't need to schedule an appointment. It's also easily accessible 24/7, especially when you can't get to the doctor.
Best of all it's low cost with a regular physician visit only $49! This is great for people without insurance or college students. Better yet — you can try it for FREE! Just download the Amwell app and use the coupon code MOMSLOVEAMWELL for your first visit FREE at the check out.