This post was sponsored on behalf of Hasbro's Littlest Pet Shop. All opinions stated are my own.
Do you have a child who loves animals and pretend play? Then, the newest Littlest Pet Shop playsets are a great gift idea! We received the Littlest Pet Shop Pawristas Cafe as well as the Littlest Pet Shop Pet Shop Playset along with some new pet pals.
My oldest daughter, Emma, is teen, and years ago she loved Littlest Pet Shop. She's passed all her pets and playsets onto her younger sister a couple of years ago. Molly has always loved creative pretend play, and she loves small toys. Littlest Pet Shop is one of her favorite things to play with because it combines both little things and animals. She will sit forever creating entire story lines and scenarios with her pets.
The Littlest Pet Shop Pet Shop Playset has an MSRP of $29.99 and the Littlest Pet Shop Pawristas Cafe has an MSRP of $19.99. Both come with a pet and pet friends, so if this is your first time with Littlest Pet Shop you don't have to buy an extra pets. We also received some Littlest Pet Shop Singles with an affordable MSRP of just $2.99. These sets were easy to put together. My teen and 6 year old put them together without any of my help, and it took just a few minutes. In less than 20 minutes, she was playing with her new sets.
I love the little Pawristas Cafe because it comes with little foods like cookies and croissants as well as plates and mugs and more. We fed some of her dogs and cats all kinds of yummy treats. There's even a microphone so you can host an open mic night with your pets. How cute is that?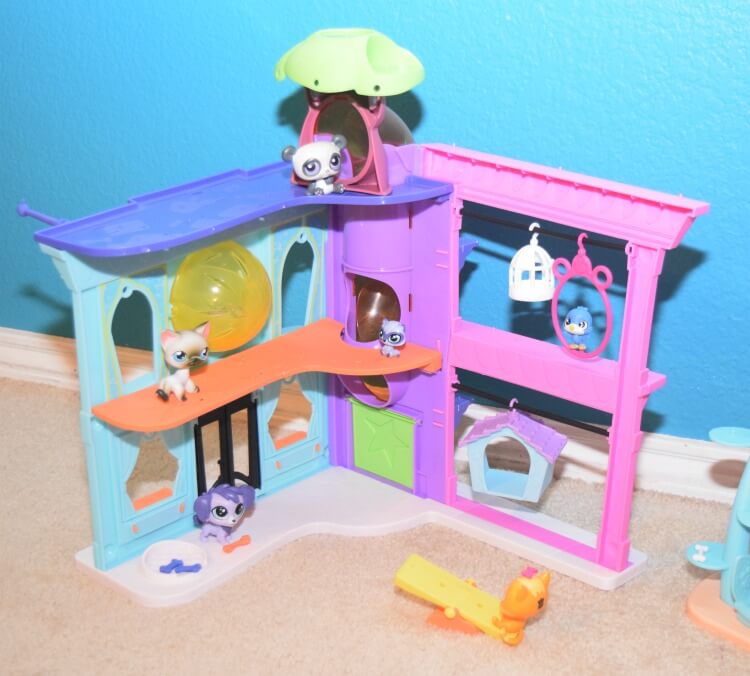 I think Molly loved the Pet Shop, too. There's all kinds of places for you to put your pets. It can hold up to 30 of them! The pets that come with the shop have little holes in their feet so you can attach them to things in the shop like put them in the birdcage or hoop swing that hang from the rods. There's even a doghouse that hangs and a totally cool hamster ball!
We also played a lot of seesaw with her animals. She loved putting her kitties and puppies up in the rooftop playground. There's a tube slide to get them down to the main floor!
This year there's 40 unique pets, including a Labrador, a Puffin in the Spring and a Jack Russell Terrier in the Fall. Each pet includes bobble-head motion and either a Deco Bits piece or accessory to inspire unique stories. Molly was so excited her new puppy came with earrings as accessories.
If you have a child who loves creative and pretend play, especially with something like a dollhouse, then they will love these toy sets. They have quickly become some of our favorites!
Check out new products and more ideas from the Littlest Pet Shop Instagram page! Such cute pics! Do your kids love Littlest Pet Shop?