This is a sponsored post written by me on behalf of Spin Master Games for IZEA. All opinions are 100% mine.
Do you have a family game night? My family just loves playing card games and board games together. We can get busy with three kids, but we do it at least a few times a month.
I've been seeing the commercials for Hedbanz, so I grabbed it while I was grocery shopping a couple nights ago. I wasn't sure if my kids knew about it, but surprisingly, all three of them wanted to play it as soon as I walked in the door.
When I first saw Hedbanz at the store, I have to admit I was a little skeptical if this would be fun for adults, too. However, after our first game, I was hooked and so were the kids. It's a really funny game, and we laugh so much when we play.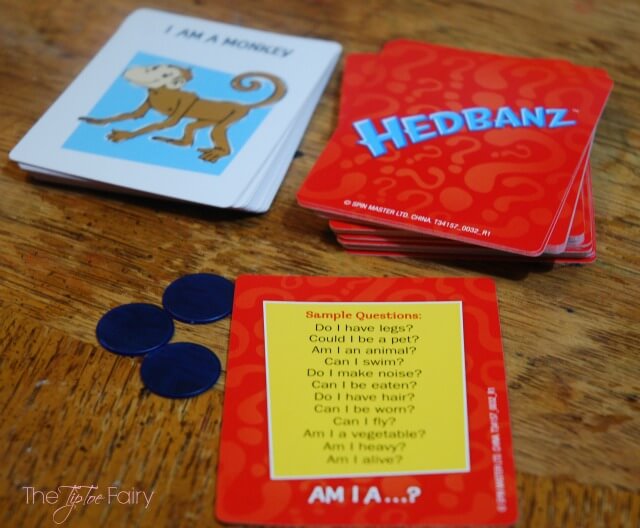 It's a very easy game. It comes with enough "Hedbanz" for six people. Everyone gets a card full of sample questions. You don't have to stick with just these. You can ask just about any Yes/No question. Then everyone gets 3 tokens When you guess what your card is, you get to put a token up. When all your tokens are gone, you win the whole game!
Every time one of us would pick a new card to put up on our headband, everyone else would laugh because we figured there was no way they'd guess something as crazy as a snowman or a door. My son had an octopus on his card during one round, and when he asked if it was found in a tree, we all stared giggling.
At this point, he had just gotten this skateboard card, and he was desperately trying to figure it out. He was not asking the right questions, so he did not like our constant "No" answers.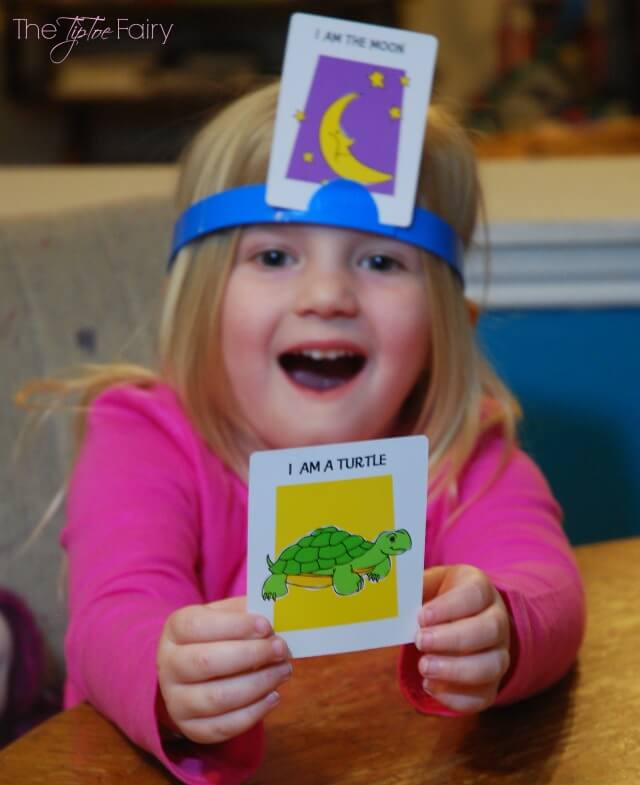 My 5 year old won the last two games we've played. She was so proud she guessed a turtle. She is a very good guesser. Her secret is that she spends most of her time guessing "Is it a monkey?" "Is it a dog?" Rather than ask us the yes or no questions.
Hedbanz is the quick question game of "what am I?" You never know what you are until you start asking! Figure out if the cartoon on your head is an animal, food or man-made object. Be the first player to guess what you are and win! Hedbanz – the game where everybody knows but you!
Check out these other fun games from Spin Master:
Quelf is the multi-award winning game that gives random a new name! Use your creativity and imagination to answer crazy questions and perform ridiculous stunts. There's only one rule – OBEY THE CARD! If a player obeys their card they get to move ahead! You'll laugh until you cry with this outrageous, unpredictable, and fun filled party game. Be the first person to cross the finish line and you win! Enjoy a non-stop hilarious adventure with Quelf!
Would You Rather is the zany game of deranged dilemmas and difficult choices. Discuss, debate and laugh your way to the finish in the ultimate ice-breaking party game as you ask: Would You Rather have to wear a tuxedo made of taxidermied squirrels or a swimsuit made of live starfish? Would You Rather asks you and your friends bizarre, imaginative, hilarious and occasionally disgusting questions.
You can purchase Spin Master games at Amazon, Wal-Mart, Kmart, Target, and ToysRUs!
Does your family have a game night?