I received a DOCKATOT Deluxe in exchange for an honest review. All opinions are my own. This post contains affiliate links.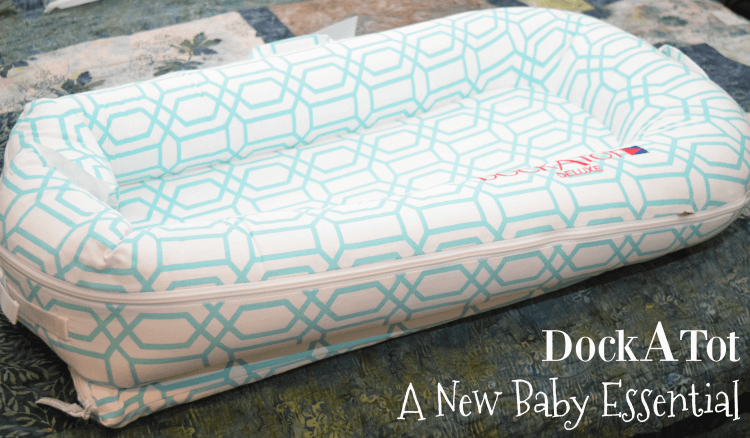 Now that I'm past the halfway point, we are getting down to business for our new little arrival. Since I'm now 40, I had all the genetic testing done this time. My husband was a bit worried reading all the increased chances of genetic issues with a baby when you're a mother of "advanced age." I had all the blood work done over the Christmas holidays, and they gave us the option to know the sex of the baby, too.
I had to spend the entire holiday season waiting for that phone call. I was a nervous wreck! But, finally I got the phone call last week that everything was perfectly normal AND if we were having a boy or girl. We waited to tell the kids with a little gender reveal. Here's the quick little video:
So….I'm a little surprised it's a girl! I haven't had near the morning sickness I did with my last one, so I thought for sure this was a boy. I'm perfectly happy with a girl as pink is my favorite color! My poor son, who will now have three sisters, was really, really hoping for a boy. I told him having three sisters will just make him a wonderful husband and father some day.
Now we're gathering baby supplies, and one of the first ones I could not wait to get is a DOCKATOT. I chose the Minty Trellis color, and I just love it! It's the one baby essential I knew I could not live without. It's so versatile in that it's a multi-functional lounger, co-sleeper and playtime lounger.
They have two sizes available. We have the DOCKATOT Deluxe which is for babies 0-8 months. They also have the DOCKATOT Grand for babies 9-36 months, which can also be used to ease the toddler transition from co-sleeping to their own bed!
We have co-slept with all of our babies. I have exclusively breastfed all of them well into toddlerhood and part of making breastfeeding so easy and convenient is having my baby right in the bed with me. We've tried other systems with previous babies, but I have to say I love the DOCKATOT features. It's definitely going to make me feel safe and let me sleep better when she's a tiny newborn.
They are designed in Sweden and handmade in Europe from breathable, OEKO-TEX certified, all natural, 100% cotton. It's the perfect micro-climate for babies and toddlers.
I'll be sharing an update when the baby arrives and show it in action with her. I can't wait! Not only is it perfect for the bed, it's also a great place to change a diaper and to keep her nice on the floor for some tummy time.
Need the perfect gift for a baby shower or can't wait to get one, too? Use this link to get $10 off when you order your own DOCKATOT!