This is a sponsored post on behalf of MomTrends and Philips Hue. All opinions are my own.
We've had the Philips Hue lighting system in our home for awhile now, and we love it. It's a connected lighting system that lets you wirelessly control your home lighting, like with your smartphone!
You can walk in a room and change the color of the lights with your phone! There are millions of colors to choose, and there are tons of apps to use with the lighting. You can really make it completely customized!
My husband can set up the app to turn the lights on a certain color in our bedroom to wake him up in the morning. You can even set them to "dance" to music on your phone!
Recently, I got the chance to try out some more of it with additional lights, the Philips Hue LightStrip Plus as well as the Philips Hue motion sensor. So, we set up an awesome DIY Trick or Treat Station for Halloween!
Here are the products we used:
We changed out the lights in our entry way to the starter kit. Also, we added some spooky decorations to help the ambiance.
We set the table up with the LightStrip — it has 3M adhesive so you can easily attach it to anything. Then, we added some layers of creepy cloth, spider webs, and bones from the dollar store.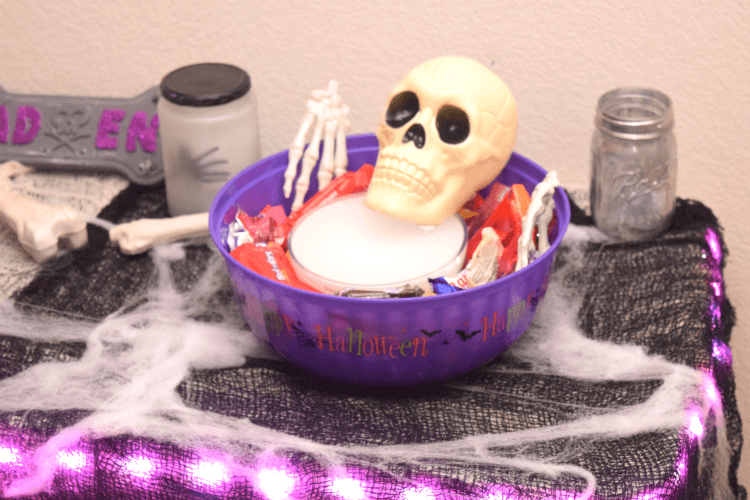 The Hue Go lights are wireless and portable! You just charge them and then can take it to another room! I decided to put them in the candy bowls for a spooky effect. I used dollar store skulls on top of them to make the skulls look like they are glowing for a creepy effect!
We decided the motion sensor would be hidden at the middle back of the table, so the lights will start flickering both on the table and in the entry way when trick or treaters arrive to give them a little fright!
My husband set up our own spooky Halloween theme on the Hue app, but you can download Hue Halloween (or even Hue Disco) for themed lights, sound effects, and more!
The best way to get a feel for how totally awesome these lights are with our DIY Trick or Treat station is to check out this short video of the whole experience. The lights coordinate to the music you hear for a spooky treat for trick or treaters on Halloween!
I cannot wait for Halloween and the trick or treaters coming to our house! Handing out candy is our favorite thing to do that night!
But, Philips Hue doesn't just have to be used for something fun like Halloween! It includes four pre-set light recipes to help you concentrate, energize, read and relax in addition to making your own. You can use it for special moments to create beautiful ambiance to set the mood, like a date night in with your spouse.
You can find Philips Hue at many of your favorite retailers like Amazon.com, the Apple Store, Bed Bath & Beyond, Best Buy, Home Depot, MeetHue.com, and more!
Here's a special deal just for Halloween! Head over to MeetHue.com and use the Promo Code: Hue Halloween and get 15% of all products now through 10/30/2016.*
*Exclusions/Limitations: Order discount limit $100, excludes outlet items