There is one dessert I make about once a year – chocolate cream pie. It's a rich and decadent treat, but it's a lot of work slaving over a hot stove to make homemade chocolate filling. I usually make it for something special like a birthday or Thanksgiving or Christmas.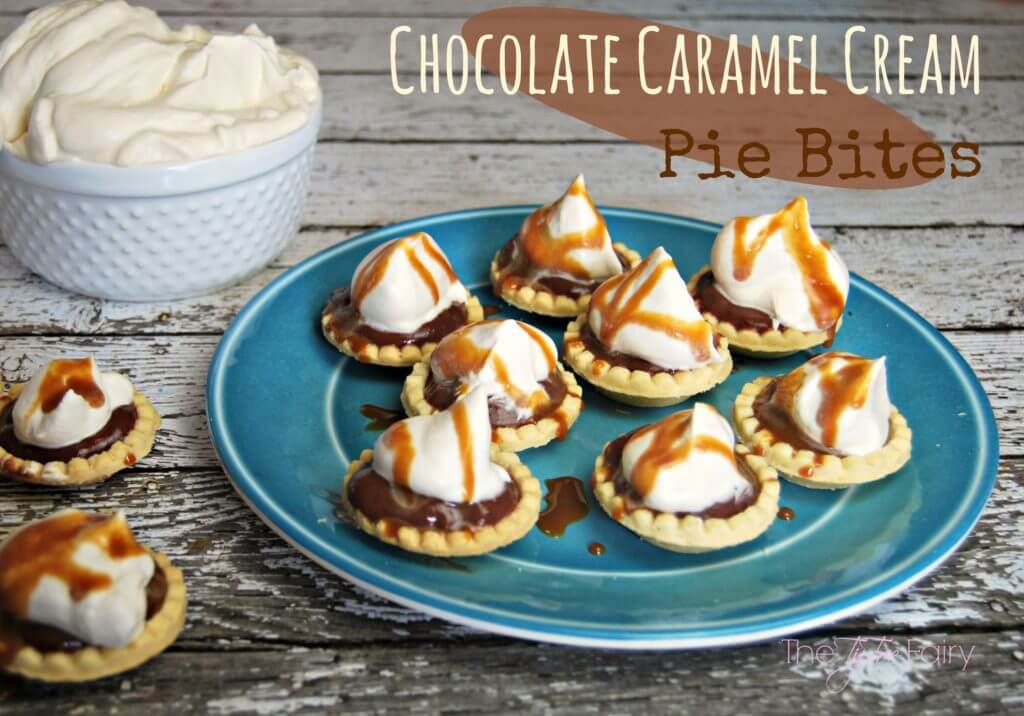 This is a bit of a shortcut to that recipe for an easy weeknight dessert that your family with just love!
But, every once in awhile I'll get a craving for it and whip up these cute little chocolate caramel cream pie bites instead. This time around I made them with dulce de leche whipped cream. That whipped cream is so good — I swear it makes any dessert ten times more wonderful. If you'd like the recipe for the dulce whipped cream, you can find it here.
For these little pie bites, I used these teeny tiny shortbread tartlet shells. They are so cute and one little tartlet shell is just a bit bigger than a quarter. So tiny! I found them at various grocery stores, except Walmart. I always find them at Kroger as they carry a store brand version. I did find one brand available at Amazon — you can see them here.
Chocolate Caramel Cream Pie Bites
Ingredients
1 pkg of instant chocolate pudding
1 pkg shortbread tartlets
Dulce de leche syrup (Nestle's Le Lechera syrup)
Directions:
Make the instant pudding.
Lay out tartlets on a plate.
Fill each tartlet with pudding. Chill until ready to serve.
Make the dulce de leche whipped cream.
Top each tartlet with whipped cream. Then, drizzle dulce de leche syrup on each one.
Serve and enjoy! Cover and refrigerate any leftovers.

That's all there is to it! I hope you enjoy them as much as we did.
Check out some more ideas for Dulce de Leche recipes here!