I was invited to visit the newest Candytopia here in Dallas for an event hosted by Black Forest. I took my almost 9 year old daughter. Oh. My. Gosh!! Y'all this place is amazing! We had the most amazing time. You really do feel like you've just walked into Willy Wonka's Chocolate Factory.
This is a must visit place! Your kids will LOVE IT! You will LOVE IT! It's all about touching and playing and eating candy. Toddlers will have fun, big kids will have fun, and adults will have fun! This is a place for everyone.
We were invited by Black Forest, who make scrumptious gummy bears with real fruit juice and all kinds of other yummy treats. For our special event, they had a wonderful juice bar inspired by the gummy bear flavors. It was delicious! They also had a table spread of delicious foods.
Then, they had a fun little DIY craft to make jars full of their candies. We each made one, so I could bring one home to her big brother who was babysitting the littlest sister.
There are a ton of rooms and each room has a treasure box FULL of candy for you to eat. There's even a hidden pile of candy of those delicious Lindt chocolate truffles that comes out on display!
This place is made for picture taking, so get your Instagram game on! The sculptures are all amazing, and there's lots of fun activities to do along the way.
I loved how they had an information sheet along with each sculpture that told all about the candy, the time, and everything you wanted to know about making them. Plus, the workers in blue jumpsuits were all so nice. They readily helped you take the special QR photos, and they answered all kinds of questions.
Tips for Visiting Candytopia
#1 Take a bag for all the candy goodies you get. I did not realize how much candy haul you get, so we both took little hipster bags to easily get around. I wished I had taken a bigger bag. We were stuffing and stuffing candy in our pockets and purses, and anywhere it would fit.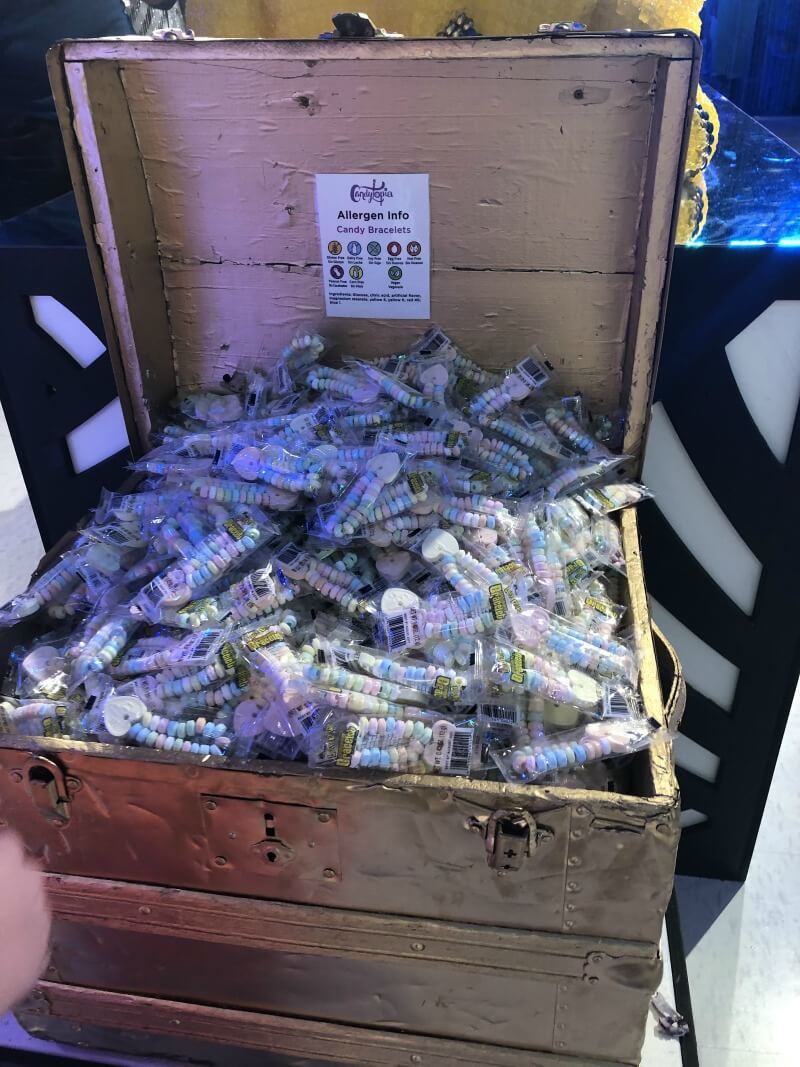 #2 Bring your phone charged. When you get there, there is a sign to register to get a QR code to take photos in several of the rooms. Do this and screenshot the QR code to your picture roll. Then, you can easily pull it up to scan. The pictures are then sent to your phone. They are really fun with things like you look like you're in a chocolate river or falling down a tube.
Plus, there are tons of perfect photo moments — especially in the confetti room.
#3 When you leave the confetti room, you have to escape through a tube of air. It's basically two air-filled pillows that push against each other, and you just have to push through. It looks totally scary to enter, but, once you're in them, it's not scary. You can see where you're going, and you just push your way down the hallway.
#4 Wear socks! The marshmallow pit requires you to remove your shoes. Also, a warning — There is a loud cannon in the Marshmallow pit. It is seriously loud for anyone who has sensory issues. They do warn everyone well in advance. Fortunately, it doesn't go off very often.
#5 Don't be afraid to touch the candy sculptures. They encourage it!
Get Your Tix
You can visit now through the end of July. Adult ticket prices are $30 and children are $23. Purchase Your Tickets HERE.