[disclaim]This post contains affiliate links. [/disclaim]
You know when you find something amazing and you just want to jump for joy and share it with the world? Well today I'm sharing with you things that have changed my life and made my home so much better! I know it sounds silly, but I cannot imagine how I lived without these before. Let's get started!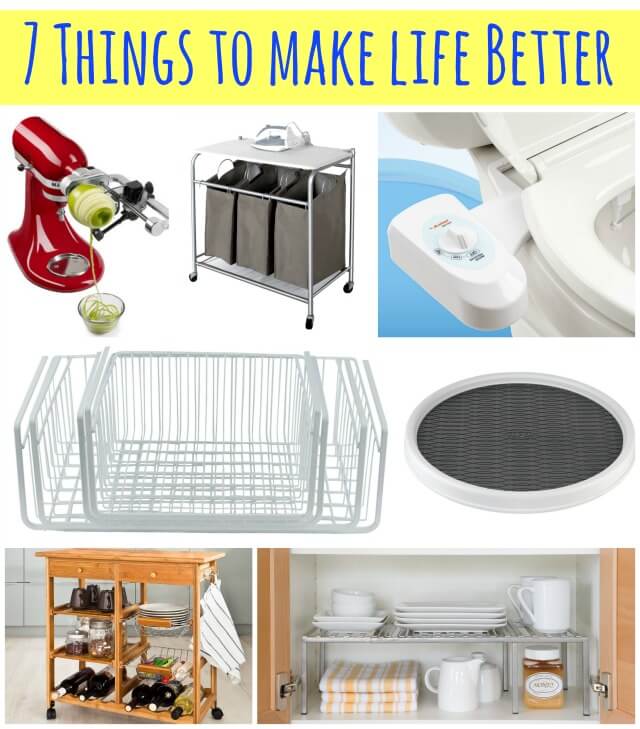 I'm going to start with the big one first. You will probably think I'm crazy. It's a bidet that you easily attach to your toilet. It is LIFE CHANGING, and I'm not joking. We now use way less toilet paper and no more expensive, sewer-clogging flushable wipes! It's healthy for you because you aren't using all that harsh toilet paper wiping delicate skin. And, you feel wonderfully clean!
With five people, we were going through giant packs of toilet paper like it was going out of style, and I was at the big warehouse store buying giant packs of flushable wipes because everyone liked to feel clean. Those wipes not only can clog your toilet, but as they go further down the sewer line they are causing serious problems. Now no one is missing the wipes!
It's not electronic at all. It hooks up directly to the water line by the toilet. You turn the little knob to increase the water pressure, and the head comes down and a stream of water comes out. You can move it from low to high. It's clean and easy.
My non-handyman hubby was able to install it super easy in just a few minutes. I just ordered bidet #2 because now all the kids want to use my bathroom when it's time to go just so they can use the bidet. We loved this so much we gave it as Christmas gifts. My parents are loving it, too! Click HERE to learn more.
Lazy susans are how I helped my spice cabinet get organized. I got so tired of having to take things out to find what I needed, so I bought two of these and put all my spices on them. My cabinet is big enough for two to lazy susans side by side. Now I easily turn them to see everything! Click HERE to find out more.
My husband wanted to help me with the laundry, but even he admitted he was not good at the sorting part. With this laundry hamper, the problem is solved! We sort as we throw our clothes in, and then he just grabs one bag and dumps it in the washer and gets it going.
They have a cheaper version that doesn't include the ironing board, but I thought this was such a convenient way to keep the ironing board. I just had to toss our old one because it was in such bad shape. Click HERE to find out more.
Adjustable shelves for my kitchen cabinets made organizing so much easier. My "tupperware" cabinet is now organized, and I can actually find lids and containers that match. These shelves also helped me organize the cabinet with all my pans. I can slide the skillets all together on the bottom and stack the saucepans on top. Click HERE to find out more.
My husband got this spiralizer for my KitchenAid for Christmas, and I am obsessed with it. My kids love eating spiralized fruit and veggies now. I love that it peels, cores, and slices all at the same time. It can do potatoes, zucchini, squash, just about anything that can be peeled. It's just amazing! You can even make zoodles.
It really does work with any KitchenAid mixer. I have a pro model that raises the bowl up. The spiralizer comes with 3 different blades and it tells you which to use for what fruit or veggie. It makes homemade apple pie a breeze! I really use this every single day to make apple snacks for the kids or veggies for dinner. And, it works amazingly fast. Plus, you can clean everything in the dishwasher! Click HERE to find out more.
These seriously saved my crazy linen closet. I don't know who designed our house, but they gave us one apartment-sized linen closet for a 4-bedroom house. I've tried all kinds of things to get it under control and organized and nothing worked like undershelf baskets.
Undershelf baskets gave me extra storage for the wash clothes and hand towels, and even pillow cases. That head space above the shelves that was just space is now usable! Click HERE to find out more.
There's even decorative ones that are so cute! These are perfect to use on bookshelves or open shelving. Click HERE to find out more.
I just discovered undershelf baskets that roll out! I ordered some, and they're headed for my pantry. I've been working my way through the house to organize, and the pantry is January's project.
You can use these things anywhere from closets to bookshelves to cabinets and pantries. You'll be amazed at how much more room there is when you start using them. Click HERE to find out more.
This is not the exact cart I bought, but it's almost the same. And, the price is great! I actually got two. One I've turned into a mini bar. With making cocktails and drinks for the blog, I've gathered a fair amount of flavored vodkas and other liquors, and they've just been taking up valuable space in my pantry. Now I have them nicely organized and easy to access, and room in the pantry. The wine rack is perfect to hold champagne bottles and more.
As a blogger, I have TONS of dishes, glasses, linens, etc for photo styling. That's what I've done with cart #2. I've organized all my supplies onto the cart so that my kitchen cabinets aren't so jam packed. Click HERE to find out more.
I hope these items can make life easier for you, too! If you don't have Amazon Prime with free 2-day shipping, I seriously recommend it. I order something at least once or twice a week. Not only are the prices usually significantly cheaper than anywhere else, but it's FREE 2-day shipping that makes it even better! Plus, there are so many great shows and music available with your Amazon Prime membership. Start Your Prime Video 30-Day Free Trial Now!