This is a sponsored post written by me on behalf of Dollar General. All opinions are 100% mine.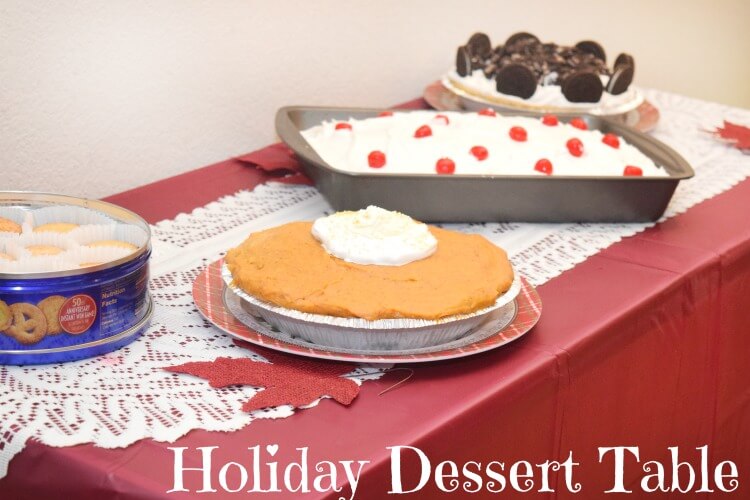 We live in a small town with no grocery store. We do have a Dollar General. Usually, I'm put in charge of the desserts for our family Thanksgiving. I dread heading to the big stores near the holidays. The traffic, the lines, the people — it's just too much. Luckily, I can get everything from decorating the dessert table to all the dessert ingredients right at Dollar General!
Usually we set up a separate table for the desserts. I found DG brand decorations that were so affordable — a Fall-colored vinyl tablecloth and this pretty table runner. It was less than $5 for both! I also picked up some $1 plates to add some festiveness to the pies. They are actually Christmas plates, but you'd never know with the pies on top of them. You just see the pretty plaid. This way I can use them for both holiday dinners!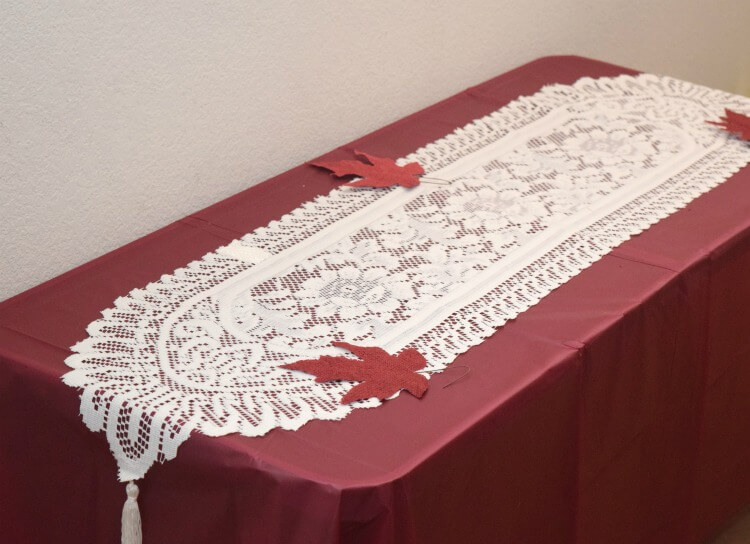 Pie is always a favorite at our Thanksgiving dinner, so I made two no bake pies. Plus, I added a tin of cookies because we all love to snack, and I also made a Shirley Temple poke cake for the kids to enjoy. My kids don't always like the pies, but they do love cake.
Dollar General has some great prices for their Clover Valley and DG brands from graham cracker crusts to pumpkin puree to even the maraschino cherries. I was thrilled to get everything I needed, including the table decorations in one shopping trip!
First up is a No Bake Two-Layer Pumpkin Pie. My husband loves pumpkin and cream cheese together, so this pie has a base layer of cream cheese with whipped topping and then it's topped with a layer of pumpkin mixed with vanilla pudding and pumpkin pie spice. So, so good!
No Bake Two-Layer Pumpkin Cheesecake Pie
Ingredients:
Graham Cracker Crust
1 can pumpkin puree
2 packages instant vanilla pudding mix
1 cup milk
1 teaspoon pumpkin pie spice
8 oz cream cheese, softened
1/2 cup powdered sugar
8 oz whipped topping, thawed
Directions:
Combine cream cheese, powdered sugar, and 8 oz of whipped topping and beat them together until creamy.
Pour the mixture into the graham cracker crust and smooth it out.
Combine the pumpkin, milk, pudding mix, and pumpkin pie spice and whip until smooth and creamy.
Spread over the cream cheese mixture.
Refrigerate at least an hour.
Add a dollop or two of whipped cream and sprinkle with raw sugar.
Refrigerate until serving.
For the chocolate lovers at Thanksgiving, I also made a decadent No Bake Chocolate Cookie Pie. It's full of chocolate cookies, cream cheese, chocolate pudding, and whipped topping. Then, I added coarsely chopped cookies to top it off.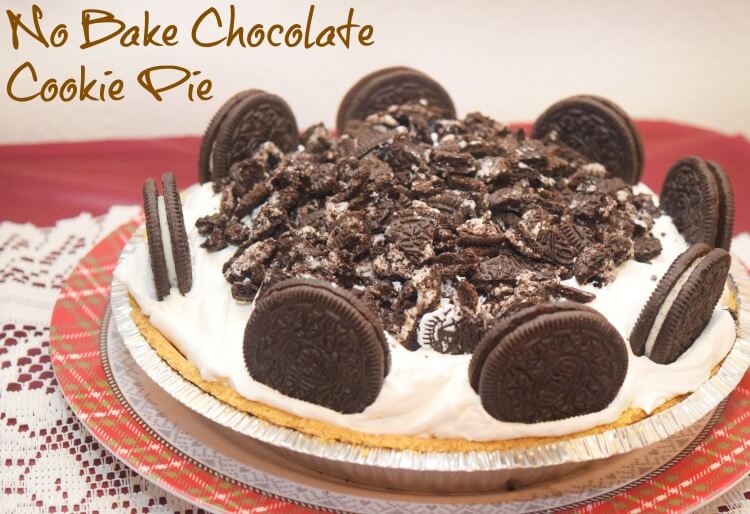 No Bake Chocolate Cookie Pie
Ingredients:
38 chocolate sandwich cookies, divided
Graham cracker crust
8 oz cream cheese, softened
4 oz whipped topping
1 cup milk
2 packages instant chocolate pudding mix
8 oz whipped topping
Directions:
Take 15 cookies and pulse them in a blender or food processor so they are coarsely chopped.
Combine those chopped cookies, milk, chocolate pudding mix, cream cheese, and 4 oz of whipped topping.
Mix together until combined.
Pour into the graham cracker crust.
Top with 8 oz whipped topping.
Refrigerate for at least an hour.
Take 15 more cookies and quickly smash them in a ziplock bag.
Pour them in the center of the pie.
Take the last 8 cookies and set them vertical around the edge of the pie.
Refrigerate until serving.
My kids don't always like pie, so I also made sure there were cookies and a Shirley Temple poke cake on our dessert table. This cake is made with cherry lemon lime soda, jello, and maraschino cherries all from Dollar General! Since this one took some baking, you can find the recipe on tomorrow's post.
This holiday season, you can find everything you need to put together a great dessert table at Dollar General! You can find these products and more at your local Dollar General!