This post is sponsored by SheSpeaks, Inc. and Just Born, Inc. All opinions are mine alone.
I love creating with Marshmallow PEEPS! Sometimes I bake with them, but most often I love to craft with them. This year I made a Marshmallow PEEPS Christmas Centerpiece. It's full of Marshmallow PEEPS trees and MIKE AND IKE candy Christmas trees all topped on a peppermint platter.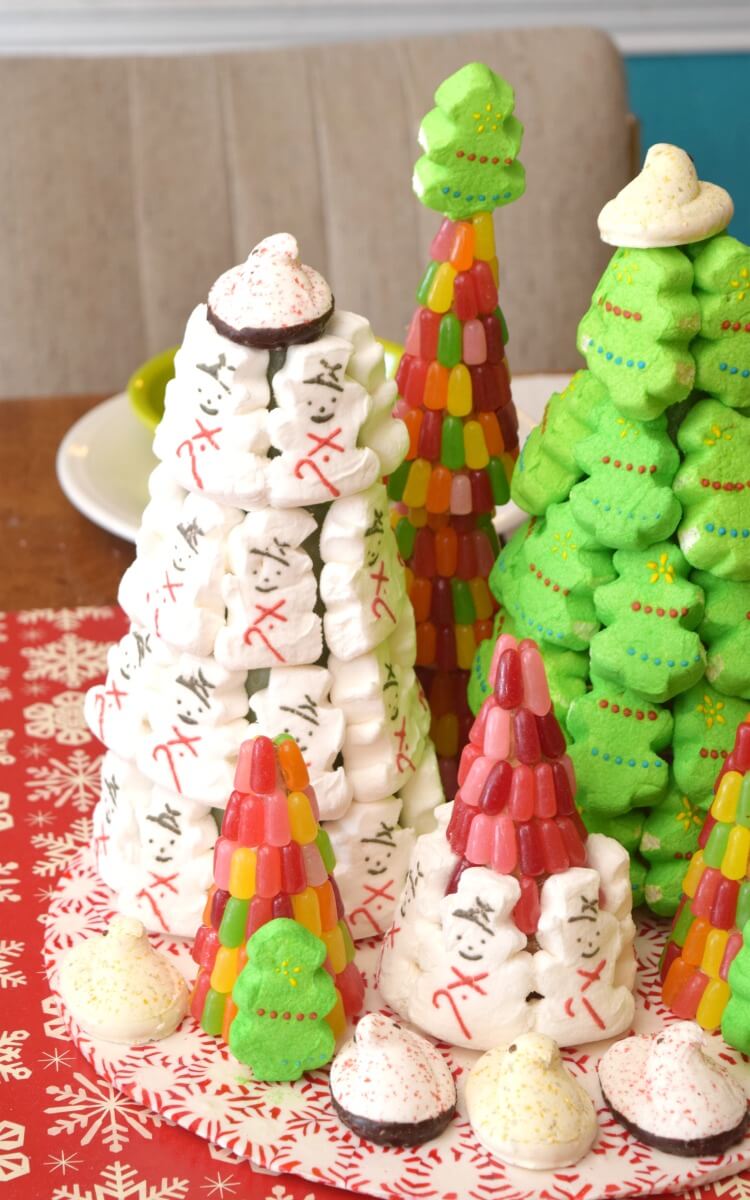 These are incredibly simple to make, and your kids can definitely help out with the Marshmallow PEEPS trees.
Marshmallow PEEPS Christmas Tree
You will need:
1 9-10 inch styrofoam cone (dry foam is best)
Toothpicks
3 packages of PEEPS Marshmallow Trees or PEEPS Marshmallow Snowmen
1 PEEPS Delights: Sugar Cookie or 1 PEEPS Delights: Peppermint Bark
Directions:
1. I recommend the "dry foam" styrofoam cones as they are easier to push the toothpicks in over the regular styrofoam ones.
2. You'll need 2 toothpicks for 1 PEEPS Marshmallow Tree — one for top of tree and one for bottom. Just begin pushing in the toothpicks around the base enough so that they don't stick out of the Marshmallow PEEPS. Then, begin pushing the Marshmallow PEEPS on to the toothpicks.
This takes some trial and error, but once you figure it out, you'll quickly make row after row until you work your way all the way to the top.
3. At the top, I only had a small part of the cone sticking out, so I inserted toothpicks at a deep slant and pushed a single PEEPS Marshmallow tree or PEEPS Marshmallow snowman onto each toothpick.
4. Lastly, add one toothpick to the very top of the cone and slide a PEEPS Delights onto it. I found that the PEEPS Delights Sugar Cookie looked best with the PEEPS Marshmallow trees and the PEEPS Delights Peppermint Bark looked best with the PEEPS Marshmallow snowmen.
5. If you're making this ahead of time, only do so about 1-2 days early. I used a trash bag and gently placed it over the top of the Marshmallow PEEPS Christmas Trees until I was finished with the entire centerpiece.
MIKE AND IKE Christmas Tree
You'll need:
1 movie theater size box of MIKE AND IKE candy
1 sugar ice cream cone
hot glue gun
Directions:
1. Turn the sugar cone upside down and begin attaching rows of MikeandIke candies with the hot glue gun.
2. I tried to vary the colors of the candies.
3. I also found stacking 3 MIKE AND IKE Christmas trees and hot gluing them together made a great tall tree to go with the Marshmallow PEEPS Christmas Trees.
Once I created all the trees, I also created a huge peppermint platter for the centerpiece. Then, I added extra Marshmallow PEEPS and PEEPS Delights all around the platter. It came together so easily, and it's just perfect for a Christmas party table full of food!
Marshmallow PEEPS also has great flavors for the holidays! With their PEEPS Delights you can find Peppermint Bark, Sugar Cookie, Hot Chocolate, and Cinnamon Roll flavors! Plus, make sure to also look for Chocolate Mousse Marshmallow Reindeer and Gingerbread flavored Marshmallow Gingerbread Men!
Need more great ideas for your PEEPS? Visit MarshmallowPeeps.com and PEEPS on Facebook and Instagram to get inspiration and have a PEEPS overload of cool recipes and delicious ideas for this Holiday season!