Mmm…cheese. Delicious cheese. Today's Make It Pinterest is a recipe for Pimento Cheese. Here is the original Pin I had.
My son loves pimento cheese, but I'm a cheapskate, and I hate paying for it. I figured it was something I could probably easily make at home and probably for half the cost. I went to my favorite go-to recipe site..Pinterest ;P and found a recipe I thought looked pretty straightforward. Mr. E was going to be my guinea pig to see if it tastes like the real thing, or close enough.
While we were visiting my parents a couple of weeks ago, I was telling my mom my plan and what the recipe involved. She is also a pimento cheese lover. She started pulling out things for me. I said cheddar cheese. She said No, Velveeta and handed me a bag of it. I said mayonnaise. She said No, Miracle Whip. I said a 4 oz jar of pimentos. She said, No, you always need twice that much and gave me the jar of pimentos she had in her pantry. Then, off I went back home to make a batch with the original recipe and her ingredients.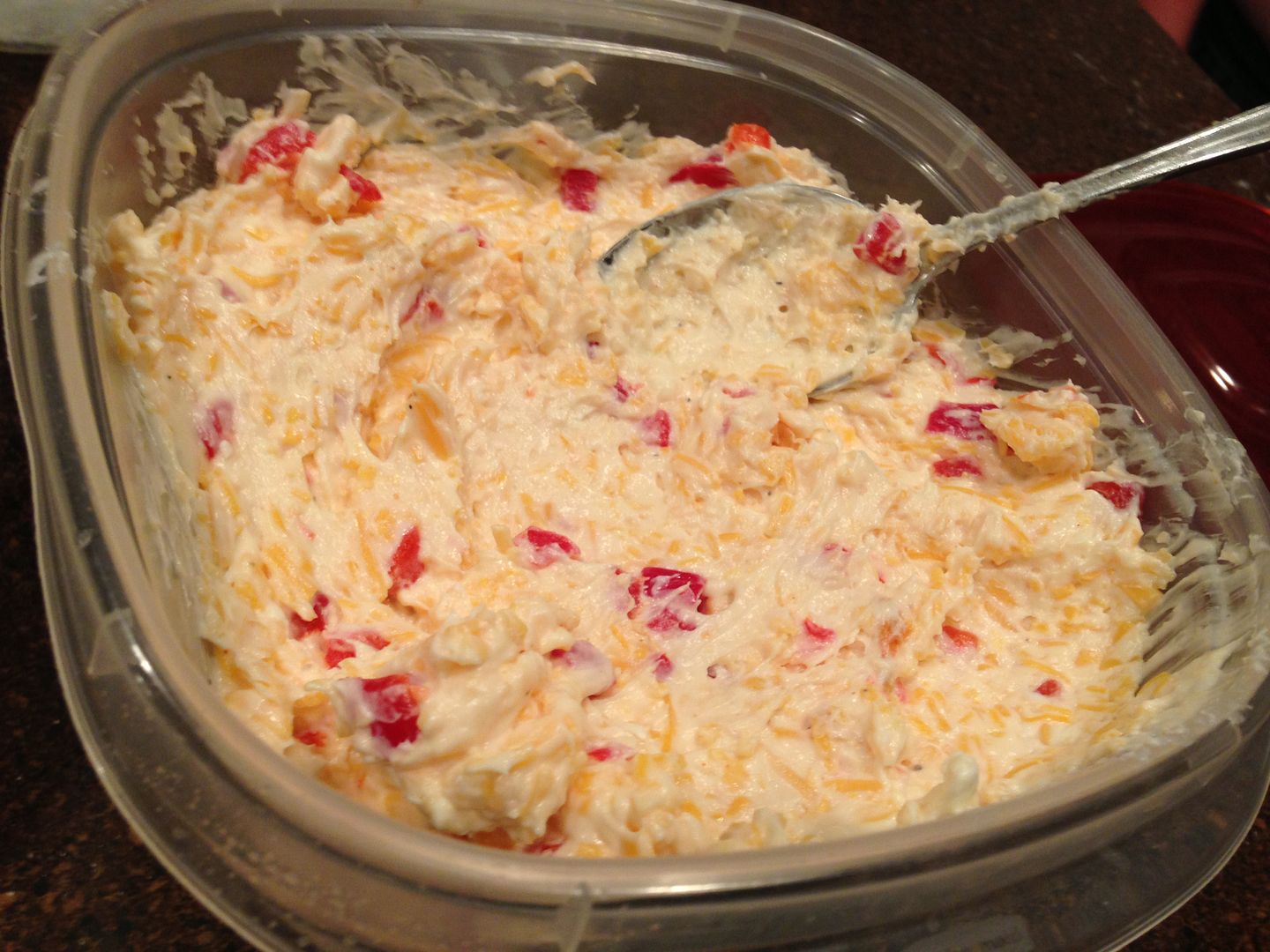 This is an adaptation of the Pinterest recipe. My little guinea pig, Mr. E, loved it just as much as the name brand stuff. He said it tasted a bit different but still the same. When I asked which one he liked and told him not to worry about hurting my feelings (he's my sweetheart kid, hates to hurt my feelings), he said he still prefers the homemade version because it's just so good.
Pimento Cheese Spread
Yields: About 3 cups

Ingredients
1 cup sharp cheddar cheese – freshly grated
1 cup shredded Velveeta cheese
8 oz cream cheese, softened
4 to 8 oz pimentos (I still only used 4 oz despite my mom's warning. It was plenty.)
1/2 cup Miracle Whip
1/4 tsp garlic powder
1/4 tsp onion powder
pinch to 1/4 tsp of cayenne pepper
salt and pepper to taste
Add all ingredients to a large mixing bowl. Then, mix thoroughly. You can do this by hand or with a mixer on medium speed.
Store in an airtight container in the fridge.
The original recipe from the Pin I had used a jalapeno pepper and 1/4 tsp of cayenne pepper. My son loves hot things, but I was still afraid this could lead to it being too hot, especially during lunch at school. So, I left out the jalapeno and only used a pinch of cayenne pepper. He tasted it before and after the cayenne, and he liked it better with cayenne pepper in it. In fact, I ended up putting about 1/4 tsp of cayenne in it with his subsequent taste tests.
In determining the cost, based on my ingredients, it costs me half the price to make it as buy it. The added bonus is mine doesn't have all the preservatives in it.