[disclaim]This project is brought to you by Megaphone Influence and #Soapbox on behalf of Jouviance. All opinions are my own. Giveaway is sponsored by the Kendal King Group.[/disclaim]
In a few short months, I will be turning 40, though I still feel like a 16-year-old kid in high school. I'm always curious if that feeling ever goes away, and I'll finally feel like a grown up.
I totally believe genetics plays an important part in how you age, but taking care of your skin is just as important. I take after my dad whose family has always been very youthful in appearance. My grandpa aged well, and my aunt was mistaken for a teenager until she was in her late 20s. I have a couple of fine lines on my forehead, but I haven't see any crows feet yet around my eyes. Years ago in college, I had a roommate who was obsessed with preventing wrinkles, and we were both just 18 years old. I thought she was crazy at the time, but I did listen to her and take her advice.
#1 Always wear sunglasses outside. It not only protects your eyes, but it prevents you from squinting and developing crows feet.
#2 Sunscreen, Sunscreen, Sunscreen! Always wear sunscreen and keep out of the sun. I make sunscreen a part of my daily beauty routine, and with my fair skin, I tend to avoid the sun as much as possible.
#3 Don't wear makeup all the time. Prior to my first child, I could not imagine leaving the house without makeup on. Nowadays, I just don't like the heaviness on my face. I think it makes my skin less prone to break outs. I love to wear it on a special occasion like date night with my husband, but most of the time, I just wear sunscreen and lip balm.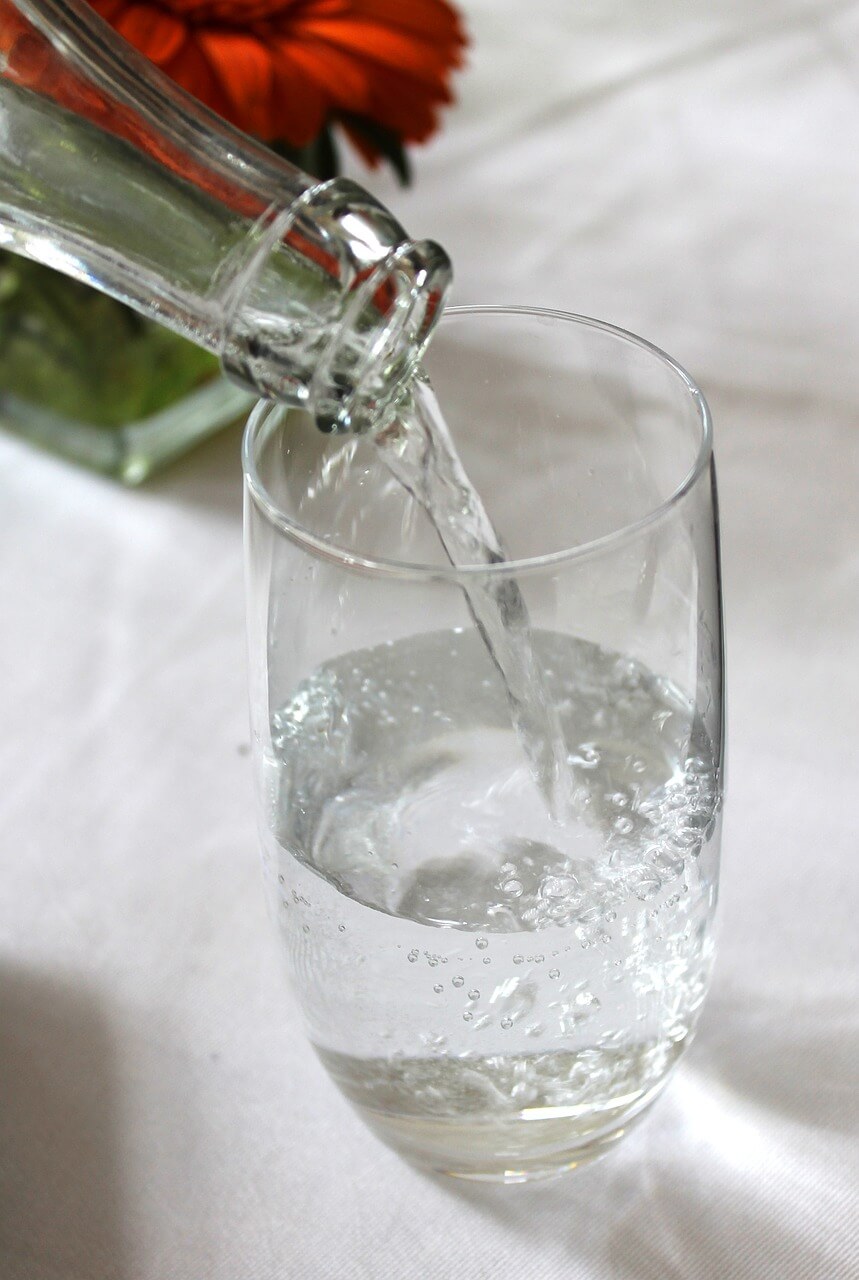 #4 Stay hydrated. I'm always amazed at good my skin feels and looks when I drink water throughout the day. A lack of hydration can turn your skin dry, tight and flaky. Dry skin has less resilience and can be more prone to wrinkling.
#5 Eat healthy. Eating fruits and vegetables with important antioxidants can make a world of difference in your skin. When I eat healthy, my skin looks and feels better.
#6 Don't smoke. Smoking causes damage to your skin from developing wrinkles earlier and deeper to sagging under the eyes. Just don't do it.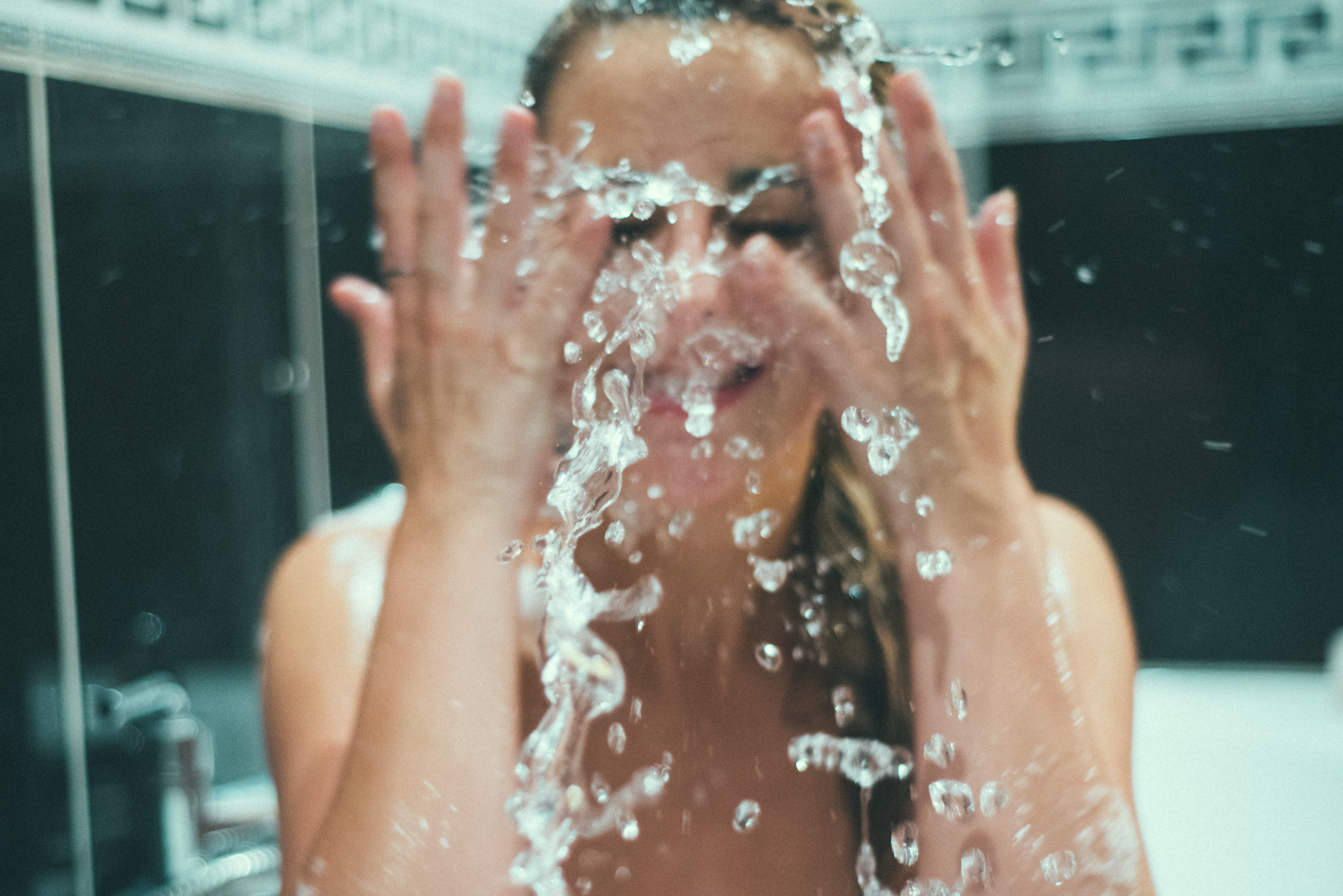 #7 Find a beauty routine that's good for you and your skin and stick with it. I have been searching for anti-aging products that didn't feel heavy or greasy and would work my sensitive skin for a long time now.
I was so excited to get the opportunity to try Restructiv SRD – Restructiv and the Restructiv Collagen Boost – Collagen Boost from Jouviance. I have very sensitive skin, so often times my skin just doesn't like certain products. I've been on a hunt to find anti-aging products that feel good on my skin, and I can't wait to share my thoughts about these with you.
Jouviance is the #1 Canadian developed skin care line and one of the fastest growing dermo-cosmetics brands in Canada. And now, they are in the U.S. available only at CVS! I love that these are not tested on animals. Plus, they do not contain parabens, suplphates, phthalates, mineral oils, colourants, artifical fragrances, or animal-based ingredients.
Jouviance RestructivSRD is an anti-anging cream. It's a new generation of anti-aging products that combines two times the concentration of pure retinol with peptides and hyaluronic acid. Hyaluronic acid plumps and moisturizes the skin. This combination leaves skin smoother and plumper. I really do love putting Restructiv on my skin. It's very lightweight and fast-absorbing and feels wonderfully smoothing on your skin. It doesn't feel like a greasy moisturizer. It feels just amazing to massage into my skin. It delivers fast results to fight the eight clinical signs of skin aging:
fine lines
wrinkles
uneve skin tone
enlarged pores
uneven skin texture
dull complexion
dehydration
age spots
According to Jouviance, after just 2 weeks, it reduces fine lines, tightens pores, evens skin tone and boosts radiance. After just 4 weeks there is visibly reduces wrinkles, diminishes dark spots, firms and restructures skin. I haven't had the products long enough to see these results, but I'm anxious to see because it already feels so good.
Restructiv is recommended to be applied twice a day, morning and night over a cleansed face, eye contour, and the decollete area.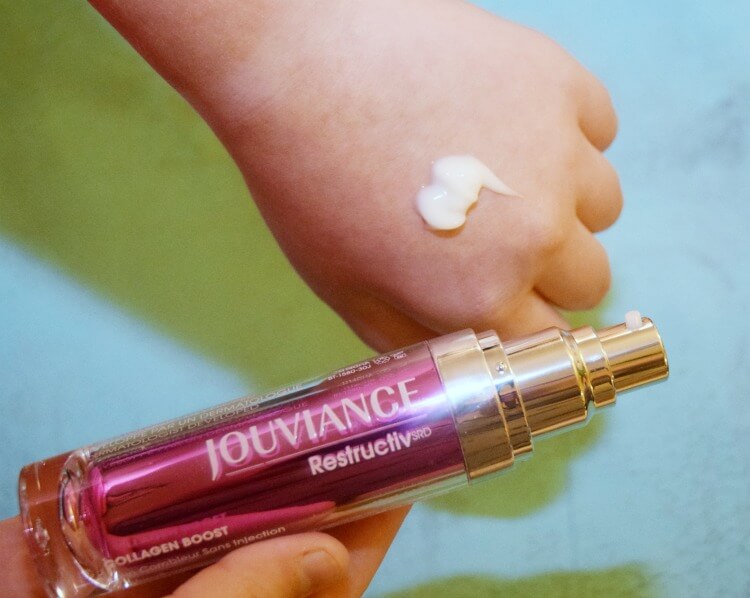 Jouviance Restructiv Collagen Boost Needle-Free Wrinkle Filler Serum is a cosmetic alternative as a needle-free wrinkle filler. In just two weeks you can see a visible skin-plumping effect. It contains a Pro-Collagen Activator (PCA), which is a unique amino acid copper complex that helps skin to look plumper and fine lines and wrinkles to appear diminished. You'll end up with a more radiant and youthful appearance. If you want to reduce the appearance of fine lines and wrinkles and increase skin elasticity, you might want to check out this amazing Collagen Boost. I've been using this for the past week, and it feels amazing. It's not greasy and very light weight. I love putting this on my face at night before bedtime.
This Collagen Boost is recommended twice a day after washing the face, but before applying the Restructiv anti-aging cream.
Based on clinical studies, participants saw an 87% reduction in the appearance of fine lines 85% reduction in the appearance of deep wrinkles *Based on 60-day clinical study among 20 women ages 53 to 68. I cannot wait to see if there is a visible reduction two the lines on my forehead.
If you have sensitive skin or concerned with aging signs and you're looking for quality skincare products, head over to CVS and check out all the Jouviance products. All of their products are dermatologist developed. Jouviance offers innovative skincare products with high concentrations of active ingredients that are backed by clinical studies and supported with patented technologies. They are committed to protecting and treating sensitive skin while minimizing allergic reaction and irritation.
Now here's your chance to win a $100 prepaid gift card so you can purchase your own Jouviance products!