This shop has been compensated by Collective Bias, Inc. and its advertiser. All opinions are mine alone. #OwnTheGalaxy #CollectiveBias
Nate and Mr E are huge fans of comic book characters. Mr E has been excited for Guardians of the Galaxy since it came out in theaters. He was there with bells on. When he came home from it, he told me he couldn't wait to see it again once it came out on DVD.
Guardians of the Galaxy came out Dec 9th, so he was super excited when I told him I picked it up at Walmart, and we were having Guardians of the Galaxy family movie night. I was also able to grab Groot and Rocket Raccoon for Disney Infinity 2.0 and snag some free Walmart gift cards with them!
Until tomorrow – 12/13, when you buy a Groot, Drax or Rocket Raccoon figure for Disney Infinity 2.0, the cash register automatically prompts the cashier to give you a $5 Walmart gift card instantly.
My kids love when we have family movie night because I always make a fun theme for dinner or a snack. This week was no exception. I made layered drinks for Gamora and we had Groot grilled turkey and cheese sandwiches! They were so excited.
Layered drinks can be a bit tricky. I sort of taught myself by trial and error. I got really good at doing 2-layer drinks, but 3 layers kept mixing together.
I discovered to get a good layered drink you need to do two things.
Fill your glass with ice all the way to the top before adding the drinks.
Check the sugar grams for each drink in the layering.
I learned that the highest content sugar drink will be layered at the bottom and work your way up to the top with the smallest sugar content. I found that mixing a high sugar content drink with a zero calorie drink (no sugar) works out great.
We mixed grape soda that had a sugar content of 48 grams with limeade that a sugar content of 0 grams. After pouring the first drink, let the bubbles fizz out a bit, then with the glass at a 45 degree angle, slowly pour the second drink over an ice cube.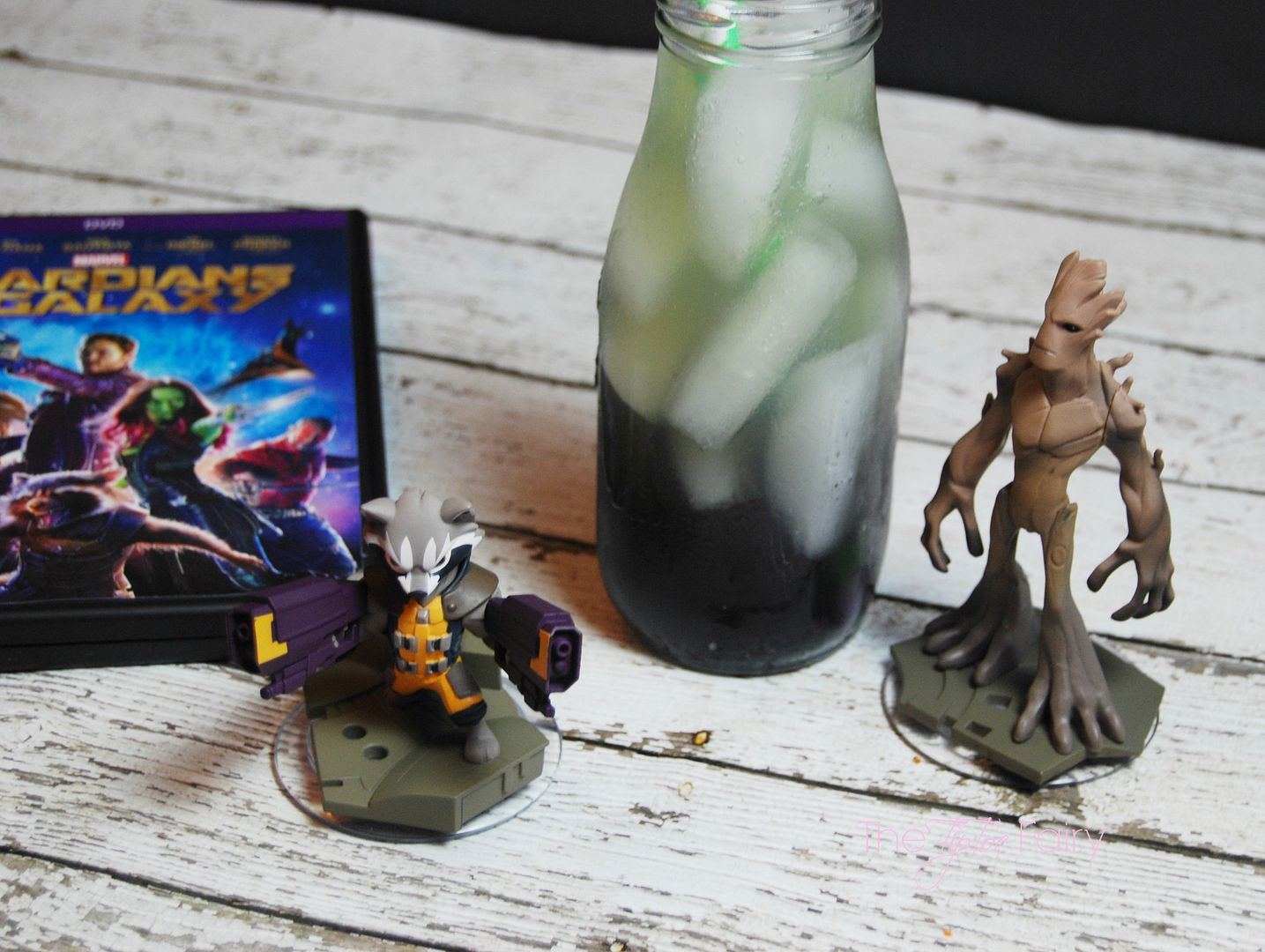 For our sandwiches, I used 100% whole wheat bread so it would like Groot, (I told the kids 😉 ). Then, I used a large sharp knife and cut it to look like a picture of Groot I had up on my phone. I added mega size chocolate candies for the eyes, and I used one of the pieces I cut off the bread to create the mouth. I noticed in the picture he has some little branches or something growing up his head, so I added a little pinch of shredded cheese up on his "hair." My kids loved these.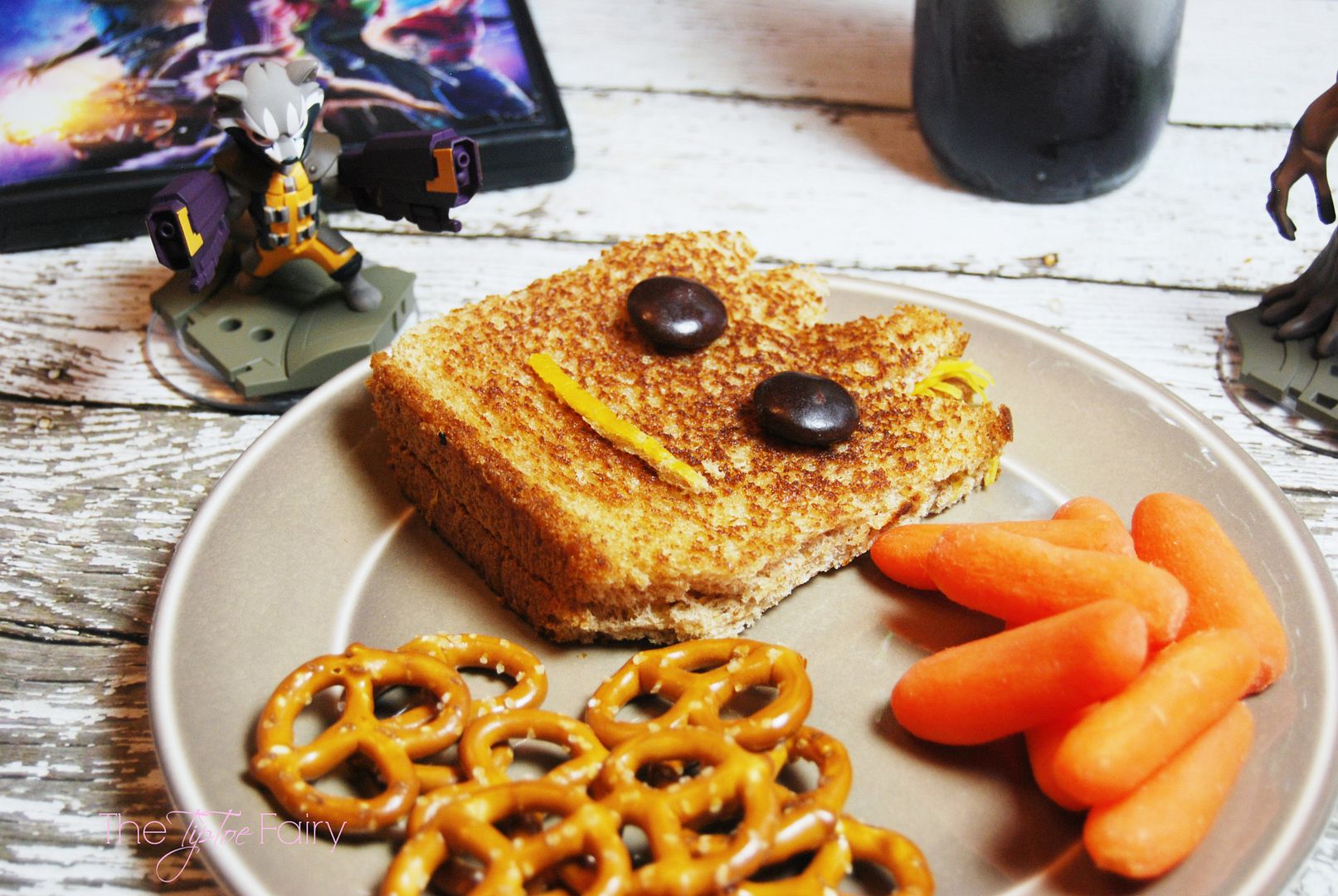 After we finished our sandwiches, then we moved it to the living room for a family night together watching the movie. My kids love when we spend time together doing something as a family. They love to snuggle up to Nate and me as we're watching the show.
Mr E informed me that he could not smile while drinking with a straw, which is kind of true. 😛
When you head to Walmart to pick up Guardians of the Galaxy make sure you check out the in-store stackable display for other merchandise. There's also some fun DVD features: Exclusive Character O-sleeve and exclusive music zinepack and a 64 page magazine with cast and crew interviews, exclusive behind-the-scenes photos and trivia PLUS a custom "cassette" laptop decal! How cool is that? My son is going to love the cassette decal.
How do you like to spend family night? Do you have a favorite movie you watch together?