In the last few months, my teenager and I have secretly become obsessed with cookie butter. It's our little share time. We each grab a spoon and the jar of Biscoff or Cookie Butter, and we meet in secret somewhere in the house. We have a little snack together, without my younger two kids knowing about it. We are sneaky like that!
I can't find Biscoff in any of our local grocery stores for weeks now! Has anyone else noticed this? Unfortunately, the nearest Trader Joe's is about an hour's drive. Cookie Butter is deliciously amazing, but I'm not driving two hours round trip for it.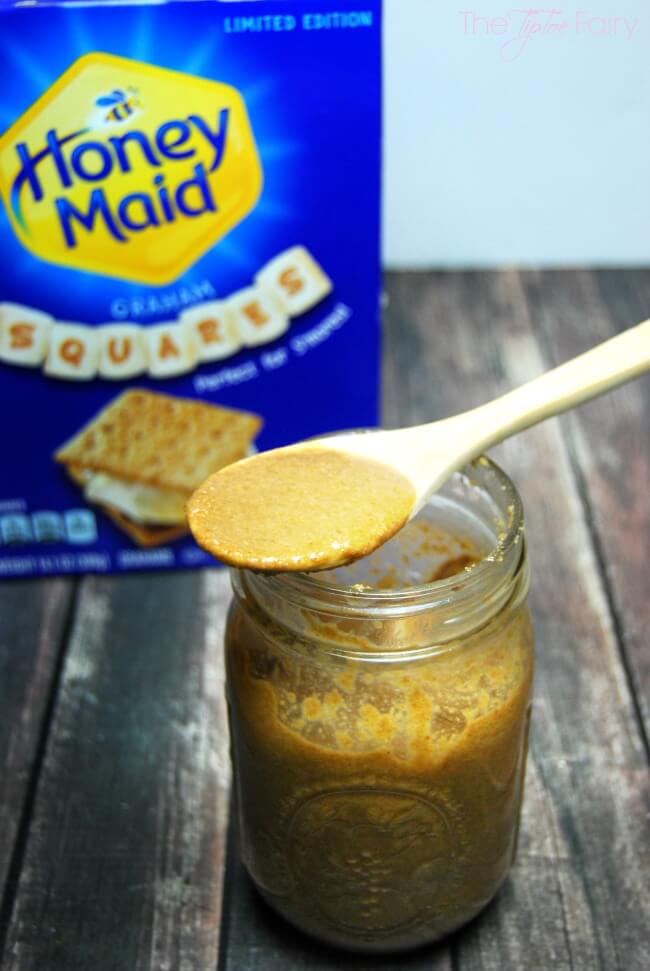 The other day I got this idea to make cookie butter with graham crackers. I've been loving the new graham cracker squares (as opposed to the rectangles) I found at the store. I can't break those rectangular ones in half if my life depended on it. The squares are perfect for my littlest one when she wants a cookie.
I was giving her a graham cracker while she was convincing me she needed three, and I thought graham cracker cookie butter sounded kinda good. I actually went and looked on Pinterest for a recipe, and believe it or not, I could not find any graham cracker cookie butter. What has the world come to?
This is a simple and easy recipe that takes just minutes to whip up. Mine also has a super secret ingredient — no one will guess what it is. Can you guess? It's Reese's Peanut Butter Cups! Coconut oil, graham crackers, sugar, and peanut butter cups. My 5 yr old wanted to call it Butter Cup Butter. She's been really into naming recipes lately.
I used my food processor instead of my high powered blender that would have pulverized the crackers, so it has a little grainy texture to it. I like it! It definitely satisfies my cookie butter craving. My 5 yr old loves it. She kept stealing my spatula for "just a taste, momma."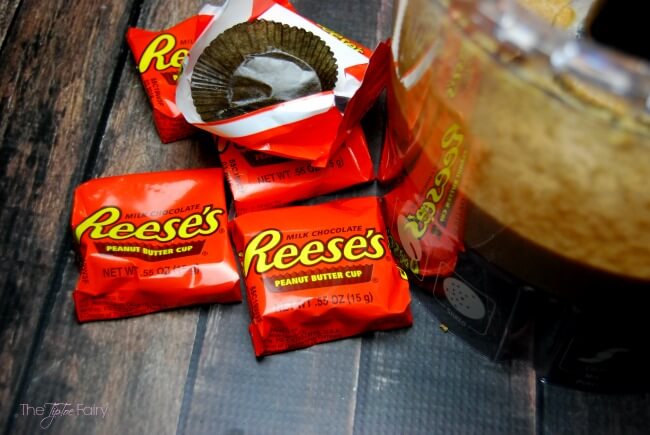 Print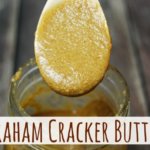 Graham Cracker Butter
---
Author:

Total Time:

5 minutes

Yield:

2

1

x
Description
Graham Crackers and a few other ingredients turn into something amazing!
---
4

sleeves of Graham Cracker squares (or

2

sleeves of Graham Cracker rectangles)

1/2 cup

coconut oil, room temp

2 tablespoons

sugar

5

Reese's Peanut Butter Cups
---
Add the graham crackers and coconut oil to the food processor.
Let it run for about a minute and then scrape the sides.
Run it for another minute.
Next, add the sugar and peanut butter cups.
Let it run on puree for 2-3 minutes
Store in a jar in the fridge for 1-2 weeks
Prep Time:

5 minutes

Category:

Dessert

Cuisine:

American
Recipe Card powered by
Once you transfer it to a jar, place in the fridge for 30 minutes so it's not so runny. If you store it in the fridge, microwave it for 30 seconds at a time to make it spreadable. When I left it overnight in the fridge, I microwaved it for 30 seconds and stirred and then an additional 15 second, and it was immediately spreadable again. It still tasted the same as when I had just made it fresh.
Stay tuned because I have a new recipe coming that uses this Graham Cracker Butter for a traditional summer treat!