This shop has been compensated by Collective Bias, Inc. and its advertiser. All opinions are mine alone. #V8EnergyBoost #CollectiveBias
We've been doing swim team as my kids' physical activity for years. For the past 3-4 years we've been on one swim team. Unfortunately, they don't do a lot of swim meets, so this summer we decided to switch up and join the summer swim team that goes to tons of meets as well as regionals and nationals.
With our other swim team, practice was in the afternoons 3 times a week. Our new summer swim team practices are every day from 7 to 9 AM. This means we have to be in the car around 6:30 every morning, and it's summer time! Did I tell you I'm not a morning person?
This calls for something energizing for me. I'm not much of a coffee drinker, especially sitting in the humid heat of Texas. I like to reach for a cold V8 V-Fusion+Energy drink. My personal favorite is the Pomegranate Blueberry.
For those 2 hours, I try to get a little "me" time, so when I make the kids water bottles and snacks, I also make up a Energizing DIY Sports Mom Kit for me. Here's what I like to include:
a granola yogurt parfait with my easy blueberry compote
1-2 cold V8 V-Fusion+Energy drinks
some fruit to snack (berries are perfect to freeze ahead of time)
sunscreen – for me and the kids
bug spray – for me and the kids – mosquitoes love swimming pools
a charged iPad with my latest Kindle book – for some relaxation
To make a quick granola yogurt parfait, I add half a single serving of plain Greek yogurt to a plastic cup. Then, I top it with a quick blueberry compote I made in the microwave. Next, I add some granola and top it off with the rest of the yogurt. Lastly, I top it off with the last of the blueberry compote and granola. I stick a plastic spoon in it, put it in the cup holder in the car, and we're off to swim practice.
Even though it's super early and I'd much rather be in bed, I do like laying in a lounge chair in the shade with my tablet and a nutritious energizing drink. It's very relaxing. My 5 yr old is usually asleep for the first hour, so I can check my email, read a book, and even write up some blog business.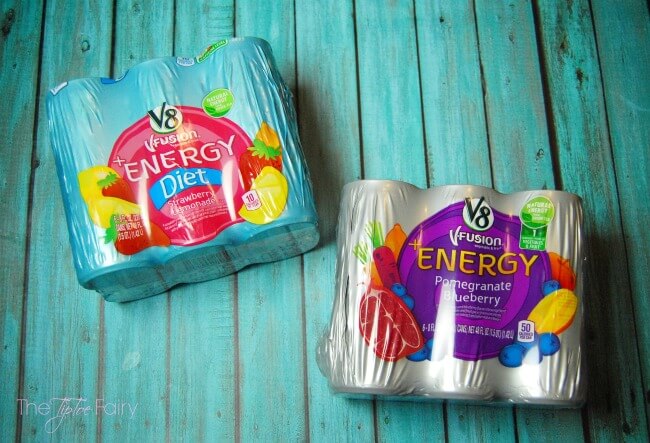 What I love about V8 V-Fusion + Energy drinks is that it's:
nutritious, offering a combined serving of fruit and vegetable
tastes like fruit
has natural energy, from green tea (No artificial medicinal taste, not an instant pick me up, won't cause a crash later)
only 50 calories per 8 oz serving
I found my V8 V-Fusion + Energy at Walmart while grocery shopping. It's in six packs in the shelf stable juice aisle in a variety of flavors like:
Pomegranate Blueberry
Peach Mango
Orange Pineapple
Black Cherry
Tomato
Diet Strawberry Lemonade
Diet Cranberry Raspberry
Check out this giveaway with V8. They're giving away $2500 in Walmart Gift Cards!
V8 V-Fusion+Energy #V8EnergyBoost $2,500 Sweepstakes