This post is part of a social shopper marketing insight campaign with Pollinate Media Group® and Armor All, but all my opinions are my own. #pmedia #LessTimeMoreShine http://my-disclosur.es/OBsstV
My oldest is graduating from high school this year. This past weekend my husband took her down to get advised and officially register at college for her first semester courses in the fall. I really wanted to go, but I'm currently way too pregnant with some complications to be so far from the hospital. They got back on Saturday night, and my minivan was a total dirt and bug fest. It was definitely time for a car wash.
This morning, we made it a family affair and cleaned the car with the NEW and simple 1, 2, 3 step system from Armor All!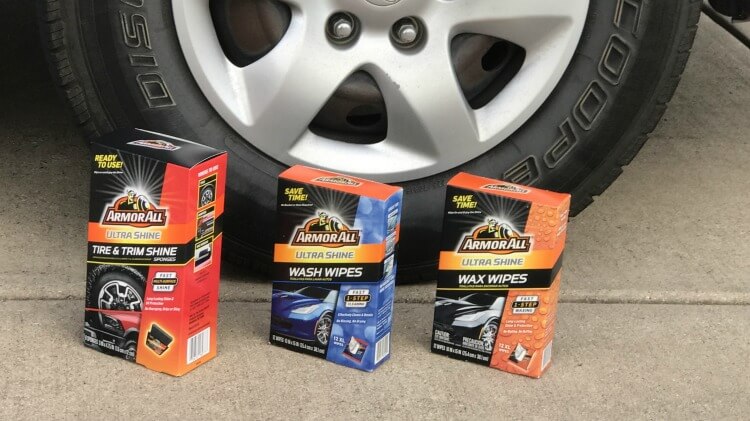 You can find all THREE at Walmart easily in the Automotive section. I did find that each product was in its certain area. The wash wipes were with the other washing products; wax wipes were with the wax; and the tire sponges were with the other tire products.
These products make it so easy because you literally need nothing else to clean the exterior of your car! No bucket. No hose. No buffing. They are pre-moistened and treated, so they can be used anywhere and anytime! I love how they come in resealable pouches, so I can just toss them all in the trunk for easy keeping.
With all the kids helping, we got it done in less time and didn't have to drive down to the car wash, pull out the bucket and hose, or waste any water at home! Even the little ones can help because it's just a matter of using a wipe!
The wipes and sponges really do make it fun for the kids. Every kid eagerly wanted to either use the tire sponges or the wax wipes. They definitely felt some accomplishment when they were comparing how dirty their wash wipe was with everyone else.
Look at those tires! They look brand new!
Even though car washing can feel like a chore, these wipes totally make it fun. Afterwards, we headed over to the drive-in in our clean car for afternoon slushies for a job well done!
Before you head to Walmart, make sure you take advantage of the $2.00 off any one (1) of the Armor All Ultra Shine Wipes– while supplies last!