Thank you to Sock Problems for providing me with socks to include this Valentine's Day care package!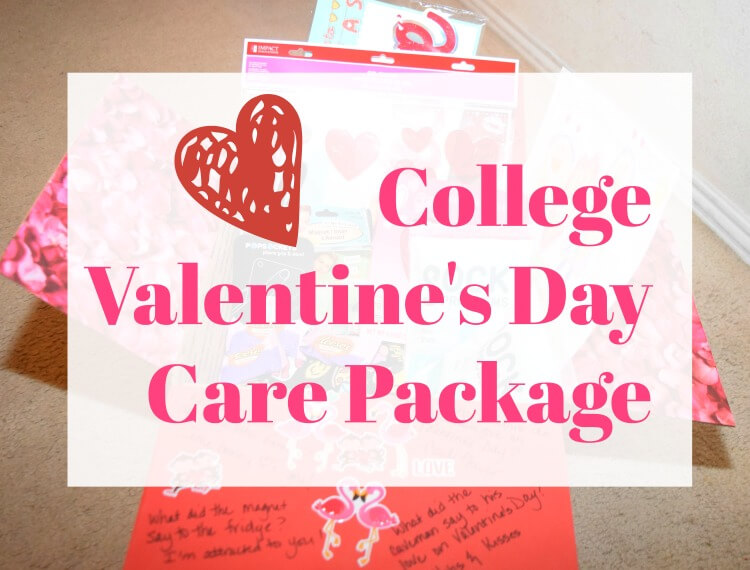 Now that I have a kid in college, I finally can send her themed care packages. I just love doing this. Last semester I filled a box with treats and eat and decorations for Halloween. This time it's Valentine's Day.
I just love making care packages because you can decorate them, and it's so much fun to go shopping for all the fun stuff. When I put one together, I typically hit some fun stores like Target, Dollar Tree, and Five Below.
Putting a themed care package together is easy. I have a crafty 7 yr old who loves to help out. We used a basic flat rate Priority box from USPS. You can get them for free at the post office. Then, we glued colored paper and cardstock to the flaps for a festive look. Then, I added funny Valentine jokes and daughter smothered it all in Valentine's Day stickers.
Here's a few jokes you can add to your loved one's care package:
What do you call two love birds?
Tweethearts
What flowers do you never give on Valentines Day?
Cauliflower
What did one bunny say to the other bunny?
Some bunny loves you.
What did the bee ask his sweet heart?
Will you bee mine, valentine?
What do cavemen give their sweethearts on Valentines Day?
Ughs and kisses
What did the kitty say to her Valentine?
You're purr -fect.
What did the magnet say to the fridge?
I'm so attractive to you?
What did the frosting say to the cake?
I'm sweet on you!
Then, we added some fun stuff!
If your child lives in a dorm, they can be very fussy about what can be put on the door. They aren't allowed to put lights up, so we got her some cling decorations and a banner to easily hang up. Both are easy to remove and don't leave anything behind.
My oldest daughter loves emojis, so I found her a cute pair of emoji leggings that were just $5. I included a new pineapple pop socket for her phone and a cute vintage photo magnet that says "I love not camping" — it's a little inside joke between us as my daughter has been dead set against any idea of camping since she was a little kid.
She also loves socks. She loves funny socks and themed socks and just any kind of cool and different socks. So, I knew she would love Sock Problems. They are a brand new company that launched just a few weeks ago with unique and cool designs that are designed to "Sock" world problems from cancer to climate change and more. I knew they would make an awesome addition to this care package.
I texted her the website and she really liked the general Sock Problems and Climate Change socks, which I would have never guessed. They arrived super fast in the mail, and I couldn't wait to send them in her care package. These are great quality socks! They are nice and thick and some of the best quality socks I've seen in a long time.
Each pair of socks comes with a little business card that includes a special hashtag just for that "problem" for you to share with your new socks. Sock Problems also donates money back to the causes they have on their socks! Depending on how much they sell, the percentage they give back goes up! Head on over and check them out. Plus, if you sign up for their newsletter, they give you 20% off right now. And, if you buy 3 pairs, you get free shipping!
I included a big chocolate heart and some yummy pink peanut butter cup hearts. Who can pass up chocolate candy for Valentine's Day? And to finish it off, her little sister drew her a beautiful Valentine's Day picture of the two of them.
Thinking of putting a care package together for your college kid? Don't forget to check out Sock Problems and send a pair or or three! It's a sweet gift for any friend, family member, or loved one that you want to share a bit of love with. Don't forget to #GetYourSockOn & #CareWearShare!
Do you like to send care packages?