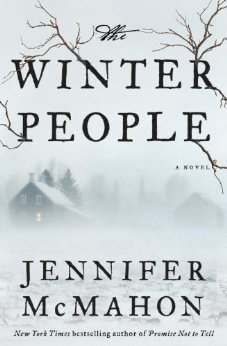 First of all I love Jennifer McMahon's novels. I have read them all. The thing I love about them is how, for most of her books, they seem like they are set in the real world, but then, there is some creepy dark magical element that makes this another place. Her books will scare the heck out of you. The Winter People was no exception.
The Winter People is told through two different times with three different narrators.
Sara is from the early 1900s, and her story is told through her diaries. As the story unfolds, weird things are happening. But, then, she loses her only child and becomes so distraught, she ends up doing something unthinkable.
Ruthie is a teenager living with her mom and little sister. They are in present day and live in the house that was originally Sara's long ago. One night she comes home after a night of partying to find her mother has disappeared. She soon discovers some strange things in their house, like her mother's closet nailed shut!
Last is Katherine, who is also in present day. She moves to West Hall, VT, on a whim after her husband dies near there. His last meal was a restaurant in the town, and it draws her in. He was a photographer, told her he was going to shoot a wedding, and ends up dying in a car accident not anywhere near where he said he was. She begins investigating what he was doing there. She eventually is lead to Sara's house, too.
This is a dark book. It has a mood of creepiness that begins immediately and doesn't stop until the end. One day I was home all alone, no kids, no husband, and crawled in bed to read, and then after about 10 pages I had to put the book down and turn all the lights on in the house.
I really did love this book. It was a typical Jennifer McMahon story that scares me to death. I do feel there was at least one plot twist that seemed just thrown together, but other than that it was a great read. I couldn't put it down!!