When I was a kid, playing Star Wars was all the rage, and which ever girl got to play Princess Leia knew she was lucky. I spent many times running around the neighborhood as Princess Leia. Now, my son loves Star Wars. He can tell you all kinds of history and backstory on the characters. He loves anything Star Wars, especially the latest Star Wars video game. He was super excited to see the new Star Wars cereal.
Just for fun, I thought I'd surprise him and his sisters with a Star Wars Breakfast party.
I laid it all out on the table for them to find. We had cereal, smoothies, cinnamon rolls, and milk.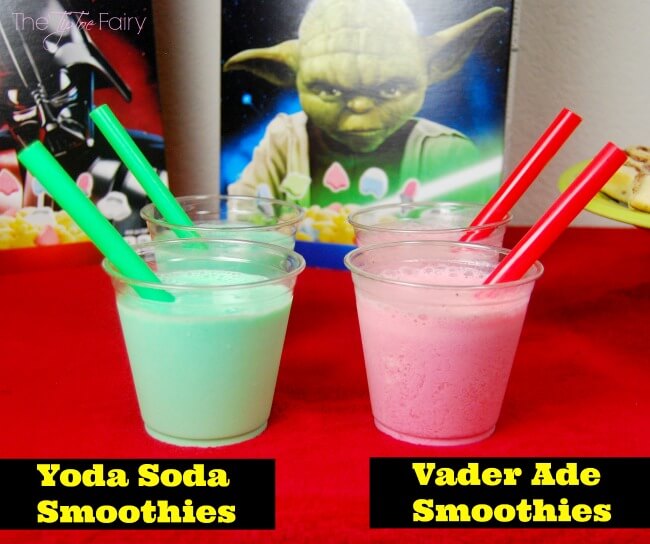 I whipped up some special Star Wars Smoothies. Choose your flavor and pick your side! The Yoda Soda Smoothies are made up of Greek yogurt, a splash of orange juice, lime sherbet, and green food coloring:
Yoda Soda Smoothies
1/2 cup Greek yogurt
1 cup lime sherbert
2 tablespoons of orange juice
4 drops of green food coloring
makes about 2 1/2 cups
The Vader Ade Smoothies are made up of Greek yogurt, a splash of orange juice, red fruit punch, and frozen strawberries.
Vader Add Smoothies
1/2 cup Greek yogurt
2 tablespoons of orange juice
10 oz red fruit punch
5-6 frozen strawberries
makes about 3 cups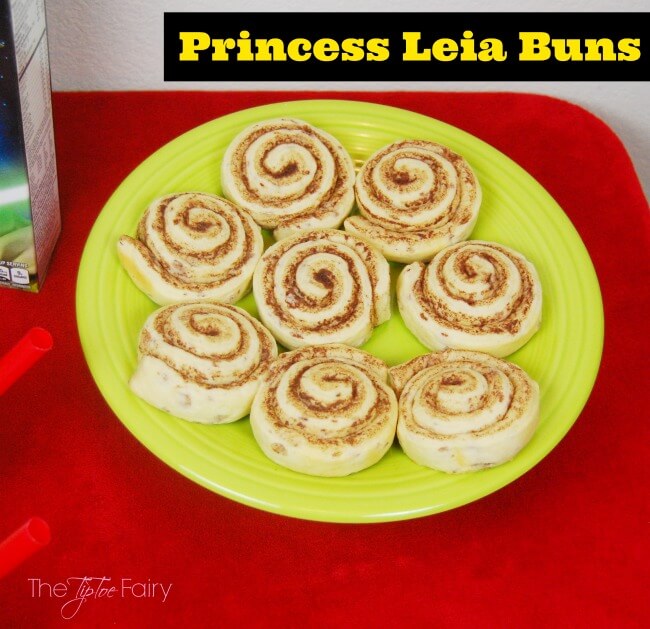 It's definitely not a Star Wars breakfast party if you don't have Princess Leia's cinnamon buns.
The milk for the cereal was actually C-3P0's oil! I took individual milk bottles and spray painted them gold. My kids loved this!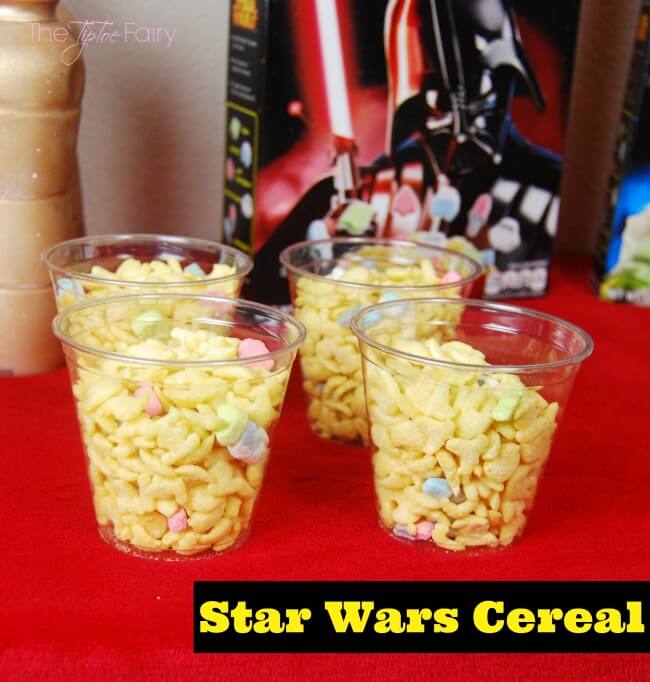 And, then we had some delicious Star Wars Cereal. It's a fruity flavored cereal with marshmallows. It contains whole grain with no high fructose corn syrup. It's also a good source of calcium and vitamin D and only has 9g of sugar per serving.
Marshmallows "Marbits" are in 6 fun shapes
• Yoda (green)
• R2-D2 (blue and white)
• Jedi Fighter (pink/red)
• Stormtrooper (white)
• Lightsaber (blue)
• Lightsaber (red)
Corn pieces are in 3 fun shapes
• TIE Fighter
• X-Wing Starfighter
• Millenium Falcon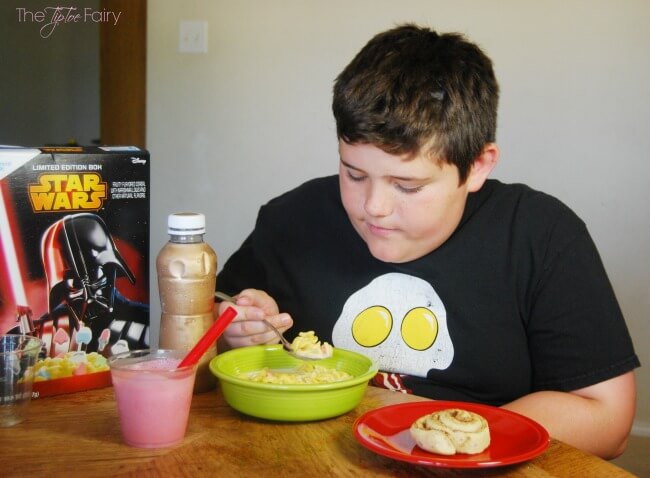 My kids love identifying what each of the marshmallows were from Star Wars.
The Star Wars cereal can be found in major retailers across the country. Between June 2015 and June 2016, fans will be able to collect 6 limited edition boxes featuring different characters. The boxes will come out in pairs and each will feature a "light side" and "dark side" character.
There is only one kind of cereal, but there are currently two limited edition package designs you can choose from:
Yoda Package
• Has a quiz on the back of the package for fans to test their Star Wars knowledge
Darth Vader Package
• Has a board game on the back of the package for fans to play as they enjoy their delicious cereal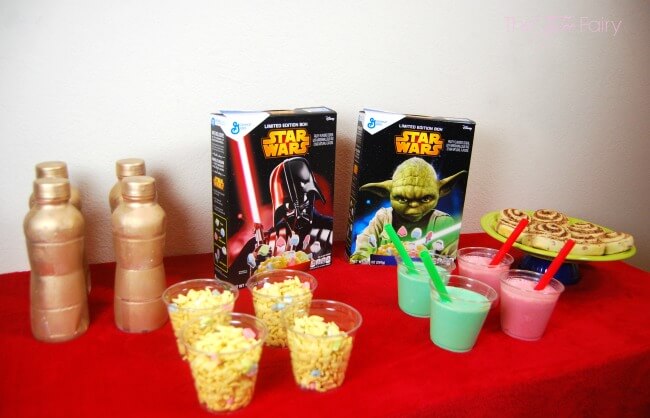 Right now you can grab a $1 off coupon for Star Wars Cereal. Find it HERE!
Which Side of The Force Are You On?