I can't tell you how switching to an e-reader has changed my life! It seems so silly, but it makes reading so easy. Using the Kindle app on my phone or iPad, I can open it anywhere and easily sync the current book I'm reading to get the current page I've read. Oh I love it so much! I've been able to double and nearly triple the amount of books I read.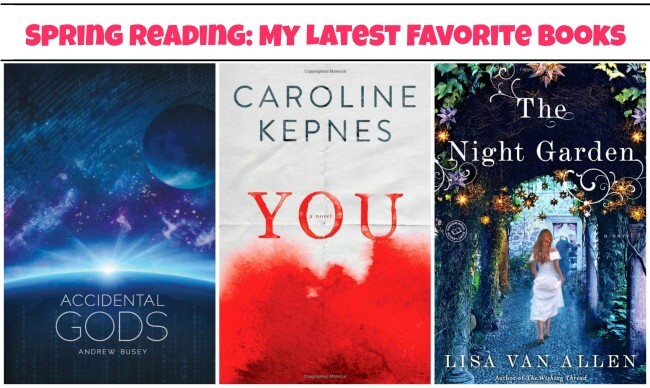 Below are reviews of my latest favorite books. I hope you enjoy them as much as I did. They are all great stories I could not put down.
The Night Garden: A Novel
I picked this up on Amazon because I had read if you loved Sarah Addison Allen novels, you would love this one.
This is the story of Olivia, a woman who's become poisonous if anyone touches her. She runs her family's farm, The Pennywort Farm, which has a beautiful garden maze where people can often find the answer to one of life's questions they've been searching for.
Olivia has a secret poisonous garden that she's become addicted to, and it has made her basically walking poison ivy. She can't touch a single person, and they can't touch her.
Then, her long lost high school sweetheart, Sam, returns. After years of being alone and closed off, her heart is opening up to him. They want to get back to right where they were so many years ago, but she knows he can't touch her.
The story goes back and forth between her wanting him and then feeling guilty and just wanting to live her poisonous life with no one for her to hurt.
It's definitely in the same genre with magic in every day life, but I felt it kind of dragged on a bit. And, I needed more epilogue than just rumors from the townspeople of what happened to Olivia and Sam.
Accidental Gods
I just loved this story! I even tweeted the author, I loved it so much. I had to know if a sequel was coming. He said it was more a matter of "when" he could write it. I am waiting with bated breath!!
This is the story of a group of scientists – physicists and computer tech guys who create a simulated universe to mimic our own so they can see how ours developed. At first they have virtual reality to see it develop and eventually as they become more and more successful with licensing technology they create, they have enough money to create "rendering rooms." Years go by in our world and billions of years go by in the simulated universe, and they get to study it and watch it happen.
Soon they bring in an astrobiologist who helps them pinpoint planets in the "habitable zone," and they find one! Through a series of creating universe spin offs that are basically parallel universes — when they have to nudge things here and there to allow this world to be perfectly possible to create life – then, it happens!
This was a fascinating read. It felt very much like this could really happen. It makes you worry about the idea of us possibly living in a simulated universe. There are current theories that look good for us to be living in a hologram universe — which is just totally creepy!
This book made me think of The Martian because it has lots of science and math involved. If that's your thing, you'll enjoy this.
My only issue is the ending. I need more!! You'll know what I'm talking about when you get to the last page. After finishing it, I ferociously searched the internet for any inkling of a sequel. When I couldn't find one, that's when I had to ask the author myself. And, he replied back to me in just a matter of minutes, which was awesome!!
You: A Novel
Oh. My. Gosh!! Let me just say…I can't wait for Book #2. Every time I had to put this book down, it's all I thought about until I could get back to it.
This is the story of Joe the stalker, as he stalks Beck – Guinevere Beck, but everyone just calls her Beck. She comes into his bookstore, and he immediately becomes obsessed. He googles her, finds her address, and basically hangs out on the street corner watching her. He follows her all the time, and eventually he saves her on the subway train tracks. This leads to their eventual dating. But, the whole time he's still obsessed, he just hides it well. And, he will let nothing stand in his way.
I love that it's written in the first person of the stalker. The author is so good at humanizing a monster. I kept finding myself cheering for him and wanting him to get the girl. But he's a freaking nut case.