I participated in a Blog Blast on behalf of Influence Central for Johnson & Johnson and Target. I received a promotional item to thank me for my participation.
Have you started your Back to School shopping yet? I think most of us have. I finally started this past weekend during our state's tax free shopping days, and Target was my first stop. But, before I headed out, I went through the Target Cartwheel App to find even more savings! Who doesn't like to find extra savings? I know I do!
When it comes to back-to-school shopping, I love using being able to save money with just my phone. With the Target Cartwheel App, I can shop at my favorite store and get everything we need to get back to school, and find all the promotions and discounts I need right at my fingertips.
Have you ever used the Target Cartwheel App? I just love it! It's a mobile savings app that makes it fun to save money on things you already buy at Target. You can easily search, browse or scan items in store to find offers, and then add the offers to your personalized barcode, all from the convenience of your phone! I like to scan the tags of each thing I buy. Not only does it bring up any discounts, but if there isn't a discount, it recommends a similar product WITH a discount in Cartwheel by Target.
When it's time to check out, you just have your personalized barcode scanned and all the savings are taken right there. Plus, you can keep using the same discounts again until they expire!
I just got back from one of my many trips to Target. Not only was I able to stock up on Back to School supplies, but I found some great discounts for everyday essentials, too.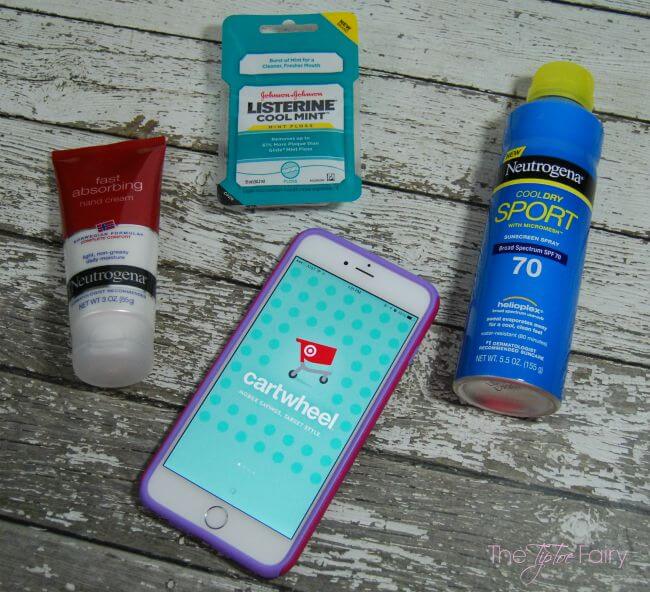 LISTERINE® COOL MINT™ Floss – I love the cool minty feel of LISTERINE® COOL MINT™ Dental Floss. It does a phenomenal job removing up to 61% more plaque than other mint flosses, removing the plaque that brushing simply can't reach.
AVEENO® Daily Moisturizing Sheer Hydration Lotion – My husband has very dry, itchy skin, and this is one of his favorite lotions. It has ACTIVE NATURALS® Colloidal Oatmeal to help stop the itch. It's lightweight and hydrates skin for 24 hours. I love using it after shaving my legs.
NEUTROGENA® Norwegian Formula® Hand Cream – This is the best hand cream for dry cracked skin! In the winter, the top of my tween son's hands get cracked and bleed, and this lotion stops it immediately. If you've tried everything and nothing has helped your hands, try NEUTROGENA® Norwegian Formula® Hand Cream. It is amazing!
NEUTROGENA® Sunscreen – NEUTROGENA® Sunscreens are always my go-to favorites. They don't break me out, and I know they do a wonderful job protecting my fair skin as well as my family's fair skin.
Now through 8/15 you can find these Promotions with Cartwheel by Target:
Desitin, 5% off
Johnsons Baby, 5% off
Aveeno Baby, 5% off
Neutrogena Cosmetics, 10% off
Neutrogena FSC, 5% off
Listerine Floss, 10% off
Hand & Body Lotion- Neutrogena, 5% off
Hand & Body Lotion- Aveeno, 5% off
Sun- Neutrogena & Aveeno, 5% off