Yesterday was our 4th wedding anniversary. Ever since our "courtship," my husband and I have made it a habit to make each other handmade gifts, write love notes on cards, send sweet emails and text messages just as little reminders for our love. It's one of the things I cherish about our marriage.
Last year for our wedding anniversary, he made me the most amazing gift. He filled a jar full of notes describing things he loves about me. How incredible is that? He even painted and decorated the jar. So, all year long, he has been telling me he had no idea how he was going to top that gift. Well, I think he topped it.
This year I got a handmade book. Last weekend, he stole away in my craft room, barring me from it, while he worked feverishly for hours. This beautiful thing is what he made. It's full of pictures and loves notes and emails from the time before we were married when we were dating. He printed out emails we had sent when we first met and cut out sweet phrases from them. He had pictures of the used bookstore where we had our first date, and where later he asked me to marry him. He had pictures of our favorite date — the ice cream parlor where we sat outside under a canopy during a summer rainstorm and read Stephen King short stories to each other. He even wrote song lyrics from some of my favorite songs back then. How did I get so lucky?
For his gift, I made key chains. It's nothing compared to what he made me. He did love them though. Nate's favorite author in the entire world is John Green. His two favorite books by him are The Fault in Our Stars and Looking for Alaska. So, I went on a search for some of his favorite quotes from those books, then created key chains from dominoes for him out of them. You can make this type of art with any type of picture or quote you can shrink down.
Altered Domino Tutorial
Supplies
Dominoes with predrilled holes
Eyes pins or head pins
Jump rings 3-4 mm in size
Keychain hardware
Mod Podge
Paint brush
Crackle Accents
Adirondack inks
1. Find the image that you want. Save it to your computer, then using a word processing program or picture program shrink it down to slightly less than 1 x 2 inches in size to fit the dominoes. I like to make several different pictures. Print them out and head to the craft room.
2. Lay a domino on top of your images and trace around where to cut it out. Then, cut it out.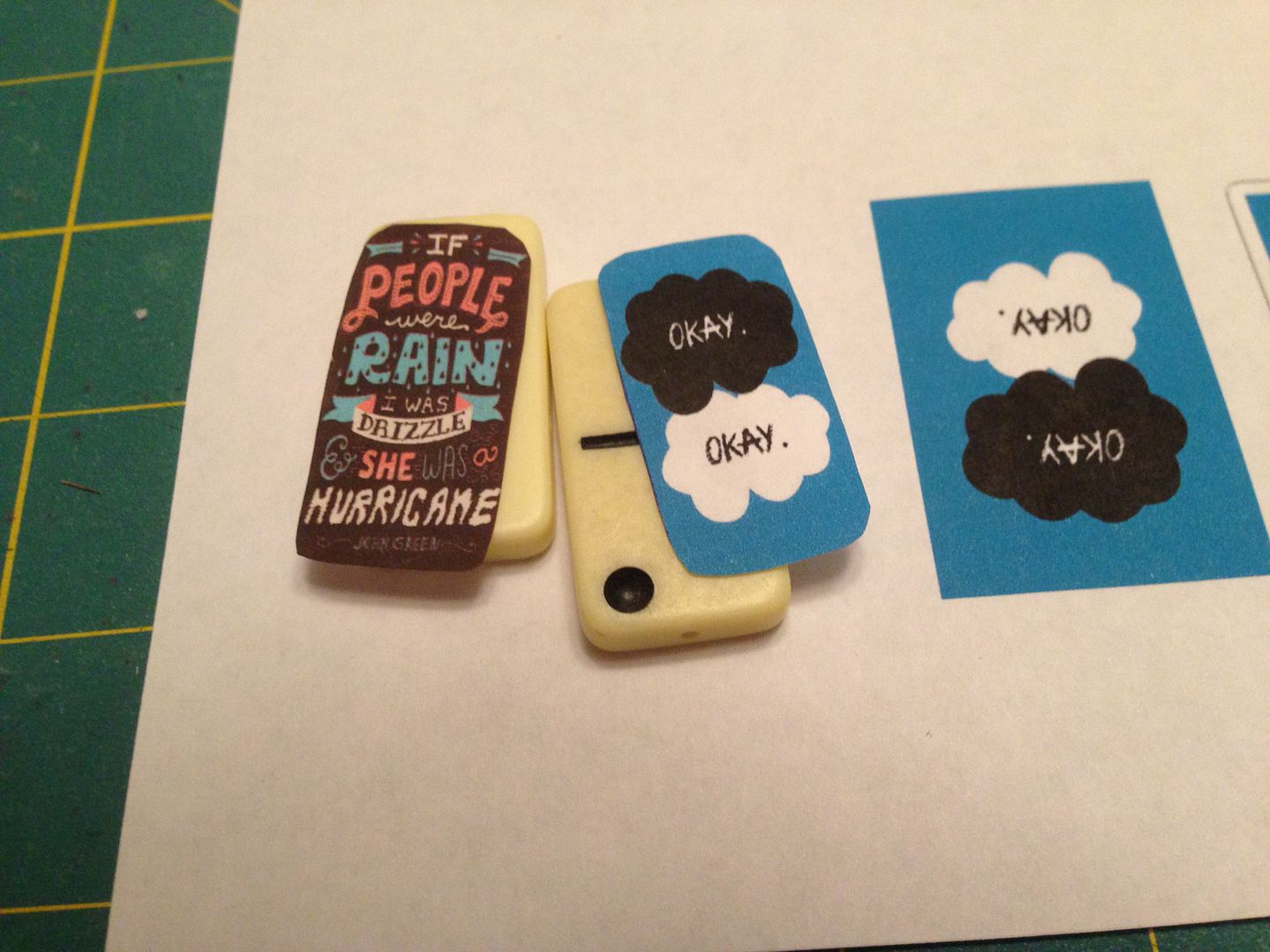 3. Prepare your dominoes with alcohol inks. I use this Tim Holtz stamper, but you can do this with paper towels just the same. Cover the entire domino, front, sides, and back. I like to use multiple colors. Let it dry for a few minutes.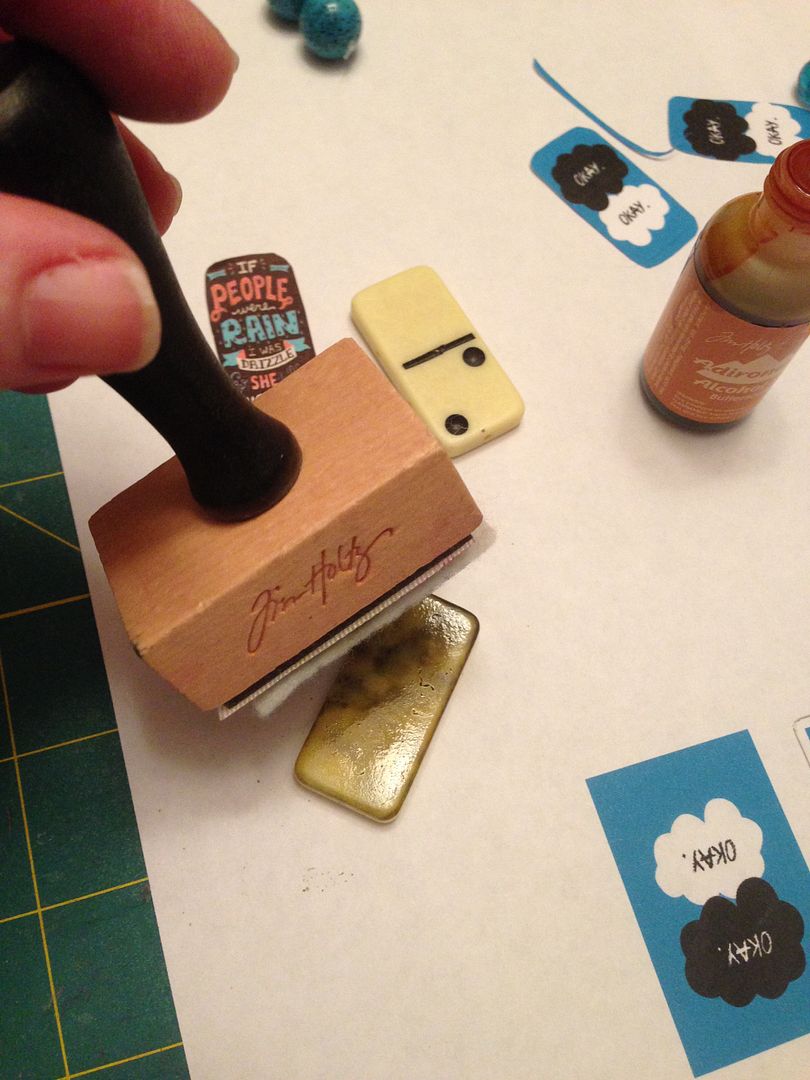 4. Using Mod Podge or glue, brush the the domino where you intend to place the paper. Lay the paper down, then with a light layer of Mod Podge brush over the paper smoothing it out. I also brush the edges all around the domino.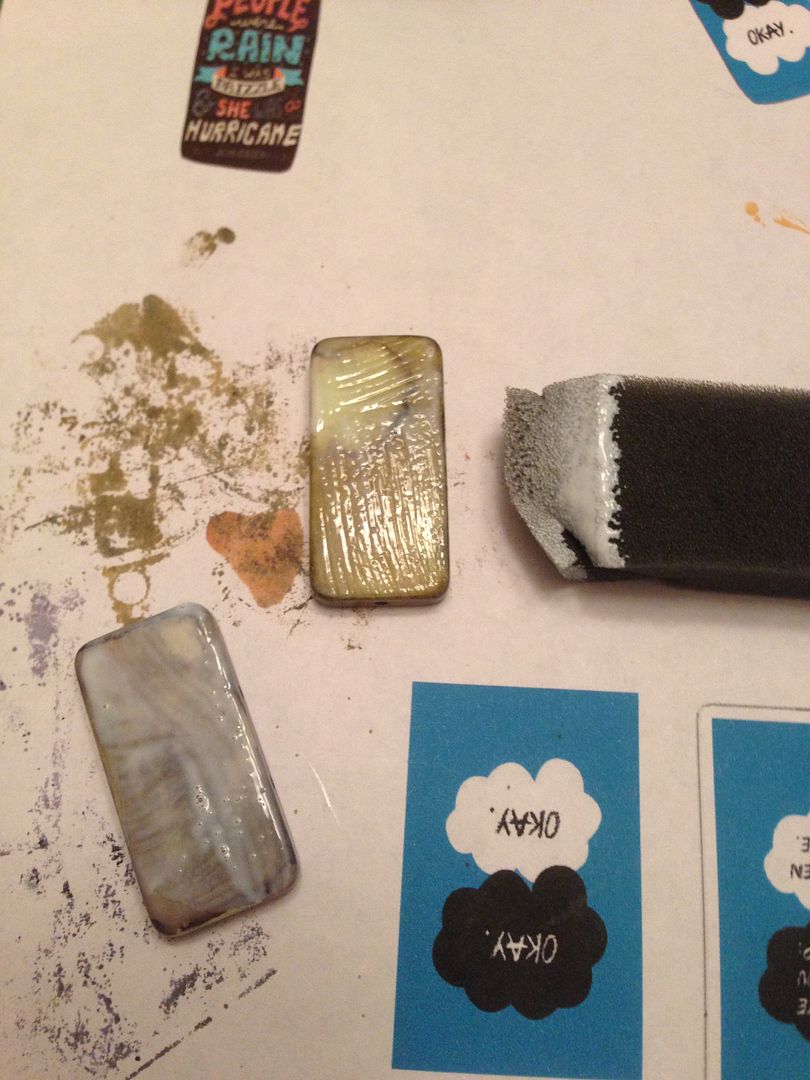 5. Allow to dry for a few minutes. Then, top it off, apply a dimensional medium like Crackle Accents. It's a gloss that when it dries, it cracks and looks really nice. I squirt a big glob of it in the center of the domino, then spread it out evenly with my finger.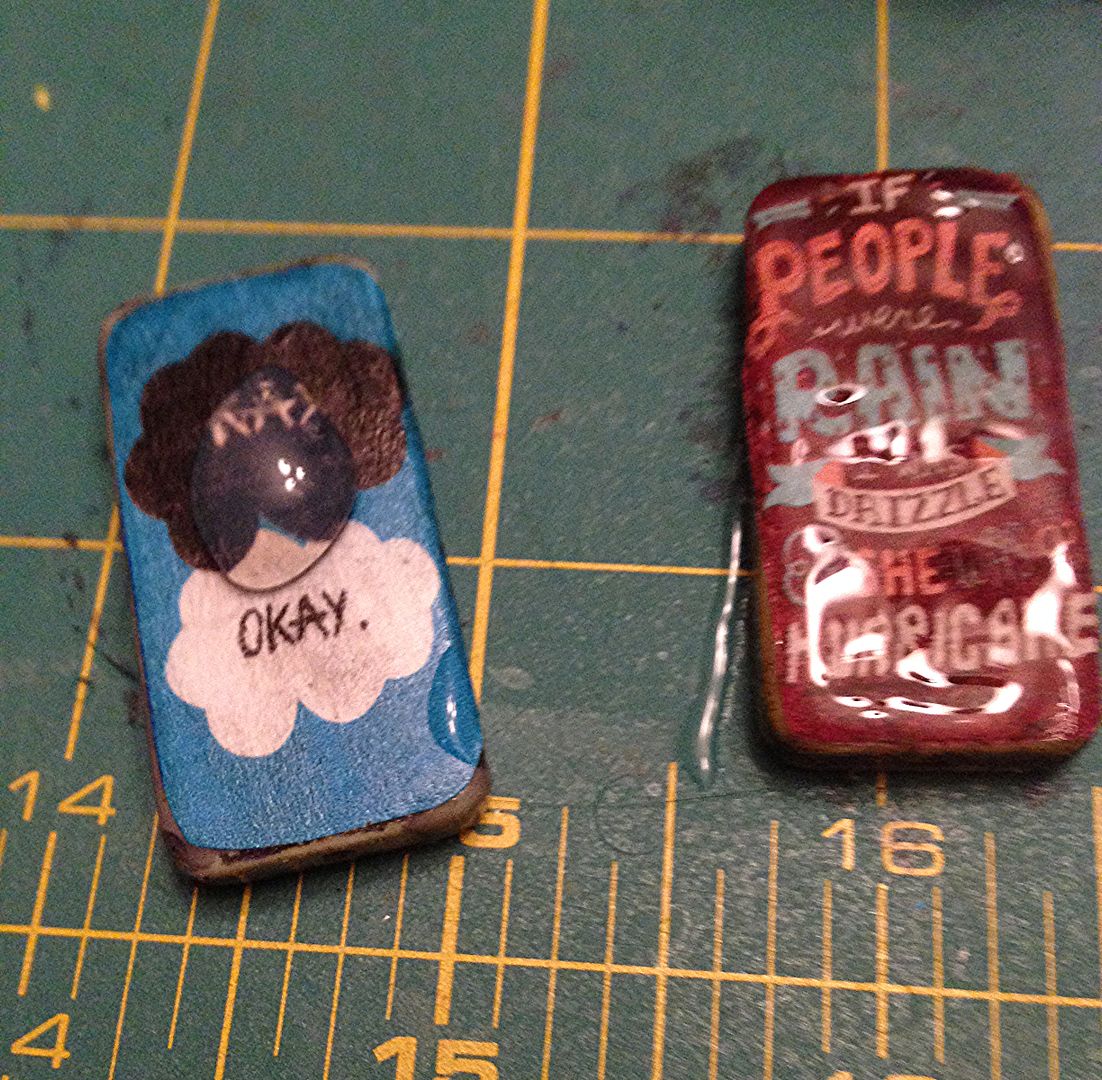 This will take some time to dry. If you don't have time, go use the hairdryer. I needed mine to finish and I used a hairdryer on low and it was dry in about 5 minutes.
You can see the cracking forming in this picture:
6. Lastly, attach the hardware. You can use a head pin or an eye pin inserted through the domino. Then, round the top of the wire so that it can be attached to a jump ring at the top which can be attached to the key ring.
For this project, I used a head pin, which has a flat bottom for one domino. Then, I used an eye pin for the other (mainly because I couldn't find another long head pin). The eye pin needed rounded at the bottom. I also used a 4 mm jump ring on both.
Here are examples of each:
And, you're finished!