This post contains affiliate links. Are you interested in learning to cloth diaper your new baby? It's easy to do. Read on to learn how to wash cloth diapers and how to use cloth diapers the easy way!
Why I Started Cloth Diapering
We have cloth diapered all of our children, including our newest little addition, and originally, it wasn't sustainability or environmental concerns. I actually started cloth diapering with my first child over breastfeeding issues. With disposable diapers, they sucked the wetness so thoroughly, I couldn't tell if she had enough wet diapers which is the biggest indication for adequate breastfeeding. So, we switched to cloth. I found it to be so easy and affordable that we just kept at it until she was potty trained.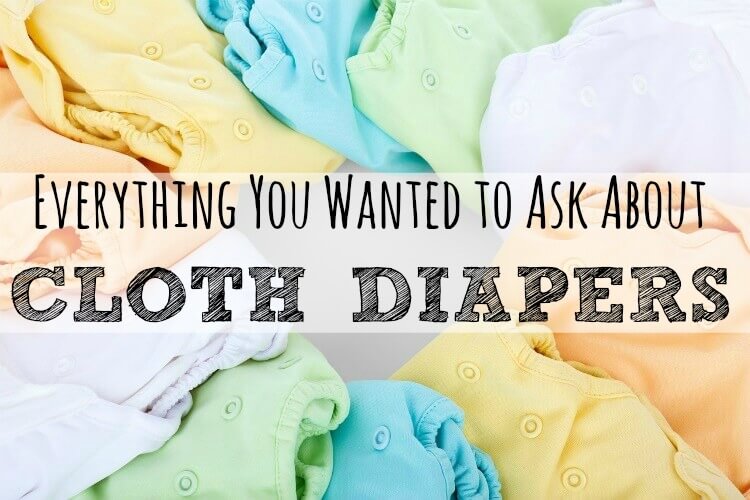 I bought all kinds of diapers to try out and soon got in with a bunch of moms who buy, sell, and make their own. I started making my own cloth diapers, and then I created a business selling them. It got so big, I was wholesaling diapers to businesses. Finally, I had to make a choice to expand my business and start having my diapers made elsewhere or close down. I was pregnant with my son, my 2nd child, and I chose to close down and just be a stay-at-home mom.
Top 5 Reasons Why I Cloth Diaper
Easy to check if a breastfed baby is getting adequate milk.
Cloth diapering is really convenient. No running out of diapers in the middle of the night.
Avoid the chemicals in disposable diapers that babies and toddlers are exposed to 24/7.
Who wants to feel paper on their skin when you can have nice luxurious cotton or bamboo?
Allows your child to feel some wetness can aid in potty training.
Different Ways to Cloth Diaper
I have cloth diapered 4 kids, with the last one currently in cloth. There are lots of way to cloth diaper your baby:
All in One Cloth Diapers
Fitted Cloth Diapers with a waterproof cover
Prefold Cloth Diapers with a waterproof cover
Waterproof Cloth Diaper Shells with Inserts
If you're a busy mom like me, you'll want to do it the easiest way possible.
Personally, I find folding prefolds takes way too long on a wiggly baby, so I avoid those.
I'm not a fan of having both a cover and a diaper on; it just feels too bulky and they can leave red marks on baby thighs.
My complaint with All-in-One (AIO) diapers is that they are usually so thick they take FOREVER to dry.
My personal favorite is the waterproof cloth diaper shells with inserts. These are basically a diaper shell with a waterproof outer layer and an inside layer that wicks moisture away. Usually, when you purchase them, they come with 1-2 inserts. If you shop around, you can find the ones with 2 inserts for the same price as the diapers that only come with one insert.
Cloth Diaper Sizes
In addition to the different types of diapers, there are also sizes to consider. The most popular are the one-size diapers that can fit your baby from newborn until potty trained with the use of various snaps to make them smaller or larger. There are also different size diapers that fit a certain weight ranges for a more custom fit.
I find the one-size diapers way too bulky for a newborn, so I buy newborn cloth diapers. Newborn diapers come with a little cutout or a special snap to fold down while the umbilicus heals. They usually fit a range of 5-13 lbs, so I get a good 3 month use from newborn diapers. Since these are used for such a short time, they usually still look brand new and are easy to resell on eBay, Craigslist, Facebook cloth diaper groups or FB marketplace for almost what you paid originally.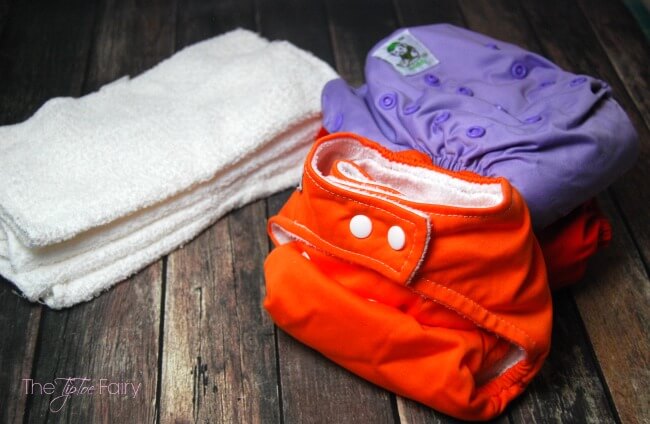 Once my baby starts to grow out of the newborn diapers, we buy about 3 dozen one-size diapers with inserts. There are a variety of inserts to consider:
Microfleece has been around since my middle daughter, who is 8, has been in diapers. It does a good job wicking moisture away. I also love hemp because it's great for heavy wetters. It can hold a ton of liquid. I just recently started trying organic bamboo which is really bamboo rayon because it is also supposed to be great at holding a lot of liquid for heavy wetters.
However, I am not completely sold on bamboo or charcoal liners as I've read things that worry me about the process of making the fabric and the addition of charcoal. They are often made in China, which doesn't have the same standards as Western countries. More research needs to be done on these these fabrics before they are used regularly near a child's delicate parts.
Cloth Diaper Innovations
Eight years ago when my third child was born, I was finally able to find affordable diapers on eBay and Amazon. Pocket diapers were just coming out when my 2nd child was born, so they had grown by leaps and bounds with my third baby. They had all kinds of pocket diapers that dry quickly.
My current favorite brand of one-size diaper is Alva Baby on Amazon. They are affordable and come with two inserts as most pocket diapers only come with one for the same price. Plus, the prints are adorable!
No Running out of Diapers in the Middle of the Night.
I love never having to make a midnight run for more diapers. Not only do you run out, but disposable diapers are expensive. When we run low, I just simply throw the cloth diapers in the washing machine and have a new batch ready to go.
My husband loves to tell the pregnant ladies at work how awesome cloth diapering is because he never has to go buy diapers.
What about Cloth Diapers and Poop?
The majority of people I talk to about cloth diapers are always concerned about poop going into the washing machine. But, it's not really an issue. When you have messes on your clothes, doesn't the washer just clean it right up? It's the same for poop. Breastfed babies tend to have liquid poops until they are on solid food. I have never had a formula fed baby, so I can't tell you what their poop looks like. However, breastfed baby poop just simply goes down the drain.
When babies and toddlers are on solid food, then their poop becomes more solid. When this happens, we simply stop by the bathroom on the way to the diaper pail and shake off the solid poops right into the toilet. It usually just pops right off and is flushed away. Also, when I've forgotten to shake off the poop and a diaper or two ended up with solids in the washing machine, it's also washed right out as well.
If that seems scary, there are diaper sprayers that attach to the toilet water supply and hang off the side that you can use to easily spray off the poop right into the toilet.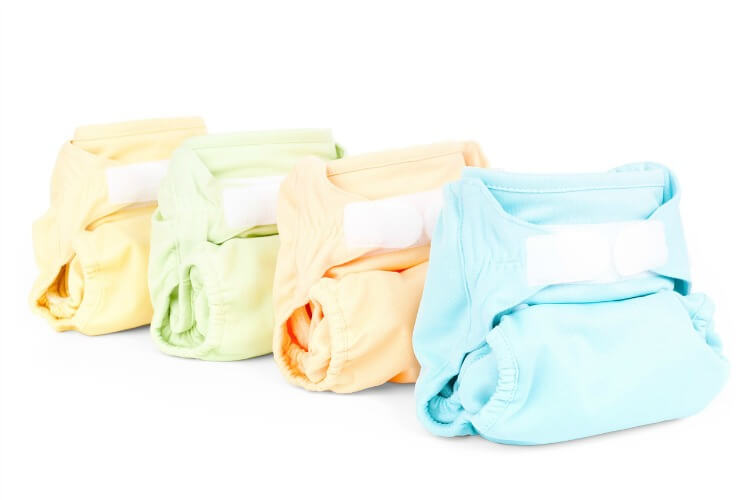 What to use for Wipes?
Every baby I've had was sensitive to the disposable baby wipes, so we use a stack of basic white wash cloths. You can find them in big packs on Amazon or on end caps in Walmart. When it's time to change a diaper, I just grab a wash cloth (or 4 when it's a poopy one) and get them warm in the sink. The wash cloths just go right in the diaper pail and get washed at the same time.
There are also options to buy bamboo wipes and other cloth wipes specifically for "cloth diapering," but I find them expensive and prefer the cheap wash cloths.
Cloth Diapering on the Go
When we are going out for the day, I continue to use cloth diapers. I simply take one cloth diaper for every 2 hours we will be out and I put them all in a grocery sack. In addition, I also pack a few wash clothes and a 2-3 extra grocery sacks. Those sacks are perfect just in case you have a leak and baby's clothes get wet. I either put the whole bag in the bottom of the stroller or I add a diaper or two and a sack to my diaper bag. We have also found that our kids do not have reactions to WaterWipes, so I keep a pack of those in my diaper bag.
Some people prefer to use a reuseable wet bag, which is a zippered waterproof polyurethane laminate (PUL) bag to toss the diapers in. I don't find them a necessity. Plus, you need to wash them with the dirty diapers. I find reusing the plastic bags from the grocery store are easiest for us.
On weekend travel getaways, we bring cloth diapers with us along with a larger sack such as a kitchen trash bag to toss the diapers in and keep sealed. However, on longer vacations that would require us to wash the cloth diapers for reuse, this is the one time we use disposable diapers and WaterWipes. When I buy disposable diapers for our vacations, I look for chlorine free or cotton disposable diapers. You can't always guarantee a washer and dryer where you stay.
How to Wash Cloth Diapers
Every cloth diaper parent I know has a set routine for washing diapers. They have a particular soap, way to wash, way to dry, etc. We have about 3 dozen cloth diapers, so we wash about every 4 days. Our routine is simple:
Remove inserts from diapers as they are tossed in the washer.
Hottest setting, Largest load setting, Longest wash setting.
One scoop of Charlie's Soap.
One bleach alternative pod.
1 cup baking soda.
Run the washer through 1 cycle with soap/bleach/baking soda.
Run the washer through 2 more wash/rinse cycles without any soap/additives.
One last rinse cycle.
One dryer cycle.
Over the years I've found leading brand detergents just have too much fragrance and soap, which stays around in the diapers and can cause odors. Our favorite soap for washing diapers that keeps them nice is Charlie's Soap.
This laundry detergent is amazing. Our family has allergies and everyone is extremely sensitive to fragrances. Charlie's Soap just makes your clothes (or cloth diapers) smell like nothing and it's a good smell. I just love it! It did so well on cloth diapers, we now use Charlie's Soap to wash everything including clothes, towels, etc. And, the amount you need to use is just minuscule, so it lasts forever.
In addition to the soap, I also add a bleach alternative pod to remove odors and stains and a cup of baking soda I sprinkle through the layers of cloth diapers as I'm loading them into the washer for extra agitation.
After this initial wash, I run the washer 2 additional times through the entire wash/rinse cycle without adding anything else to the diapers. Then, I run it through one last cool rinse cycle before transferring to the dryer.
Some people swear to never let your diapers in the dryer as it shortens their lifespan, but honestly, I don't have time for that. With all of our kids, I have never line dried diapers. It takes too long and our HOA forbids clotheslines. I put the diapers through one dryer cycle, and with the diaper shells and inserts, they are done in less than hour. If you have AIO diapers, you probably will require 2 dryer cycles.
Stripping Cloth Diapers
If you use regular leading brand detergents, over time you can notice an increase in urine smells or just a funky smell. This is what happens when soap gets trapped in your diapers. It just enhances those diaper odors and it can lead to redness on your baby's parts. This is when you need to strip the diapers and get that soap out of there.
Every few months when you notice this smell, you'll need to wash your diapers on the hottest setting several times. In fact, this is when you should turn up the hot water heater a bit, just for washing. That hot water will really help get the soap out of the diapers. Just don't forget to turn it back down!
Wash the diapers like normal with soap and then you'll need to add 2-3 additional cycles to the normal cycles you wash. When your diapers go into the washing phase, you can check to see if there is still soap by looking for bubbles in the water. Surprisingly, it might take 6-7 washes to finally get all that soap build up out of there. When we switched from leading detergent brands to Charlie's Soap, it took several washes to finally get all the bubbles out of the water. But, once you strip them, the diapers will go back to smelling good again.
We've been using Charlie's Soap for a year now, and I've only had to strip the diapers one time compared to every 3 months using the leading detergents.
If your cloth diaper pail gets a little stinky between washes, check out this easy to make DIY Cloth Diaper Deodorizer!
Do you cloth diaper?
Cloth diapering is a great way to save money and time. With snap fitted diapers, there really isn't much difference from disposable diapers. There are many options available for new parents. Do your research and pick what is right for you.