Have you tried Duncan Hines flavor creations?  I am in love with these little packets of fun! I have made so many things with them. I think my absolute favorite is the Bubblegum flavor, but I am so sad because the grocery stores in my area quit carrying that flavor as well as Cotton Candy.  It stinks that I'm having to switch to flavor oils.
I found one last Bubblegum flavor packet in my kitchen drawer, so I decided to see if I could create some crazy fudge.  Yep, Bubblegum Fudge.  And….it worked!  It tastes just like bubblegum when you first pop it in your mouth.  My teenager loves it as does my toddler.  It's very rich, so once piece is more than enough.  And, you'll want to wash it down with a big glass of cold milk.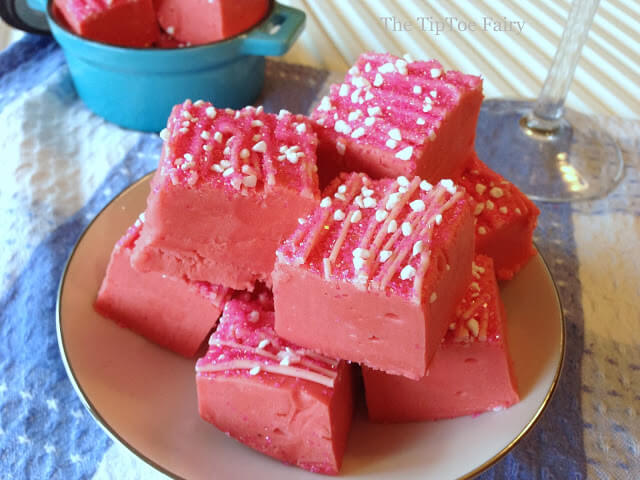 I saw this gorgeous pink lemonade fudge from Shugary Sweets on Pinterest, and it sparked my imagination to top my fudge with some sparklies as well. I used a hot pink sanding sugar, and it looks just lovely when it catches the light.
I think this would be just perfect for a take home treat from a baby shower or birthday party, especially a little girl's birthday. Wouldn't this be just adorable in little boxes tied with pink twine? I'm sending some with my teenager to school in little cellophane bags for her friends.
Bubblegum Fudge
Yields: about 30 pieces

Fudge Ingredients:
1 pkg white chocolate morsels
14 oz can sweetened condensed milk
7 oz jar marshmallow creme
1 cup of sugar
3/4 cup butter
1 pkg of Bubblegum flavor creations
Toppings:
1 cup of pink candy melts
2 tbs of White Swedish sugar
2 tbs hot pink sanding sugar
1.  Prepare an 8 x 8 dish with parchment paper.
2.  Combine white chocolate morsels and marshmallow creme in a large separate bowl.
3.  In a sauce pan combine sweetened condensed milk, sugar, and butter.  Stir continuously on medium heat until boiling.  When it reaches a boil, continue stirring for another 5 minutes.
4.  Remove from fire and mix in the Bubblegum flavoring. If a brighter color is desired add a squirt of red gel food coloring and mix.
5.  Pour the contents into the bowl with the marshmallow fluff and white chocolate morsels.
6.  With your mixer on medium, combine all ingredients until the chocolate has completely melted.
7.  Beat on medium for an additional minute until all is well mixed and smooth.
8.  Quickly pour into the 8 x 8 dish before it cools.  It will cool quickly!  Spread it evenly with a spatula.  Allow to cool for about 2 hours until set.
9.  Once the fudge has cooled, melt about 1 cup of the pale pink candy melts in a squirt bottle.  I did this in the microwave running it on defrost 1 minute at a time and then shaking it up until it was evenly liquid.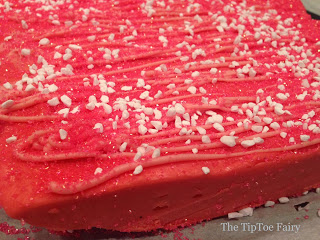 10.  Lift the parchment out of the baking dish and set on counter.  Take the squirt bottle of pink candies and squirt back and forth in long lines along the top of the fudge.  Then, QUICKLY, before it can cool, spread the sugars all through the pink melted candy.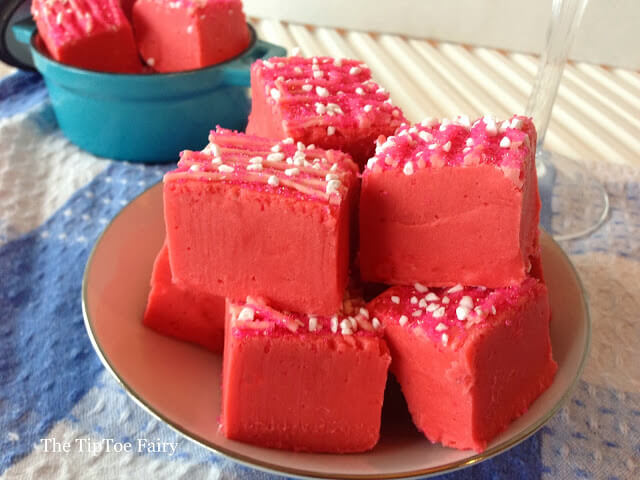 11.  Once cooled, lift up to shake off any excess onto parchment paper.  Place on a fresh piece of parchment and cut into 1 inch squares.
Enjoy!!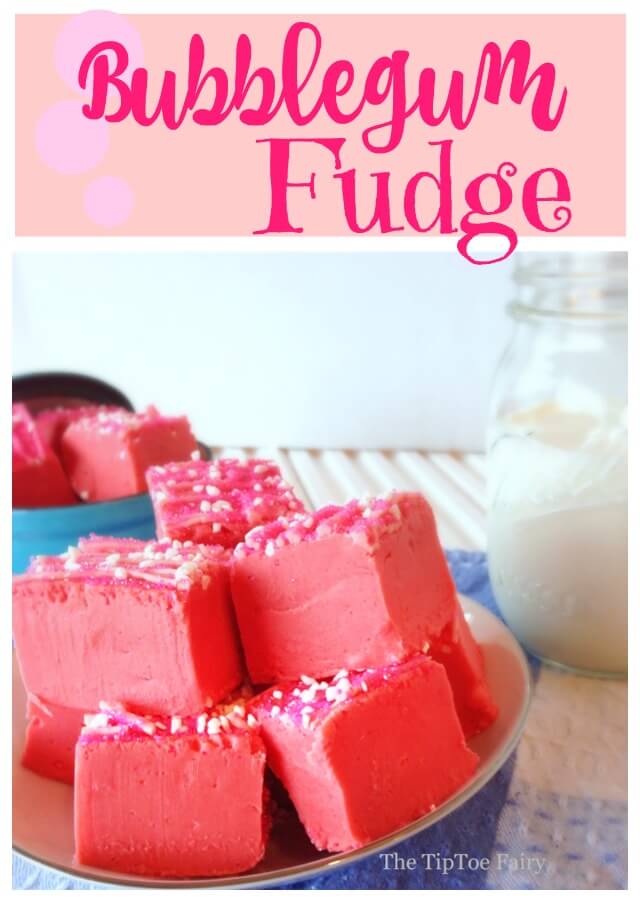 Have you ever made any crazy fudge flavors?