Thank you to Depend for sponsoring today's post about the #dropyourpants for #underwareness movement!
Are you a mom? Then, you'll be nodding your head in agreement when I tell you about my big secret. When I cough, sneeze, and even when I get the giggles, I sometimes have bladder leakage. It drives me insane, especially during allergy season. Until just recently, I thought there was something wrong with just me. But, I found out that it happens to so many other mothers and other people as well. Did you know?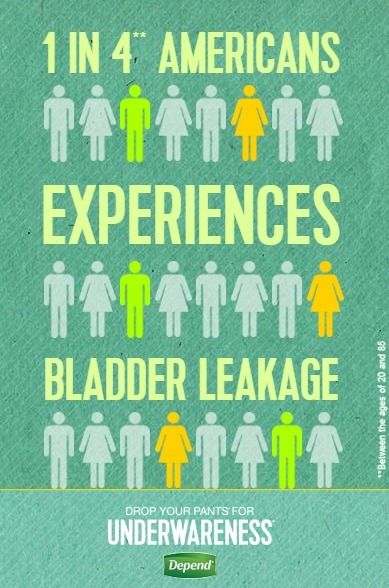 More people with bladder leakage are in their 20's than their 80's
The average age of someone with bladder leakage is only 52!
More people with bladder leakage are 50 or younger than 60 or older!
I had no idea it was so common. I always thought it was something that happened when people become elderly. I just had a very bad case of the flu over the last few weeks. During that time, I had to wear maxi pads because if I didn't, I'd end up changing my pants about 10 times a day. I wished I had known then that Depend had a solution that wasn't bulky.
Depend provides a variety of discreet products that help people regain their freedom and get their lives back, including:
Depend Real Fit for Men and Silhouette for Women briefs: Look, fit and feel like real underwear and feature a cloth-like fabric for a sleek, ultra-smooth fit.
Depend Underwear with Fit-Flex protection: Features more Lycra stands for a smooth and comfortable close-t0-the-body fit.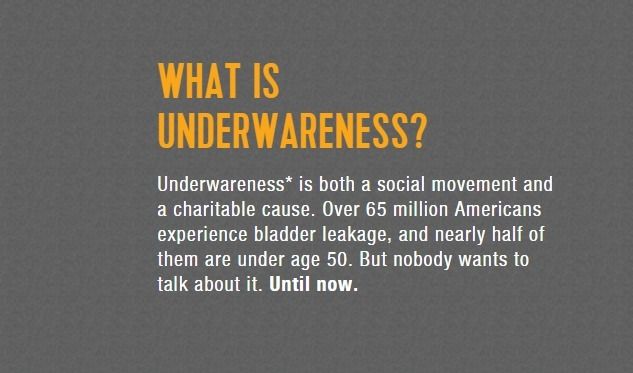 This is a secret nobody wants to talk about. But, Depend is doing something about it. They're starting the Underwareness social movement and charitable cause.

Depend will donate $1, up to $3 million, over the next three years to charities that advance the research, education and awareness of bladder leakage for:
Every pant drop photo and video shared Using #Underwareness and #DropYourPants
Every personal video made about what Underwareness means to you that is uploaded to YouTube and tagged #Underwareness and #DropYourPants
Depend is also giving away FREE SAMPLES, so you can try them for yourself! To claim your free samples today visit www.Underwareness.com and click on the "Get a Sample" button located at the top right-hand side of the screen. Then, select which sample you would like to receive.
Are you going to #DropYourPants for the #Underwareness Movement?