This shop has been compensated by Collective Bias, Inc. and its advertiser. All opinions are mine alone. #MySignatureMove #CollectiveBias
Hi everyone! I'm Ken, and today I'm guest posting here on The TipToe Fairy because I must tell you what Irish Spring Signature for Men can do! It made my dreams come true! Seriously! I'm no longer living in the shadow of my favorite girl.
When I heard Stephanie was going to share with all of you about Irish Spring, I begged her to let me do it, especially since I'm so photogenic! I love this stuff and use it all the time, and I thought you'd want to hear from an expert on #MySignatureMove!
I usually hang out in the Dream House with Barbie and Rapunzel, and that was exactly what I was doing a few weeks ago when I heard the family coming home from the store. Mr. E was super excited about some new soap he just got, which piqued my interest. I'm all about looking good and smelling great.
So late one night when everyone was sleeping, Alan and I sneaked into the bathroom and grabbed some of this new soap. Alan's a friend of mine who hangs out at the Dream House most of the time. He's trying to pursue a career in nighttime surfing since he doesn't like mornings.
Holy Batman! That soap smelled amazing! There was so much of it I figured no one would notice a bar, or a bottle or three missing.
As soon as I got it back to the Dream House, I had Barbie help me lug it up stairs. I just had to take a shower right then to try it out. Did I say the smell was amazing because it totally is – AH-mazing! Plus, it made my skin amazing, too! I loved it! I felt great, and I looked awesome. I couldn't wait to show the world. But then, I slipped on the bathroom floor and hit my head in the shower! I was completely knocked out, guys!
While I was down, I had this amazing dream. It was all about me becoming a fashion model, and it was all because of Irish Spring. You should have seen my moves! The soap gave me some kind of super powers with these amazing signature moves! It was amazing!
Check it out – Stephanie helped me film this dramatic reenactment of what happened. Don't worry – this is only a dramatization!
After that I realized I really did have these awesome signature moves, and it was my destiny to be a fashion model, just like Barbie, except I smell totally awesome! And guess what! I totally did it! My first real live fashion show is coming up in a month. So that's my big secret! Now you have to try this soap, and maybe your dreams can come true, too!
Check it out — I've been practicing my signature move!
I almost forgot! I totally want to show you guys where to find this awesome stuff. It's at Walmart in the soap aisle with all the manly soap! When she realized how much I loved this stuff and that I'd been "borrowing" it from Mr. E, Stephanie took me with her so I could get my own Irish Spring Signature for Men. Apparently, it's frowned upon to "borrow" things from the tween in the house.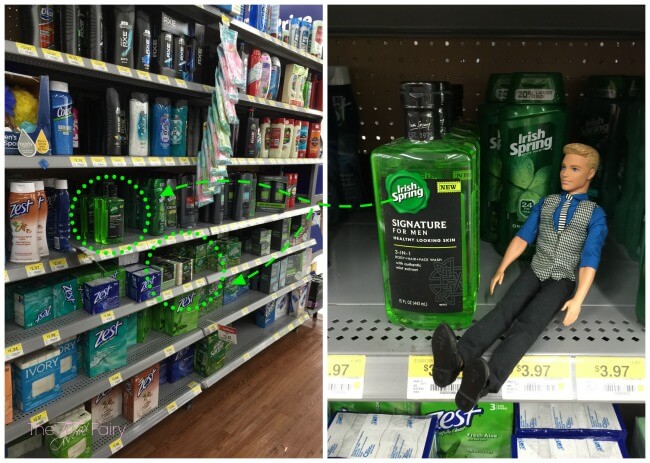 Guess what? There's an awesome deal right now! If you purchase two of the new Irish Spring Signature products, you can get $5 off a VUDU purchase! Take a picture of your receipt and then go HERE to upload your receipt. Next step, enjoy watching! I'm totally getting Toy Story 3!
Have your guys tried Irish Spring Signature for Men?