I'm back! Amazingly, I survived a very rare complication that often kills women in childbirth – placenta increta. It can often cause women to bleed to death at delivery if it's not caught during pregnancy. Thankfully, mine was suspected and caught at 20 weeks and confirmed at 32 weeks. To help aid in the best outcome, we planned to deliver my baby at 35 weeks. The hospital was prepared for me with lots of blood on hand as well as four surgeons in the OR and many, many support staff of nurses and more. Once it was over, my amazing husband was running between the ICU and NICU for both me and the baby for days.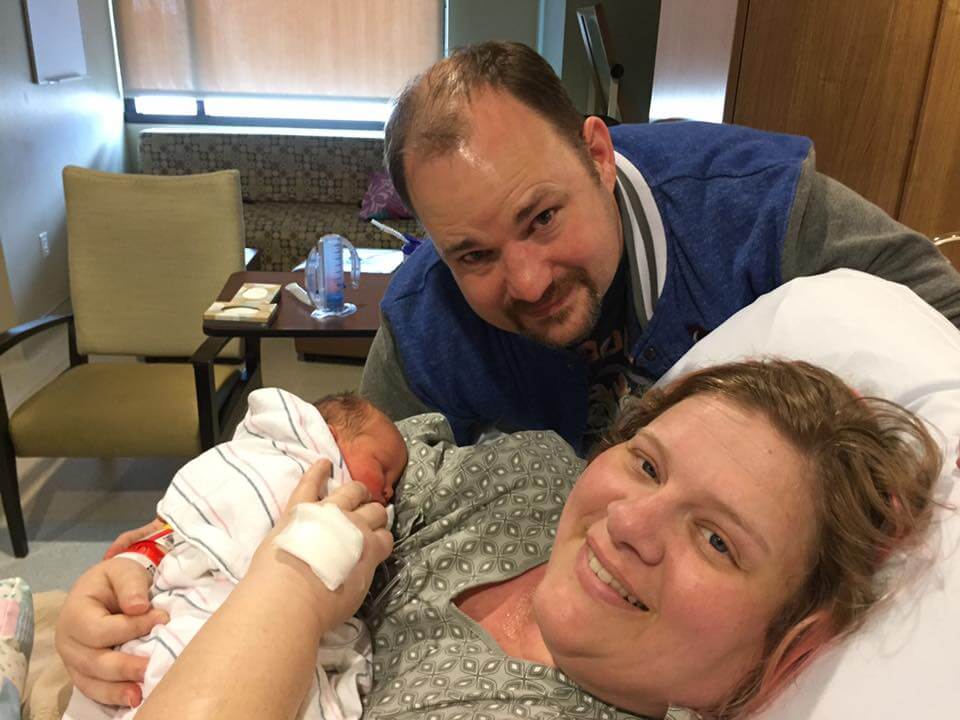 I was sedated for days with a ventilator in the ICU. It wasn't until my baby was 3 days old that I finally met her. This is our first meeting. I still get tears just thinking about it.
We left the hospital last Friday night together. Today, I got my catheter removed from my bladder as the urologist deemed it healed. It had to be repaired in the surgery due to a hole in it. Those catheters are torture devices. Unfortunately, my c -section incision opened up a few days ago when the staples were removed, but I have a lovely nurse who is coming to my home daily to get it healing again. Stay tuned, as I plan to write my birth story soon with this dangerous complication.
Here is baby Ivy. She's tiny and was just 6 lbs 9 oz, and she's my little wiggler. She's an amazing baby and so laid back. She loves to be held by me, daddy, and her brother and sisters. The only time she cries is when she has her diaper changed. I'm so in love!
Now onto the party!
Welcome to the Pretty Pintastic Party, where every post is pinned & features are pinned by everyone!
First, let's meet the hosts:
Jamie, Kerry, & Lucy from Coffee With Us 3 Pinterest, Facebook, Twitter
Alli from An Alli Event Pinterest, Facebook, Twitter
Annie from Annie's Noms Pinterest, Facebook, Twitter
Stephanie from The Tip Toe Fairy Pinterest, Facebook, Twitter
Destiny from Suburban Wife, City Life Pinterest, Facebook Twitter
Heather from Divas Run for Bling Pinterest, Facebook, Twitter
Kelly from The Take Action WAHM Pinterest, Facebook, Twitter
Reesa from Momma Lew Pinterest, Facebook, Twitter
Paris from My Big Fat Happy Life Pinterest, Facebook, Twitter
Sarah from Thank You Honey Pinterest, Facebook, Twitter
Karyl from Karyl's Kulinary Krusade Pinterest, Facebook, Twitter
Celeste from The Whole Serving Pinterest, Facebook, Twitter
Jamie from As For Me and My Homestead Pinterest, Facebook, Twitter
Diane from This Scattered Life Pinterest, Facebook, Twitter
Jenn from Loveland Lodge Pinterest, Facebook, Twitter
Kara from Phoenix Mom Blog Pinterest, Facebook, Twitter
Here's what your hosts have been up to this week!


Now on to the Party!!
This is a super relaxed party!
You show up with your fabulous posts and we pin every single one! We only ask one thing from you!
This week's Features:
Bottle Hair Tie Holders from Penny Pincher Jenny
Turkey Apple Brie Flatbread from My Suburban Kitchen
How to Make a DIY Hula Hoop from Pop Shop America
Over 30 Movie Night Snack Ideas from 3 Boys and a Dog
Martinelli's Glass Bottle Bird Feeder from Lolly Jane
Star Wars Sugar Cookies from The Monday Box
If you were featured, grab a featured button!!
Everyone else grab a button and help us spread the word about our party!! Thanks!
As a thank-you for linking up, we will pin your post to The Pretty Pintastic Party board. Please follow the board to see all the great food recipes!
By linking up, you agree to let any of the hosts use your pictures and links if they decide to feature your post. Your photo may be used for promotion on any of their social media outlets.
If you include your e-mail in the linky form below you will be added to a weekly reminder e-mail when the link party goes live. Your e-mail will not to added to any other lists or given out.
Please share the love by going and visiting other posts that are linked up! Make some new blogging friends by sharing, pinning, and commenting! Thanks for participating in this link-up and for following your hosts!