This post is sponsored by VELVEETA®. All opinions are my own.
Here in Texas we tend to skip right over spring and enter summer pretty quick.  It's not unusual to be pushing 100 degrees in May.  On days like that I don't want to heat up the house with dinner, so we often cook out on the grill.  One of my family's favorites on those nights are Sweet Pepper Poppers made with VELVEETA® sharp cheddar.
Sweet Pepper Poppers are similar to jalapeno poppers.  Instead of using jalapenos which can get too hot for some of us (me included), I use mini sweet peppers. My kids just love those little peppers.  These are great as a side dish or appetizer to whatever else you're grilling.
Rub the grill grates with some olive oil to prevent the poppers from sticking.  Then, turn the grill on to preheat up to 400 degrees.  Then, it'll be nice and hot when you're ready to grill those poppers.
To begin, cut up part of a loaf of a VELVEETA® sharp cheddar brick into 1-inch cubes.  You'll need about 16 cubes, each about ½ oz each.
When I buy these mini sweet peppers, they usually come in a bag with 18-24 peppers, and each pepper is sliced in half for two poppers. With my family of 5, I use about 7-8 peppers.
Remove the stem and slice each mini sweet pepper in half.  Remove any seeds.  Then, insert a 1/2-oz VELVEETA® cube into the middle of each pepper half.
Next, wrap a slice of bacon around each pepper/cheese half.  If the bacon does not want to cooperate, hold them closed with toothpicks or small skewers.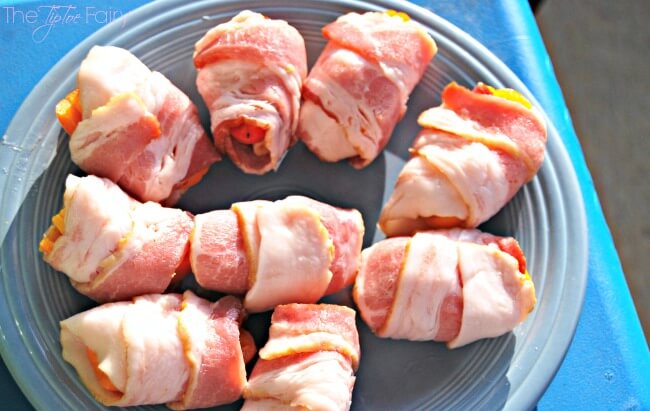 Now it's grilling time! My husband is the master griller here, and he recommends placing them around fire, not directly over it as the bacon fat will cause big flame ups.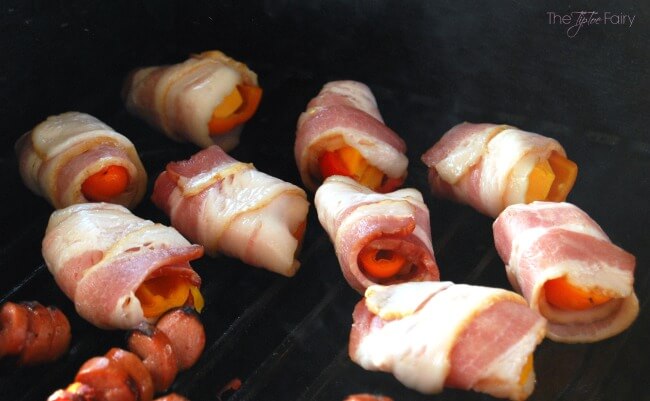 Grill for about 20 minutes, until the bacon is done on top and the cheese is deliciously melted. As they cook, we tried not to move them unless the flames kept flaring up.  I don't recommend flipping them over as the cheese could ooze out onto the grill.  Once we took them off the grill, I added a dash of pepper to the top of each. They are best served immediately.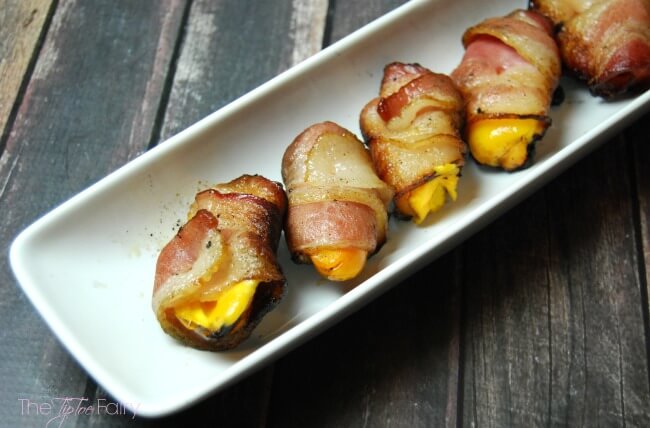 Sweet Pepper Poppers
---
Stephanie Pass
Yields 14-16
A sweet and easy alternative to hot and spicy jalapeno poppers.
5 minPrep Time
20 minCook Time
25 minTotal Time
Ingredients
olive oil
7-8 mini sweet peppers
VELVEETA® sharp cheddar brick, cubed
slices of bacon
onion powder
garlic powder
pepper to taste
Instructions
Preheat the grill to 400 degrees.
Wash and halve the peppers, removing the seeds
Cut two 1-inch slices of VELVEETA® sharp cheddar and then cube it into 1/2-oz pieces .
Place one cube into the middle of each pepper.
Sprinkle a little onion powder and garlic powder over the cheese.
Wrap each pepper/cheese in a slice of bacon. Skewer with toothpick if necessary,
Place the poppers around the grill, try avoiding directly placing them on flames as the bacon fat will make it flare up.
Grill for about 20 minutes -- only move them if flare ups start to happen.
Serve immediately.
7.6.4
226
https://thetiptoefairy.com/2015/06/sweet-pepper-poppers/
VELVEETA® lovers know it as Liquid Gold, and it has been a favorite of families since
1928. Known for its smooth, creamy texture and perfect melt, you can use VELVEETA®
in a variety of recipes – and strike Liquid Gold.
What's your favorite side dish recipe for barbecuing?