Do you let your younger kids play learning apps on the iPad? I think it's a great learning tool, especially for young children. We recently found Disney Imagicademy. It's a new learning app designed for families with children ages 3 to 8 to inspire learning through creating, making and doing. Their latest app is Mickey's Magical Arts World.
In Mickey's Magical Arts World, children are invited to join Mickey and his friends in the most imaginative place around, as they explore a fully immersive world of creative arts.
Explore storytelling, improvisation, costume design, character development and role play with Donald; Consider concepts of rhythm, tempo, patterns and melodies with Mickey's Musical Marching Band; Experiment with symmetry, balance and proportion as they design buildings with Minnie; and play with oodles of virtual arts and crafts with Goofy!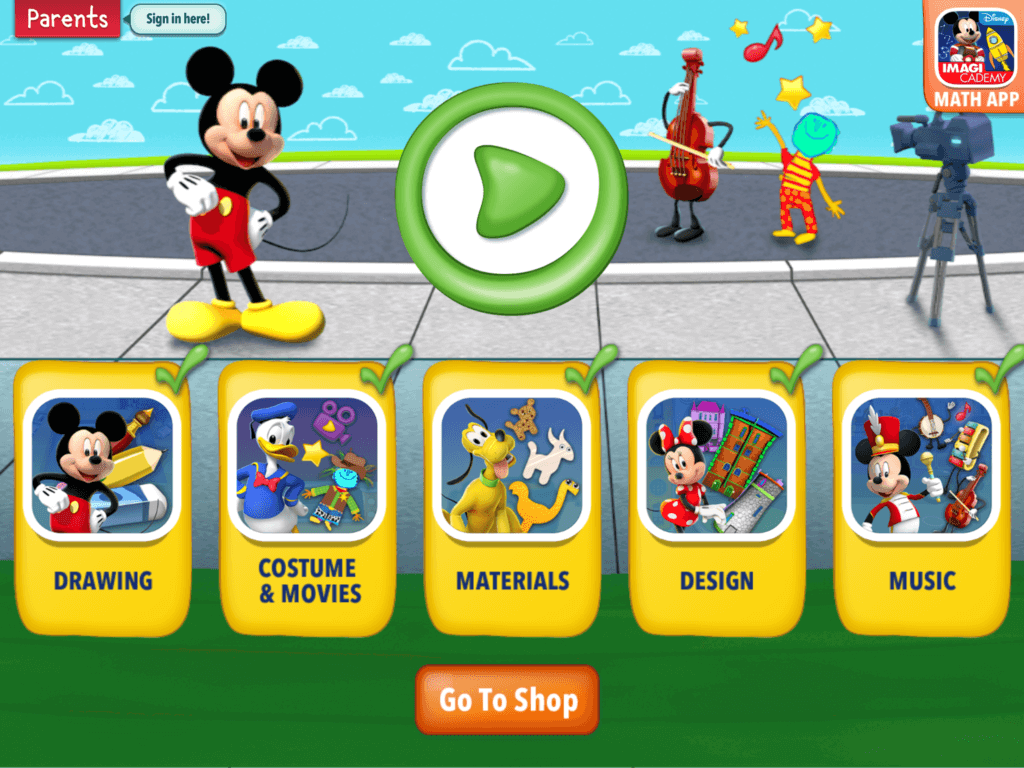 My youngest just LOVES it. She has a wild imagination, and I love seeing the new things she creates using this app. There is really so much they can do with this one. She can play with musical instruments, create crazy buildings, or make animals out all sorts of materials and textures.  Her absolute favorite is creating movies.
Children can create their own characters that can star in animated movies alongside beloved Disney characters like Mickey and Minnie, while they experiment with line, shapes and texture in Mickey's Drawing Studio. Your creation even goes to the hair salon, which is so much fun!
Molly likes the magic movie for her creations to star in the best.  Here her character is taking a bow after Mickey made her disappear.
Disney Imagicademy is the first comprehensive brand of interactive and connected early learning experiences that combines the Disney characters and stories families love, with a research-driven curriculum developed in conjunction with top academics and education experts.
To enhance your child's experience, there's is also a free follow along companion app for parents — Disney Imagicademy Parents. Not only does it offer tips for your child to play with the app, it offers so much more! The app will give parents their daily dose of, "What can I do today to help my child grow?"
There are ideas for you to make fun imaginative play things for your kids.  I just love the crafty ideas that are shared every day.  This sandwich idea out of melted beads was my absolute favorite! I can't wait to head to the craft store for the supplies.
There's also ideas for fun art projects your child can make, too! Plus, there are ways to share your child's creations with friends and family.
My daughter flipped over this caterpillar idea, and now I have a use for all those paper towel tubes I've been saving.
There's going to be much more to Disney Imagicademy coming soon.  They will also have books and other physical products that will be available for back-to-school 2015. The apps and products cover key subject matters that are important for early childhood development, including math, creative arts, science, reading and social and emotional skills.
Mickey's Magical Arts World is now available on the App Store. Disney Imagicademy apps are available exclusively for iPad and can currently be found on Apple's App Store in the Kids, Education and Entertainment categories. Your kids will love it.  You can download Mickey's Magical Arts World HERE and the parent's app HERE.
What are your favorite apps for your children to learn and grow?
I was selected for this opportunity as a member of Clever Girls and the content and opinions expressed here are all my own.