I have been compensated with free tickets from Merlin Entertainments to facilitate this review. All opinions are 100% my own.

Over spring break, we took our kids to visit the SEA LIFE aquarium.  It was our first visit.  It's inside Grapevine Mills Mall near a huge movie theater and Legoland.  Grapevine Mills is a large outlet mall in Grapevine, Texas, which is in the Dallas/Ft Worth area.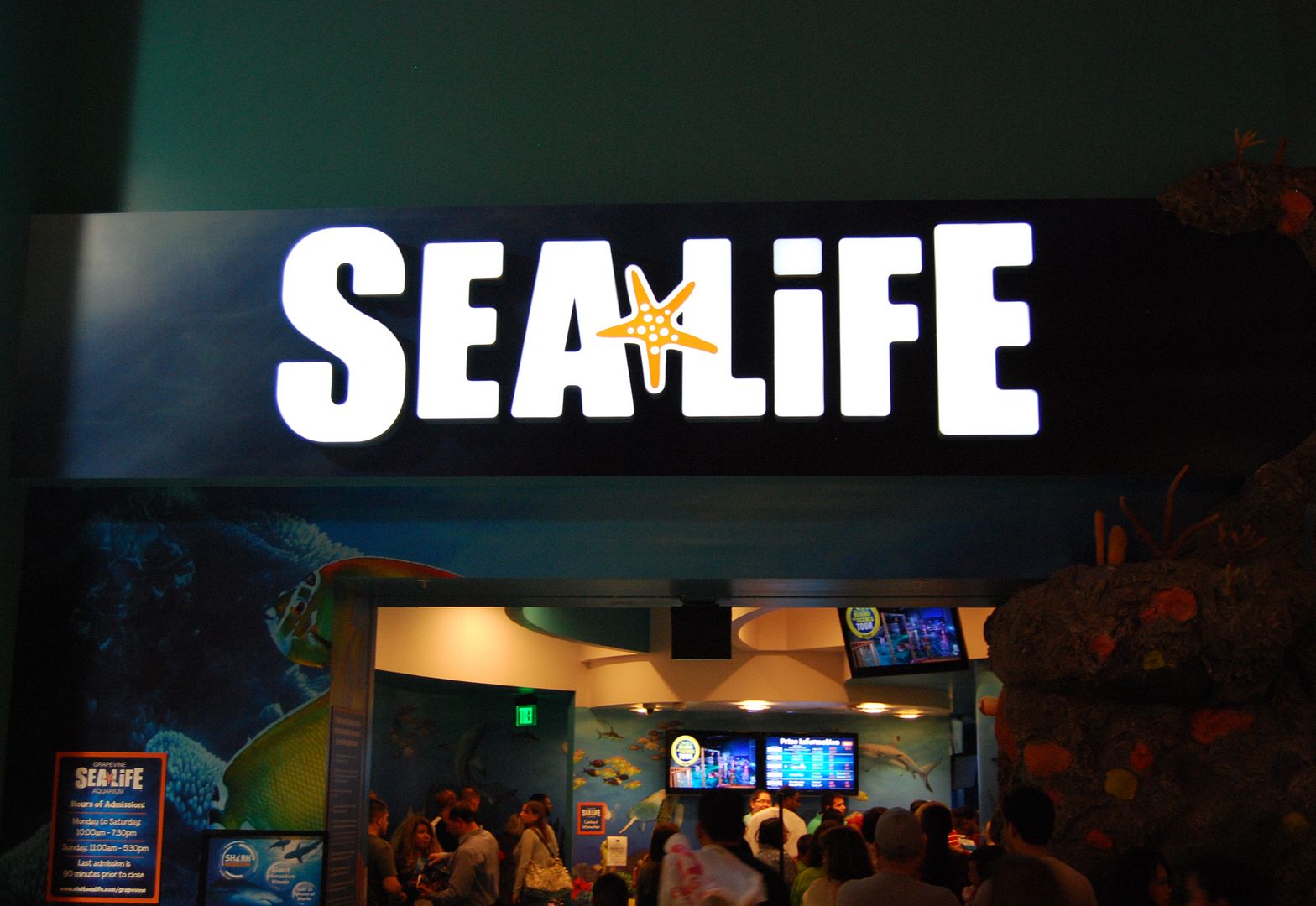 We went late on a Saturday afternoon.  The line to purchase tickets was very long and stretched outside, but the line for prepurchased tickets was completely empty.  We waited just a couple of minutes, and during that time, they snap a quick "green screen" picture of your family.  I highly recommend purchasing your tickets online so you do not have to wait in that line.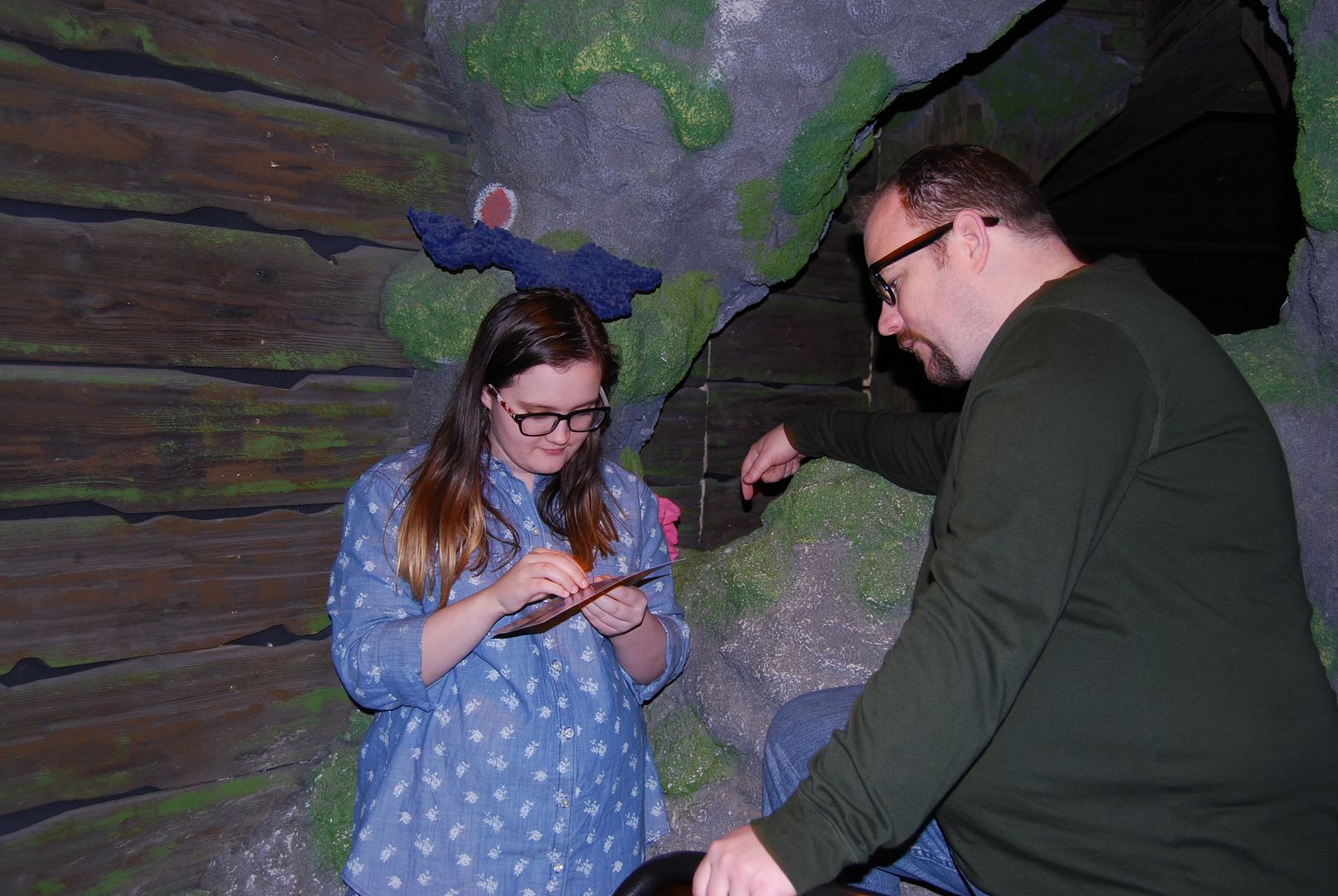 One thing my teenager and Nate really liked was the scratch off quiz they give you. At various points along the way are questions that go along with each exhibit you enter. You must scratch off the right answer. Once you scratch off all the right answers, you can take your quiz to the gift shop for a prize!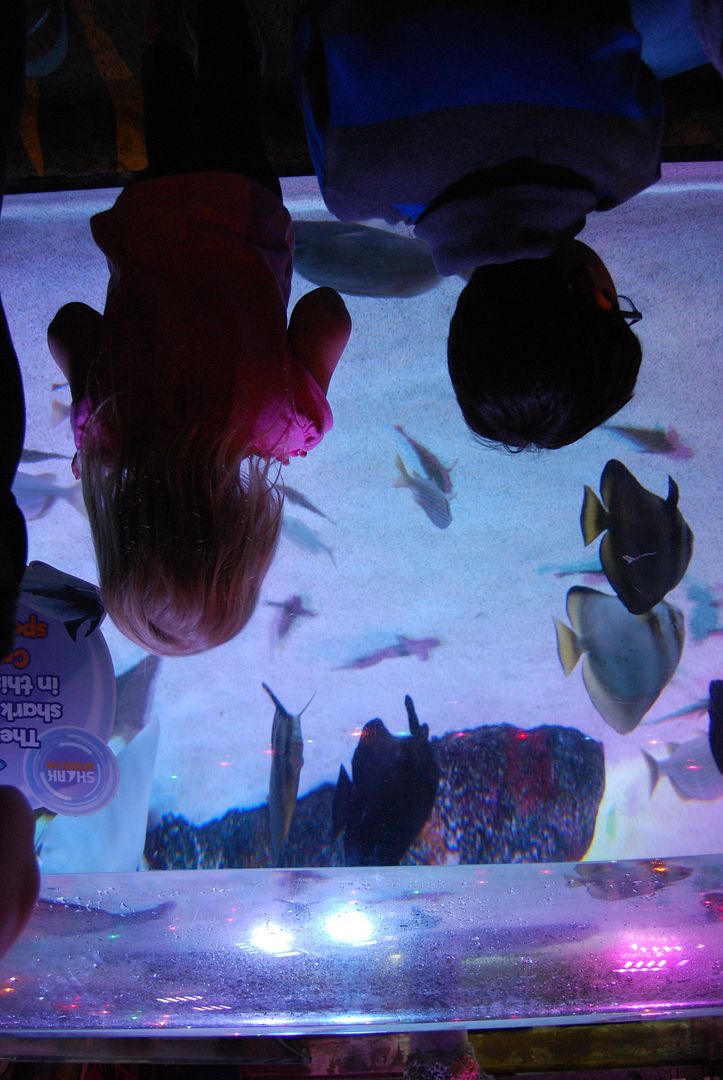 The pathway through the aquarium is winding and goes up stairs (but there is an elevator we easily found for strollers and anyone disabled). One of the first exhibits is a large open tank full of fish, sea life, and even sharks. It has a little tunnel that runs around it for children to crawl through, complete with a bubble for getting an even closer look. There were a few different bubbles like this the children could get into to get a really close look at different exhibits. My kids LOVED this!
One of our favorite exhibits was the turtles. It was all about SEA LIFE's rehabilitation program for sea turtles, which I found fascinating. There were a few disabled sea turtles who would never be released back into the sea. Their stories were so sad to read, but they looked very happy swimming around.
The picture below shows a paraplegic sea turtle who's back legs no longer work. Due to his injuries, he's usually hanging upside down, which was how we found him. He was happily swimming around with the fish and using his front flippers to pull on tree branches.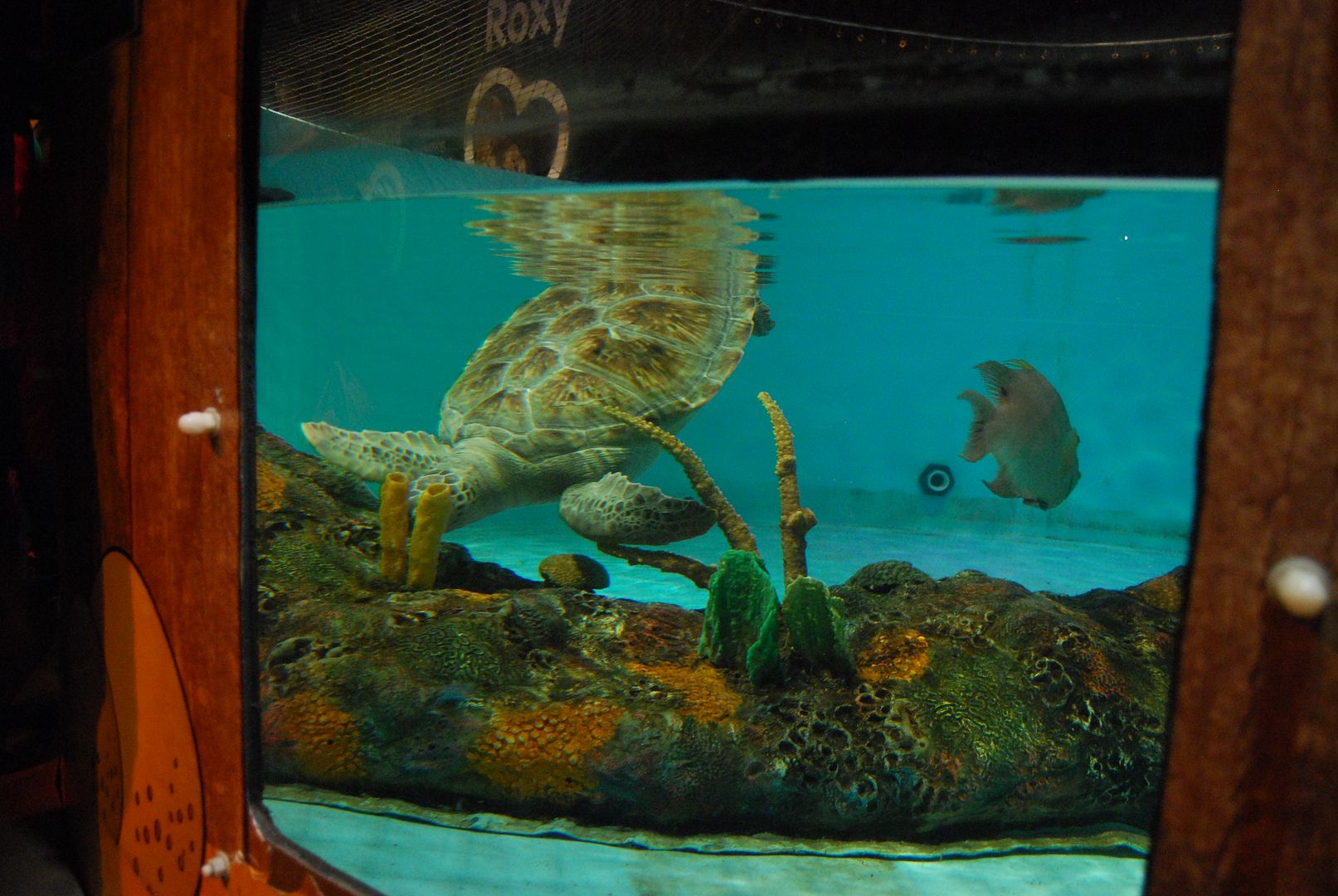 Another one of our favorites was the tube you could walk through that had the aquarium all around you, even below your feet.
It was a bit of a bit of a traffic jam due to people taking pictures of their family while standing in it, but once you get inside it's really beautiful. This big guy was burying himself in the sand below us as we walked through.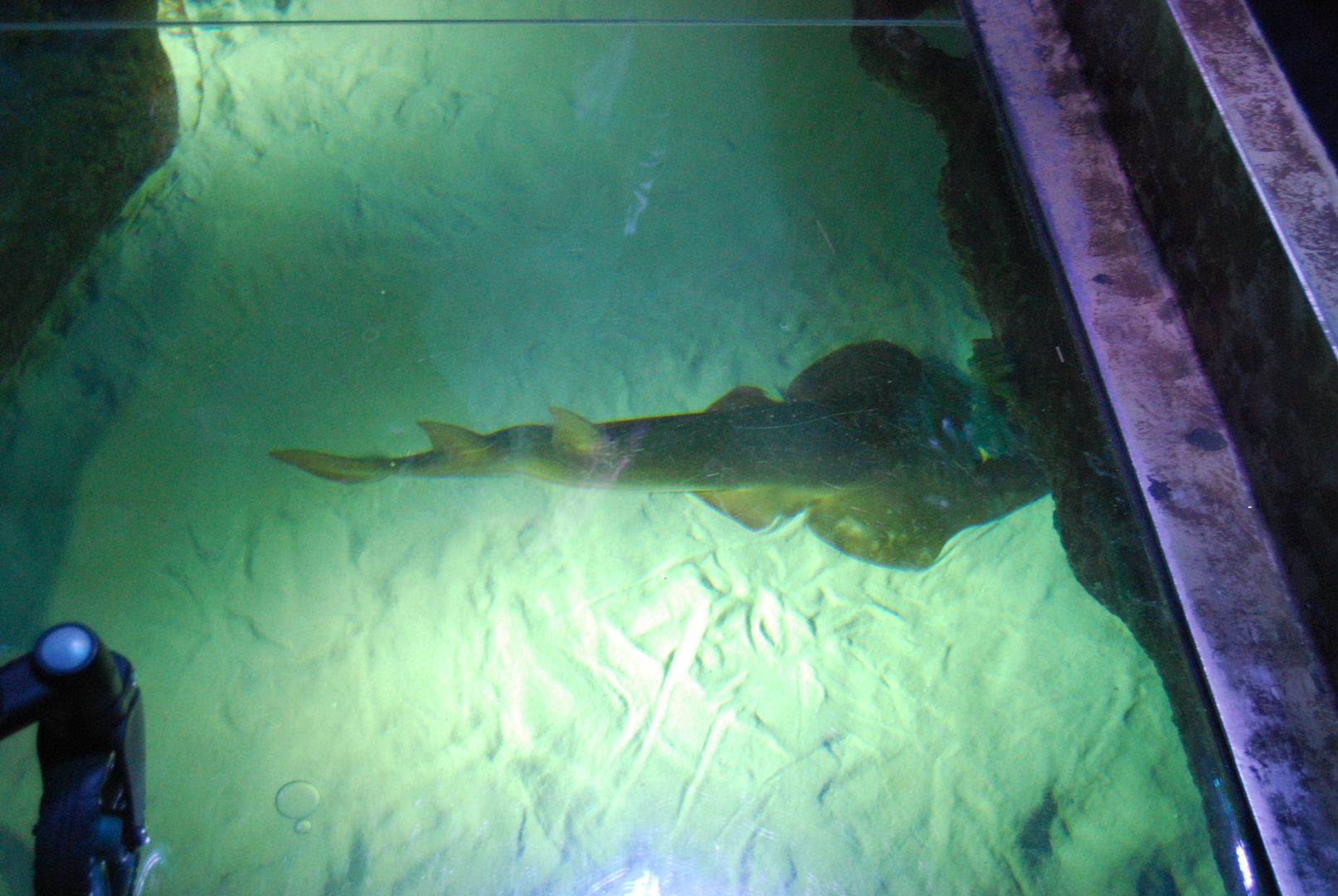 Nate and the two youngest had to pose inside this ancient shark's jaw.  Can you believe how big it is?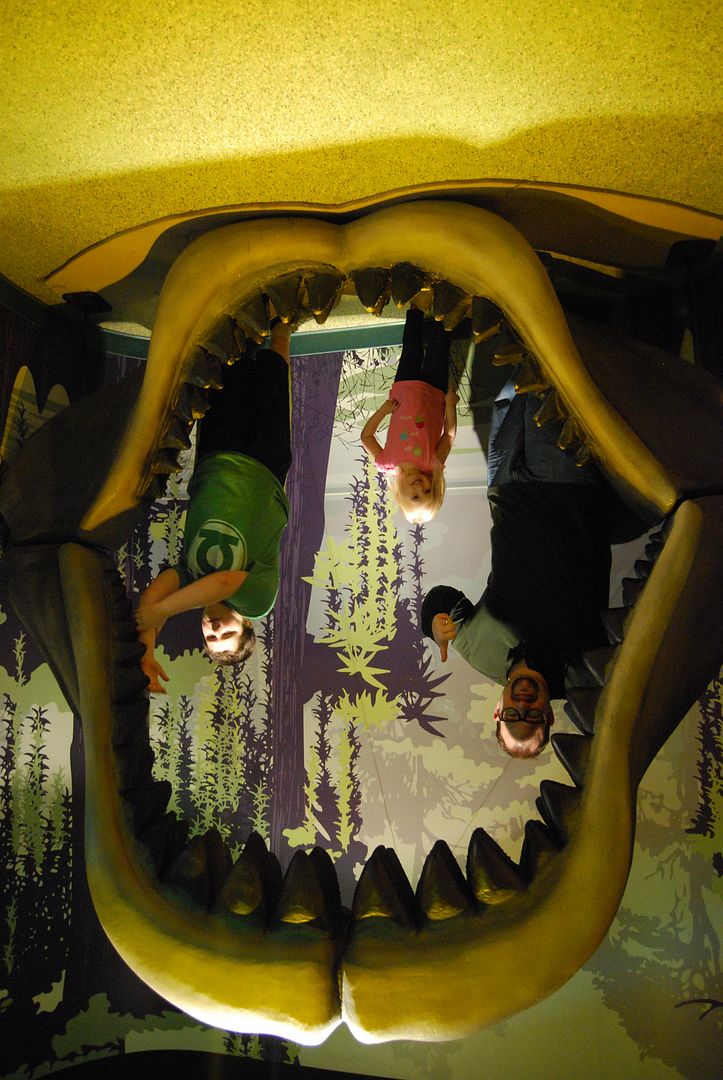 The jellyfish room was my favorite. I could probably sit there for hours just watching them. It's so quiet and peaceful, and I love to watch the jellyfish just gracefully swim around. Very relaxing.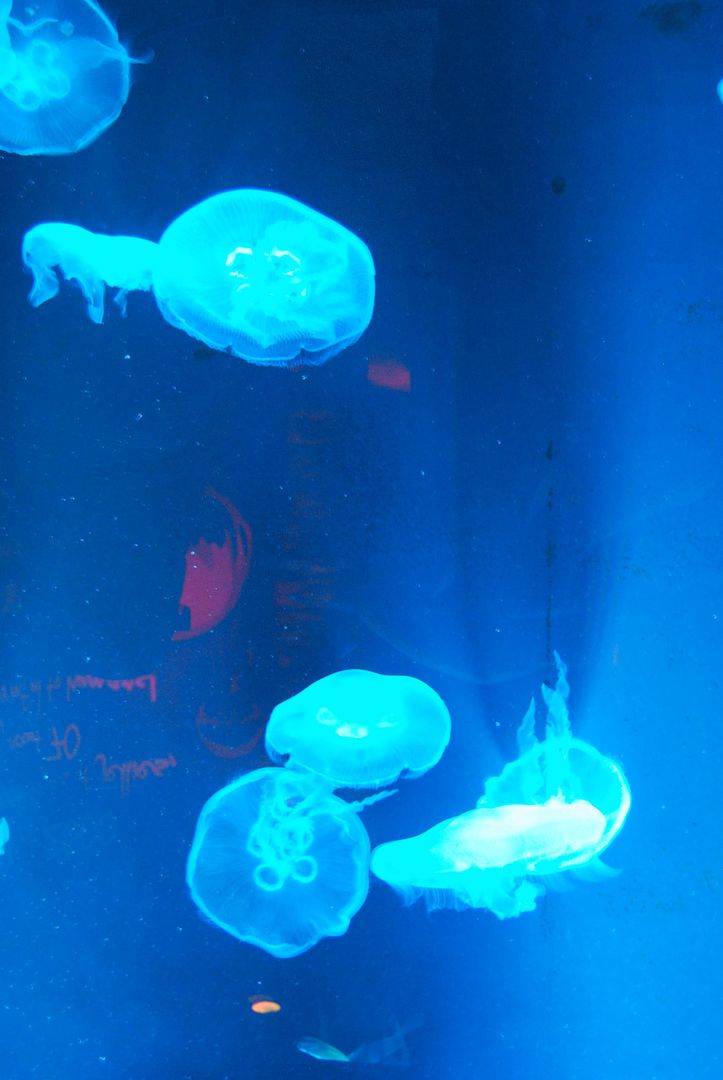 The last room was the most fun for the kids. There are workers at small pools who let you touch starfish and other things. Molly had a blast experiencing this.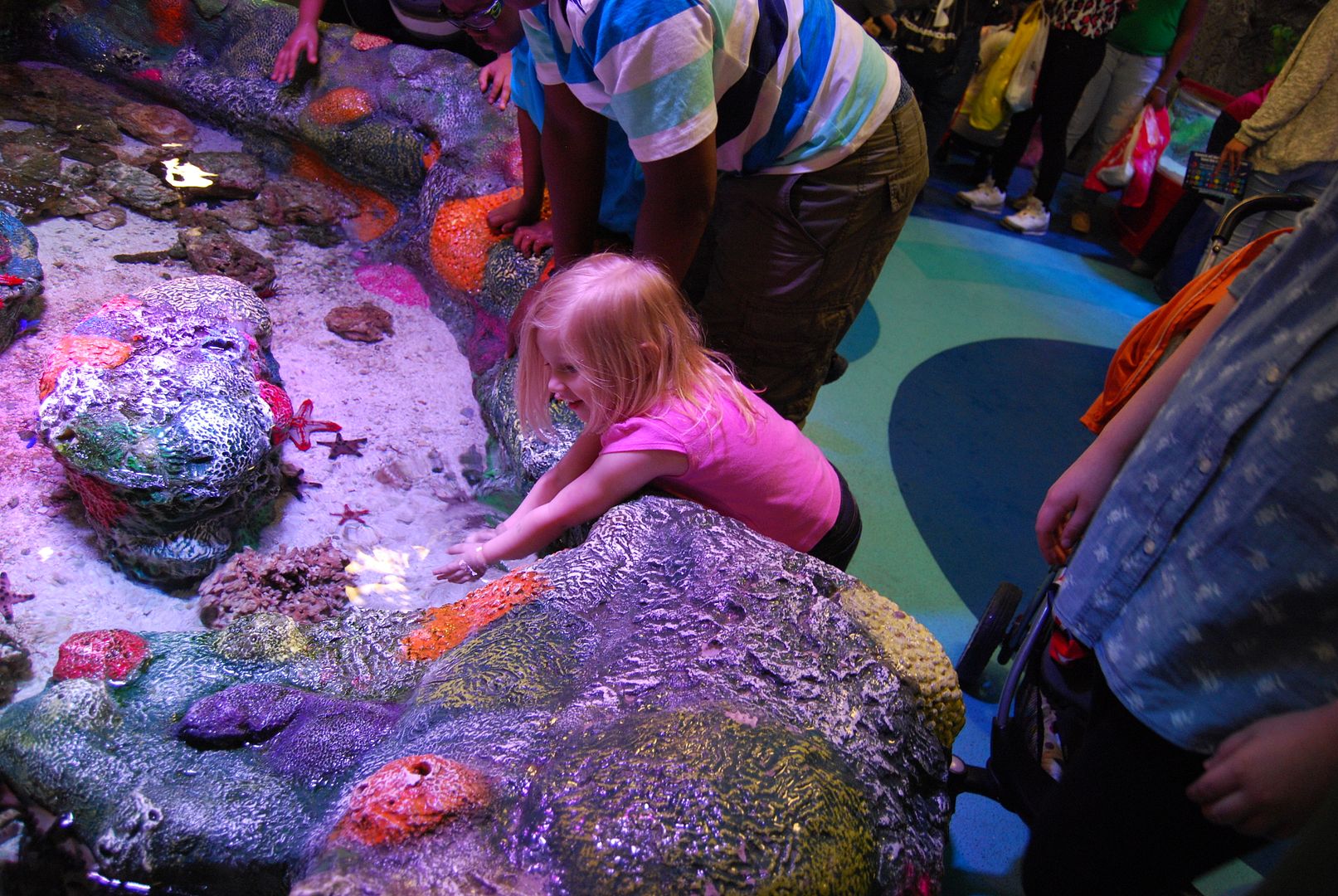 Then right before the end when you ride the elevator down into the gift shop, there is a huge play structure for the kids. It was very difficult to get my youngest two to leave. They loved this area, and it's a great way to get all that energy out.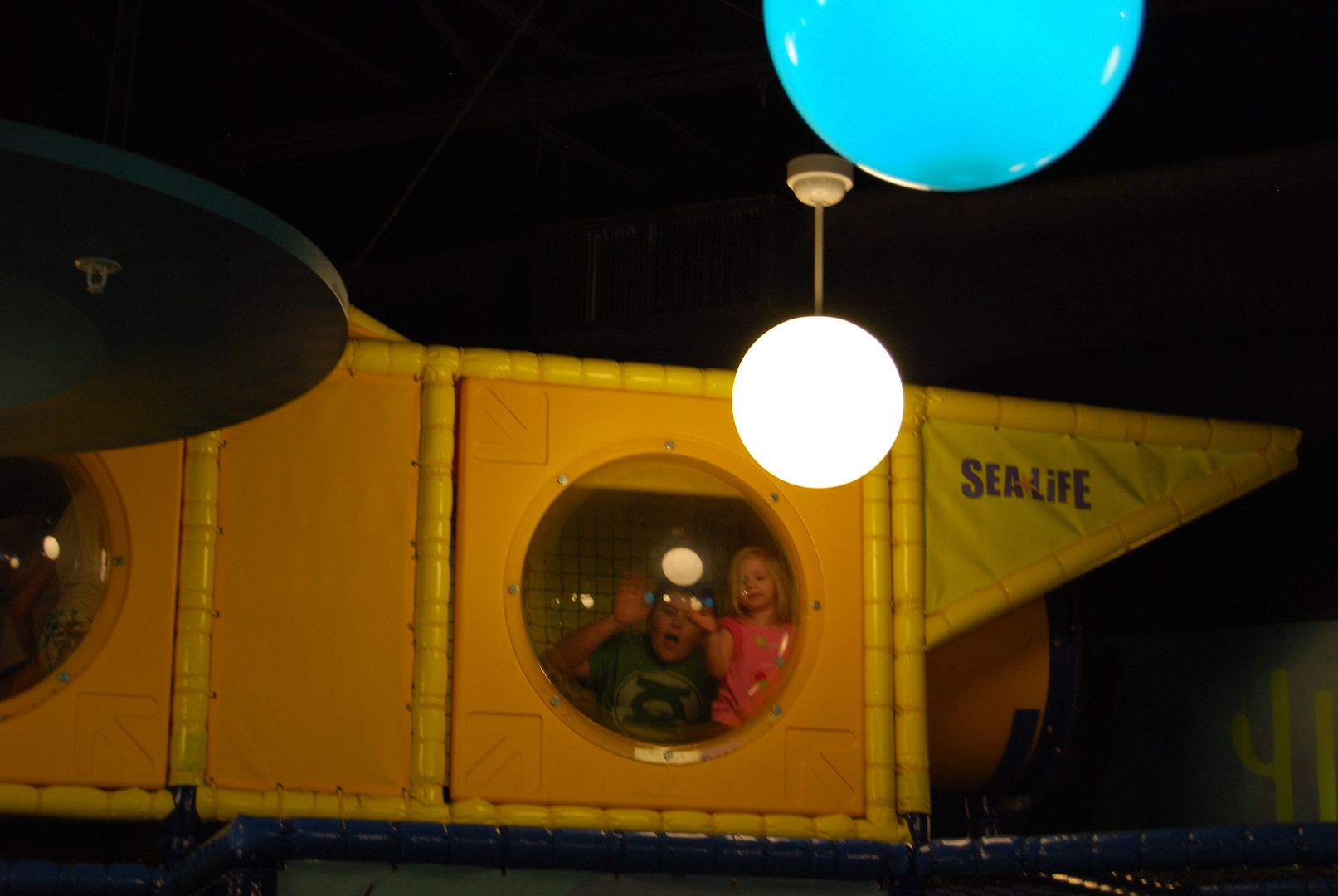 After visiting Legoland next door, this is a great way to relax and learn about animals in the sea. Watching the fish was very calming and relaxing for all of us. And, there were many places to sit down and relax and just watch the fish.
If you're interested in visiting the SEA LIFE aquarium in Grapevine, click below to get a great coupon!
Click here to get a coupon for a FREE CHILD TICKET to visit Sea Life!