One of my guilty pleasures is meatballs. I love meatball sandwiches and pasta and meatballs and meatballs on pizza — especially deep dish pizza.  I think my absolute favorite way is linguine and meatballs in a crushed tomato sauce.  But, I like to make them from scratch.  I just don't really care for the frozen meatballs you can get in the store.  They can be expensive and just don't taste like as good as homemade meatballs.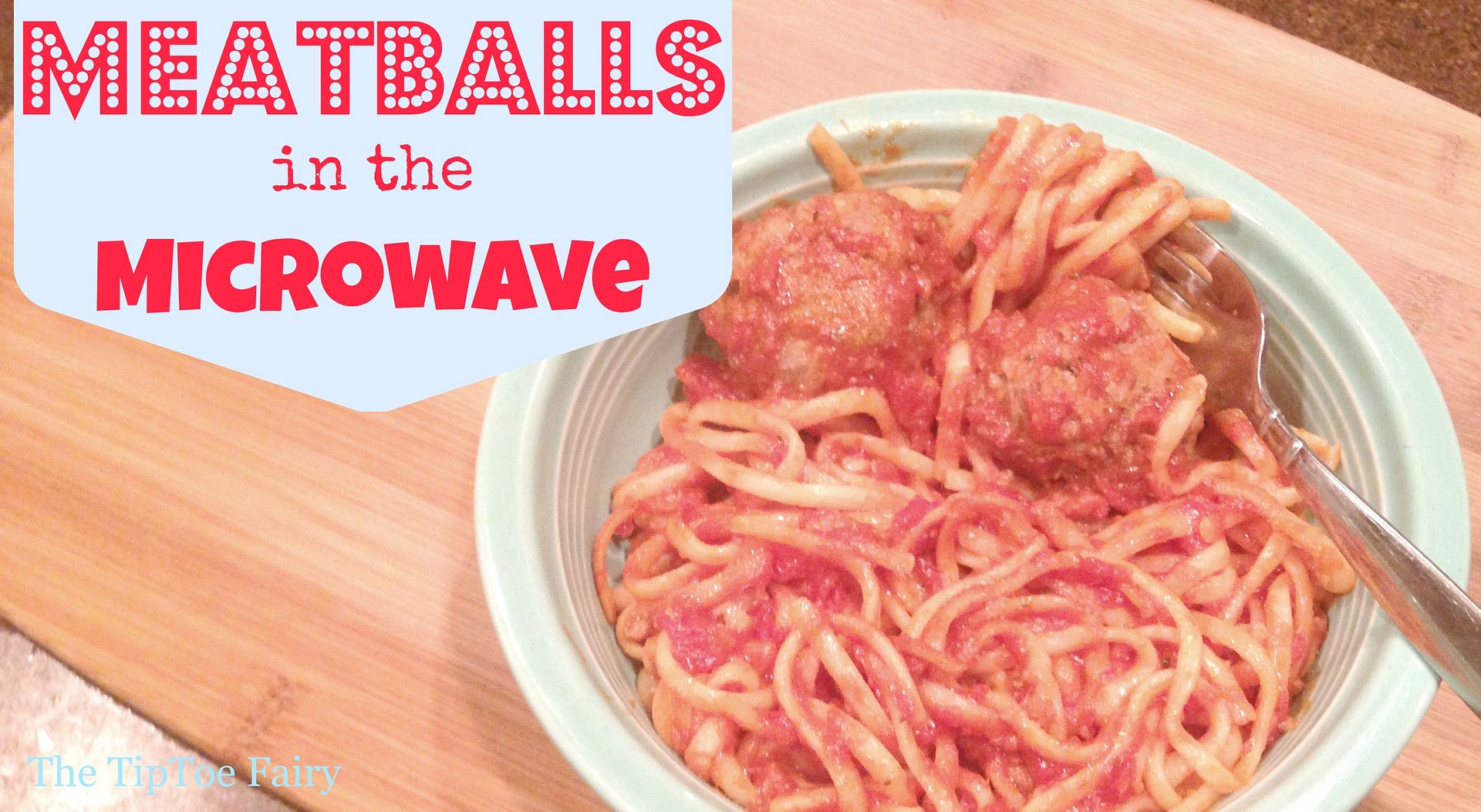 Over the years I've perfected my meatballs so that I can quickly whip them up for a meal. When we have spaghetti, I frequently make meatballs to go along with it.  If I don't, my family usually asks where they are, especially my 3 year old.  She would live on meatballs if I let her — she's definitely mine, lol.
Meatballs in the microwave is the fastest and easiest way for me to make homemade, made-from-scratch meatballs to go along with my One Pot Spaghetti.  It takes about 5 minutes to cook them, and then I throw them in the spaghetti to flavor up the sauce for a few more minutes until the pasta is done, usually about 6-7 minutes.
Meatballs in the Microwave
---
Ingredients
1 1/2 lbs ground beef - 85% lean
1 sleeve of Ritz crackers
3-4 garlic cloves, minced
1/2 tsp sea salt
1 tsp Worcestershire sauce
1 egg
1/3 cup milk
1/3 cup Parmesan cheese
1 tsp garlic powder
1 tsp onion powder
1 tsp Italian seasoning
Instructions
Spray a 9 x 13 dish with cooking spray.
In a large bowl, crush the sleeve of crackers and add milk.
Add meat and the rest of the ingredients. Mix thoroughly with your hands.
Form meatballs that are about 1 3/4 inches in size.
Once you have filled the dish, place in the microwave and cook for 3 minutes.
This is what they look like after the first 3 minutes. Rotate the dish and cook for an additional 3-4 minutes. Look for pinkness of meat, if you see any, cook for an additional 2-3 minutes.
Once they are done, spoon the meatballs into sauce that's been simmering on the stove.
If you are making these with my One Pot Spaghetti , add the meatballs once the pasta has become a little soft. Stir occasionally, and remove from heat once the pasta is done (about 6-7 minutes).
7.6.4
15
https://thetiptoefairy.com/2014/01/meatballs-microwave/
These are also delicious on meatball subs.  While you are rolling and cooking the meatballs simmer some crushed tomatoes on the stove.  Then, add the meatballs to the sauce and allow them to simmer in the sauce for an additional 7-8 minutes.  My meatball sub recipe is coming soon!
Enjoy!